Yamaha Ray Long Term Review
Yamaha Ray Long Term
Bike Tested: Yamaha Ray
Kms Done: 1548 kms
Test Started at: 3616 kms
Test Concluded at: 5164 kms
Fuel Cost: Rs. 2700/-
Liters: 34
Mileage: Highway: 51.6 km/l, City: 42 km/l, Worst: 37 km/l, Overall: 46 km/l
Service Costs: None during the test.
The Yamaha Ray is a well-balanced scooter with sharp handling and excellent mileage.
If there is a two-wheeler manufacturer who is absolutely silent these days it has to be Yamaha. After launching the Ray Z this year, pretty much nothing has been done. At least whatever must be going on or whatever decisions are being made are not seen coming into the market as a product. Colour revision is what Yamaha does frequently through the world for their important models in the respective countries. We think this way because we know Yamaha has made it pretty clear that it would take up swords and spark plugs to fight for volumes in the commuter segment. Scooters is what Yamaha looks at because they have their thoughts and pillars strong in that line of construction. Globally Yamaha makes some pretty interesting scooters. However, what we are getting here in India is the best in segment but not something exciting and amusing (for the enthusiast). The Yamaha Ray has been a part of the long term fleet and impressed us with a lot aspects that other scooters fail to do. Bullet proof reliability combined with fun to ride characteristic are it's forte. We rode everyday in the city and did healthy kilometers to gauge this Yamaha better.
Styling seems to raise questions. While top actresses endorse it and women make these scooters in Yamaha's factory, it does not mean the scooter is meant purely for the fairer gender. During our stint with the scooter, nobody ever said it's for females nor did anyone give us the look of "why are you riding this". Sure it is small and edgy but that does not mean it's only for Powerpuff girls and not for Swat Kats. Choose the right colour and you can go to college or work on this with your chest bloated. Choose the Ray Z and you have nothing to worry about whatsoever.
The triangular instrument cluster blends in with the overall design. It uses clear lens for superior visibility, be it day or night. The fonts and icons used look very digital and futuristic while the speedometer needles look lego inspired. Overall, something new and yet does not disappoint any customer of any age.
Ergonomics are like that of any other typical scooter. Upright and comfortable. Handlebars are positioned slightly lower which goes totally unnoticed at first, since we did spend a lot of time we discovered this. Rear view mirrors are positioned slightly forward so you have to sit slightly behind to get a good view from the rear view mirrors. Seat comfort is spot on for both rider and pillion and the seat fabric is high quality too. Seat height is ridiculously low. Anybody can get their feet down easily. If you are under 5 feet tall, you can still manage the scooter quite well. Surprisingly taller people in our team also found the scooter quite comfortable for short to medium rides. Long rides (200 kms+) is pain for them (which is 6 feet and above).
Coming to one of the two best parts of the scooter, one of which is the fuelling. It is the best and unseen on any other scooter. The Yamaha Ray will instantly start on a cold morning after five days of rest without a hiccup. Idling starts at the very first crank which is insane and unseen on any scooter (without choke). Every morning we always ended up thinking if we have fired up the R15 or the Ray, it's as good as fuel injection for petrol sake! The engine produces 7 BHP of power at 7500 RPM and 8.1 Nm of torque at 5000 RPM. Numbers are tempting indeed. Coupled with a low kerb weight of 104 kgs, sounds fun too. Engine is immensely tractable. Yamaha has made efforts to make it sound a little different and they succeeded as much as they intended too. Scooter sounds marginally different than any other scooter out there.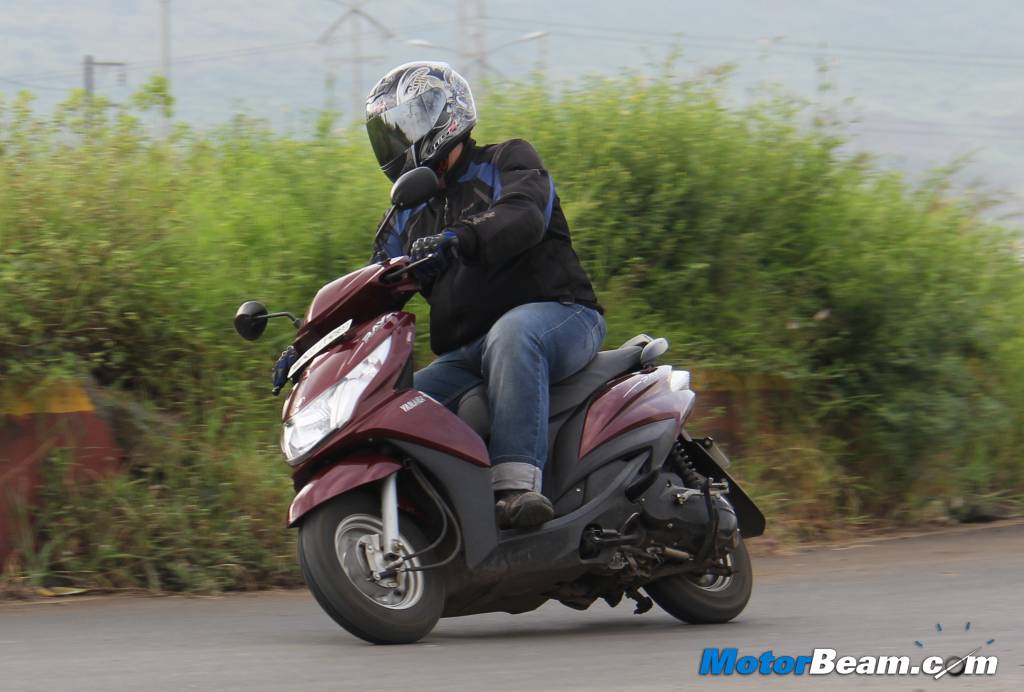 The Ray has oodles of low end and mid range torque. Roll on the throttle from anywhere in the rev band and you are bound to hit 75 km/hr with utmost ease on a short empty stretch. It is so easy that once we ended doing the top speed run from one red light to the other and braked hard because we have always praised the brakes on the Ray and in this situation we realised that they were not going to let us down. There is only one way to describe this motor, it feels like a de-tuned FZ motor with an automatic transmission. It's that potent when it comes to low end and mid range torque. If you have read our comparison with the Honda Activa and TVS Jupiter, you will know that the Activa was left nowhere and the Jupiter was always on the Ray's tail when it comes to acceleration of the line. All scooters lack top speed and this lacks even more. Topping out at 75 km/hr (as per VBOX) is low while other scooter offer 85 km/hr in the 110cc segment.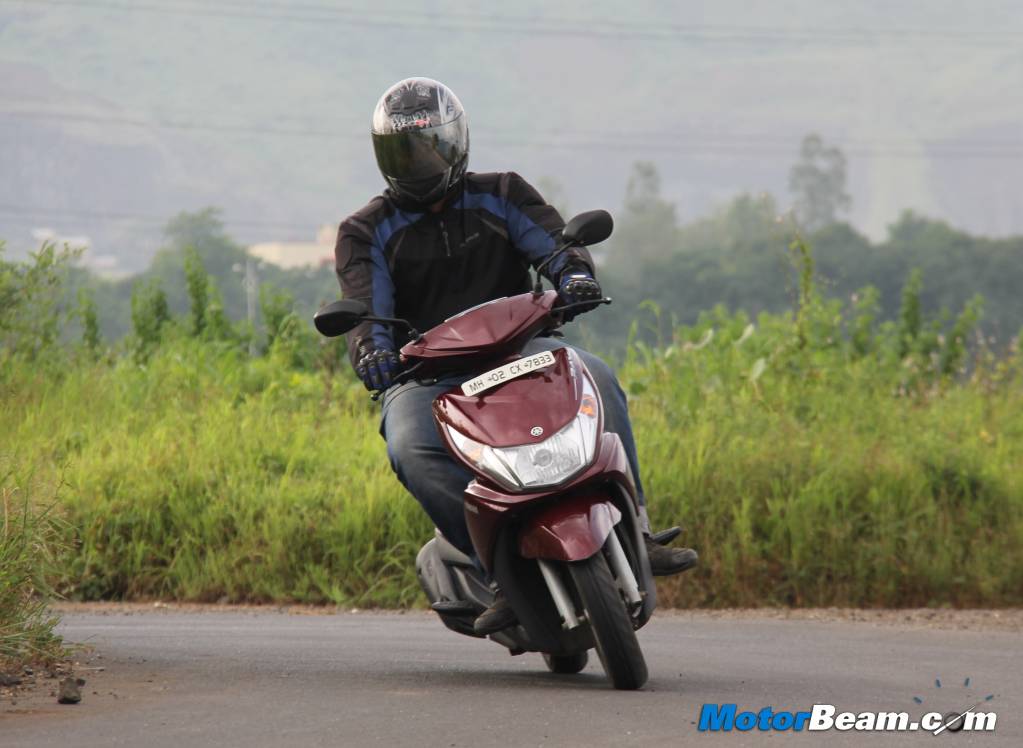 If black magic was real in our world and manufacturers would go to them for their help in dynamics then you would always find Yamaha standing in the line first for blessings. The scooter is agile, nimble and the most dynamic scooter in the segment. It feels as if it's a work of humans who are extraordinary or people who are out of this world. The way it quickly leans can surprise you the first time (for a scooter). Tremendous grip from the same set of wheels and rubber which is used on pretty much any other scooter in the market today, which proves the extraordinary values we spoke about. Major credit goes to the centre of gravity which is extremely low thanks to stupendously low stance of the Yamaha Ray.
The MRF rubber used on the Yamaha Ray is sublime and offers awe inspiring grip Telescopic suspension at the front and single spring at the rear is so well tuned that it feels this setup comes from the racing department. Racing department mention is being made because the suspension is too stiff for the kind of roads we have. Ride quality is acceptable but not plush. Scooters are meant for relaxed and comfortable ride in the city. A scooter that is dynamically so rich makes it a double whammy! If a scooter is as good as this and has twice the horsepower we could see enthusiasts ditching motorcycles for scooters as daily commuters.
The illumination and spread of the headlight is superb! Yamaha has always scored full marks in every segment when it comes to practicality in the "lights" department. The tail light makes way for the number plate light as well, seen on almost every Japanese motorcycle/scooter. The underseat storage is the only place where the Ray has a dark side. A full 4-litres less than any other scooter out there. You may think the scooter is narrow and it can't carry bags on the floor board, but you are wrong. Clever packaging allows it to be as good as the class leaders such as the TVS Jupiter and Honda Activa. The long exhaust is a bit of trouble when in really tight parking spaces. The Yamaha Ray is by far the best scooter we have tested in terms of fuel efficiency. The km/l numbers obtained are the highest of any other scooter we have tested (46 km/l overall mileage during our long term test).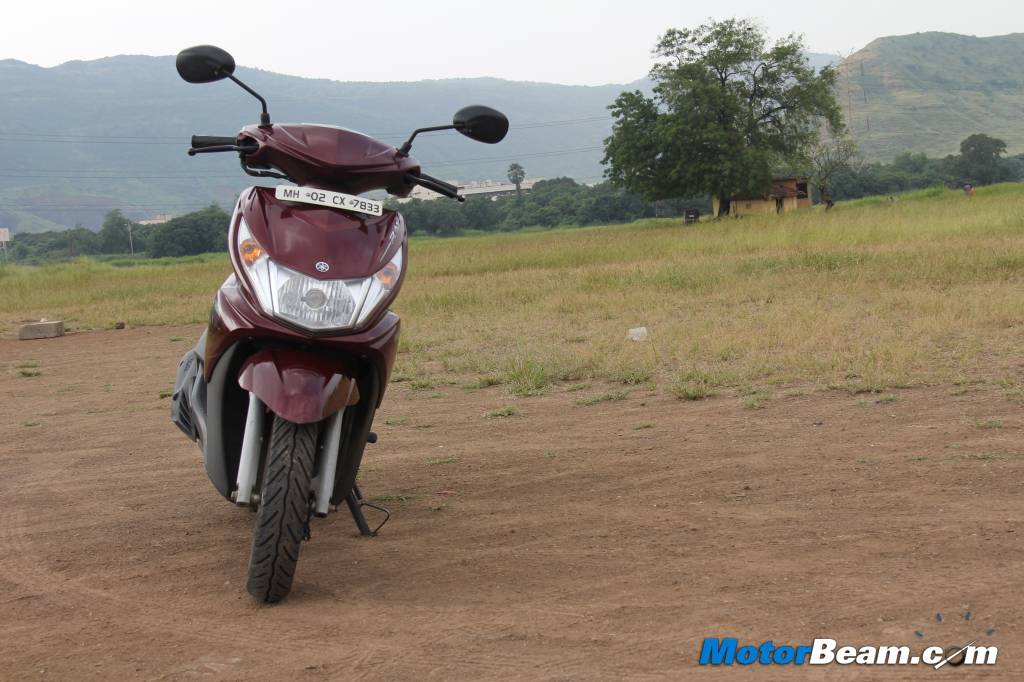 Build quality of the Yamaha Ray is spot on but it's only the fuel filler cap which is thoroughly flimsy. Horn is good for a stock unit. Two pockets on either side of the ignition lock are there to hold a coke can, suit your needs here but avoid keeping expensive things, as it can be plucked or thrown out by a bump easily. When fuel gauge shows there is nothing left, there is still enough fuel to do 35-40 kms (under 1-litre of petrol remains). Ground clearance may not be much but with stiff suspension it does not scrape on big speed-breakers with even a pillion on board. Clamp on the left brake lever which stops the scooter to roll behind on slopes is missing, not a good omission from Yamaha.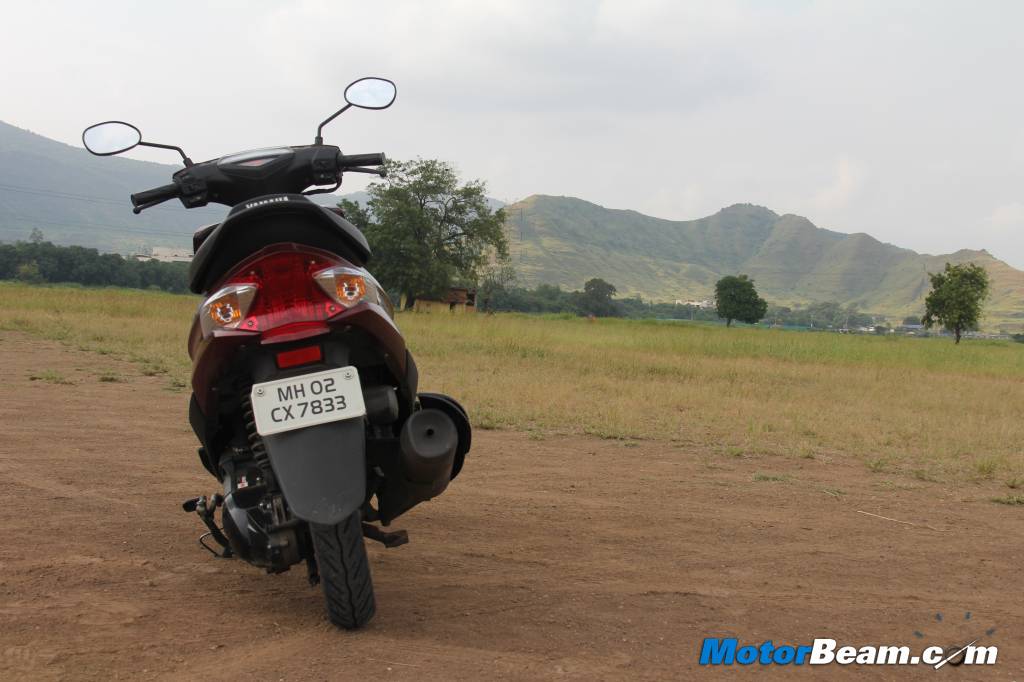 Yamaha products are pretty much engineered to the very limit. It's really hard to find what is wrong with it. After spending a lot of time with the Ray, we can't find anything wrong with it either. This is where Yamaha has always scored and it has succeeded with the Ray as well, no doubt about that. The Yamaha Ray is one of the best scooters out there. If you are a scooter fan or you have been asking for scooter advice, you know that we have always considered the Ray as the best option in the market today. Apart from the small underseat storage and slightly stiff ride quality, nothing is faulty or non-adjustable. After all, the Yamaha Ray was our scooter of the year in 2012. This Yamaha product has a brought ray of hope to people looking for an affordable scooter. No need to go and stand in line for what is inferior in the first place. The Yamaha Ray is here to add sunshine to your motoring life.
The Yamaha Ray offers terrific dynamics and is very frugal too. It's a scooter which can put an instant smile on your face, due to its fun to ride nature.
Yamaha Ray Cost Of Service
* Paid service – Rs. 375/-
* Engine oil – Rs. 225/-
* Air filter – Rs. 150/-
* Front shoe pad – Rs. 600/-
* Rear shoe pad – Rs. 600/-
Further Reading –
Yamaha Ray Review
Yamaha Ray Z Review
TVS Jupiter vs Honda Activa vs Yamaha Ray