Yamaha Twins Overtake Honda Aviator In August 2015 [Scooter Sales]
This month's scooter sales are almost similar to the previous month. The Honda Activa leads the pack by a humungous margin whereas the Yamaha twins gain some numbers.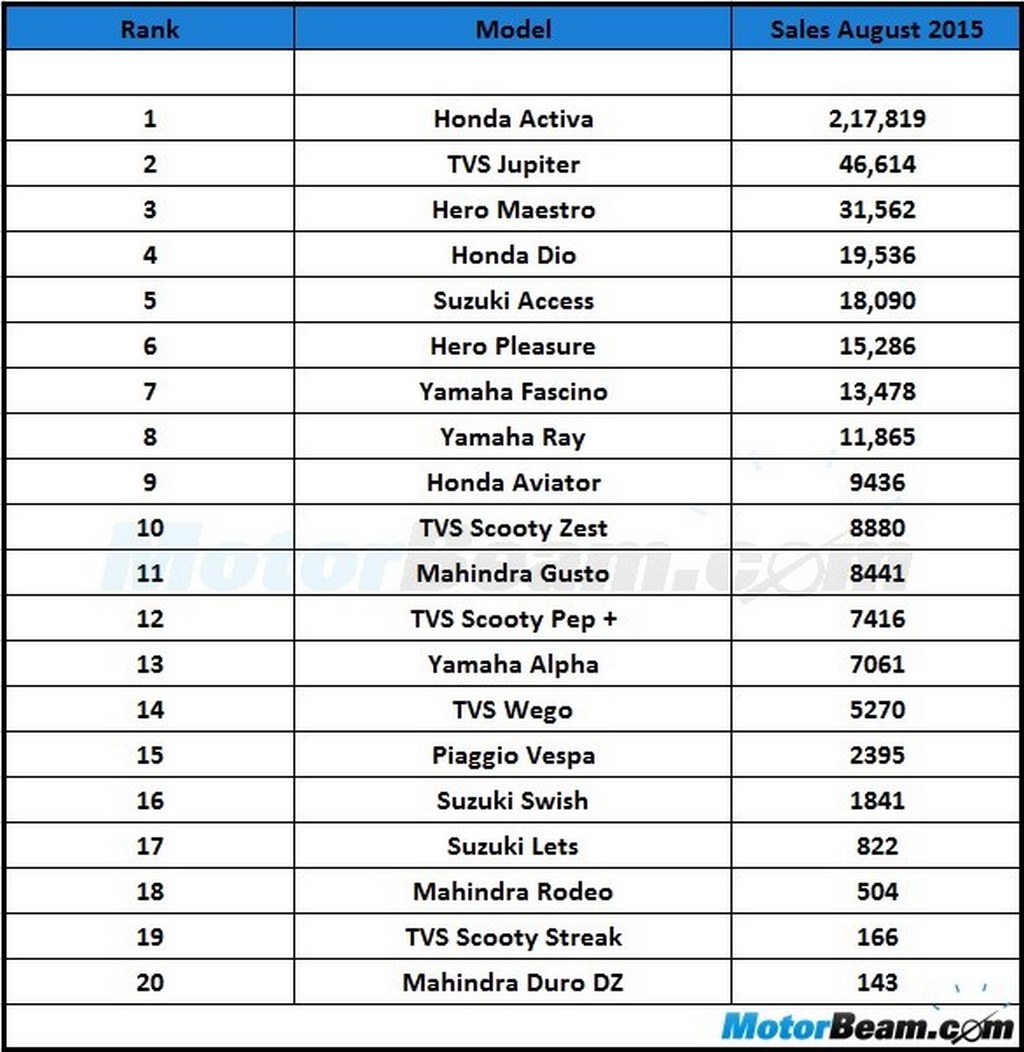 Since a few months, we have seen how the Honda Activa has dethroned the Hero Splendor to be India's most selling two-wheeler. This is mainly due to the rising traffic congestion in the cities making customers go in for scooters which are much easier to ride around and provide with storage space too. All the brands have been wanting to grab a share of this exploding demand but it is majorly Honda which has benefitted from it riding on its legacy and brand value coupled with the first mover advantage it got in the gearless scooter segment.
Up to the sixth position, there hasn't been any change in terms of rankings with sales of all scooters changing a bit. One noticeable scooter is the TVS Jupiter which has been gaining numbers constantly every month and is a worthy contender in the 110cc segment. Post these scooters, the Yamaha Fascino and Yamaha Ray have also gained numbers this month and have managed to overtake the Honda Aviator whose numbers fell a bit. The TVS Scooty Zest numbers are steady and the nippy little scooter is doing decently well for itself. The Mahindra Gusto's sales are almost flat despite the very aggressive marketing campaign by the company.
The rest of the scooters are managing to sell in average numbers with not much of a spike or drop. This can mainly be attributed to the huge number of options available to customers. Also, in smaller towns where sales of scooters is high, the dealer is the one who convinces the customers to buy a certain vehicle. In some places, one scooter is recommended and in other places, some other scooter. So, the manufacturers need to target specific geographical areas and offer higher incentives on sales to the dealers in order to boost sales. Also, some low selling scooters like the Mahindra Rodeo and TVS Scooty Streak must be discontinued now as all they do is occupy valuable showroom space.