10 Reasons Why Pulsar Owners Are Obsessed With Their Bikes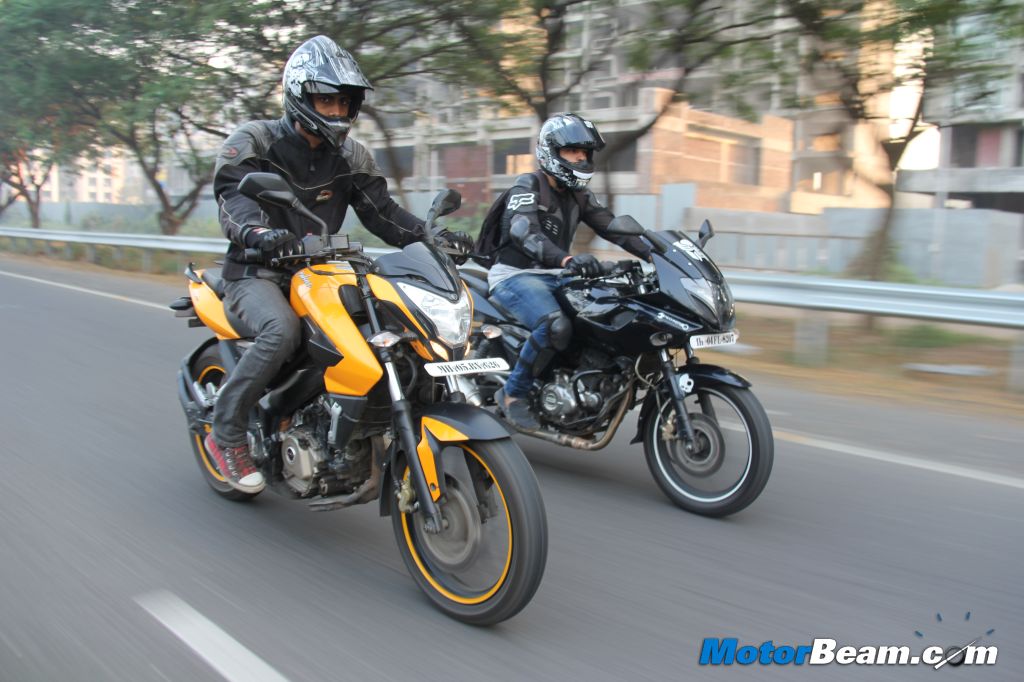 Pulsar, a name so strong that the company which makes it gets sidelined once someone mentions the brand. Yes, Bajaj makes the Pulsar but everybody just simply calls it Pulsar, not Bajaj Pulsar. The brand has evolved so hard and strong that Rajiv Bajaj is now following this funda and creating brands and hoping to create many like this. However, Pulsar owners are insanely obsessed with their machines. Needless to mention that bikers are highly obsessed with their motorcycles, imagine a Pulsar fan with a Pulsar standing in his garage, how gripped they are when it comes to their bikes. There are certain things Pulsar fans do which undeniably makes him a Pulsarian! Yes, Pulsar owners have given themselves a name long time back! They have done a lot of things and there are so many that we cannot carry them all but we carry the best and the most relevant of the lot! Pulsar fans, take it in good spirit, we know you are all ready with counter answers but try to take it cooly.
Styling – Many companies have tried to give their motorcycles a macho look but no one stands apart when it comes to the excellent blend of sportiness and chiseled muscle that the Pulsar has, no one. Sure there are hard core muscular bikes like the Royal Enfield but the youth always wants the best blend of both worlds. He wants to be a young guy at heart but he also wants to look like a man on the outside. Even Japanese companies are now trying it but nobody comes close to the way the Pulsar tank is chiseled and the way it has tank extensions or fairing bolted on to it flawlessly. The Pulsar 200/220 for example, even after six years (if it is in gleaming condition) makes other riders and on-goers give it that typical long look, no second look, but the "typical" long stare it always gets. The right blend styling with European level of finish with acceptable quality, if taken care properly has seen it survive a decade without major hiccups. Something which so called "imported" bikes costing Rs. 5 lakh still in the age of 2014 cannot match.
Road Rage – Yup, if that Karizma or the guy on the Apache even stares for three seconds, the race is on. The owner will forget everything at the very moment and will make sure the competition loses the race till the end at any cost. The performance king has shown every competitor who is the boss on the battle-field (for Pulsarians it is only the road). Those absolutely dangerous flicking of the handlebar, those insane lane splitting moves and de-clutching which the immature and road racers do was first seen on the Pulsar in the first place on Indian roads. There is no denying these facts that we are writing but the moment you step out of your house in the afternoon or evening on semi-traffic highway, you are bound to find these Pulsar riders tearing the streets and making car guys as nervous as interview day for those five seconds. The bike also supports as it has the best straight line stability and rock hard poise at high speeds. And last but not the least, the throaty motor noise, the way the 2-valve engine makes so much torque at low and mid revs, it just feels like a turbo engine which is left untamed (not anymore though). One of a kind soundtrack also makes testosterone levels reach insane levels. If you have ridden a Pulsar, you know that you need to catch your breath after fast riding.
Modifications – Just like BMW car owners, the moment the bike leaves the showroom floor, it is going for what normal people call "modification" but it is just a sticker job! Needless to say those stickers are #46, Hayabusa stickers on the front or chequered flag at some point of time. When it comes to electricals, red/blue/white colour lights above the rear tyre and engine are also a must to make it standout. Later in the life cycle of the motorcycle, modifications such as painting the wheels, chassis and body colour continues. And most of the time all three colours are different. Adding new age "angel lights" and projectors have become the obsession amongst Pulsar riders. All this sometimes make the Pulsars look super tacky while sometimes it looks like a job well executed.
Do it any cost – Pulsars are known to break down, the cases have reduced over time but when it does, a Pulsar owner will not bargain or delay anything to be replaced. Even major work is done in just two days. Right from fixing the entire front-end which was gone in a crash to rebuilding an engine. Day two and the rider is back on his motorcycle. The mechanics are literally threatened most of the times. This trust comes from the company side as spares are always available and are priced very well, not too high nor too low. Any kind of rattling which occurs will be solved by a jugaad only. Put some cloth there, stick some glue here, do anything to make the noise stop for now! This step is solely supported by Bajaj mechanics themselves.
Speculations – Pulsar 200 NS launched and 6 months later – "dude, 300cc is on its way". And this is how those rumours spread. This however started when the original Pulsar 200/220 was launched. Making up stories such as power, mileage and top speed is the matter of discussion when five Pulsarians meet together. This was started by Bajaj itself as it was improving bikes and called them as UG2 and UG3 and hence forced people to think that the upgrade is on its way in the form of higher capacity launch which is always around the corner.
Tyre means MRF only – The tyres which came as stock made every motorcycle loving enthusiast go so mad over it. Despite Pirelli, Michelin whatever came, Pulsarians only and only wanted 100/120 section MRF tyres at the rear as the pattern suited the bike endlessly. There is always a crave to upgrade to a fatter tyre but MRF means MRF Zapper only! Pulsarians are the most attention to detail bikers in the country, don't underestimate them.
Pockets don't go light so easily – If the bike is in good condition, Pulsars have always known to give outstanding efficiency on highways. Even Pulsar 220 owners claim they achieve 44-45 km/l on long stretching highways. Since spare parts are cost effective and km/l numbers are epic, a Pulsarian is always happy with this great aspect he has on his bike. A Honda Unicorn won't give the claimed on-road efficiency but a Pulsar 220 has the power to return you 38 km/l easily.
Part sharing – "Let's put the swingarm from the Pulsar 180 UG3", "buy those Pulsar 200 tank extensions for me na in black", "I need those clip-ons from the Pulsar 220", "let's put 220 fairing and projectors", "mirrors are great on the Pulsar 135 for touring" and much more. Pulsarians are always keen on doing this when they have free time and they think about their beloved bikes to make them perform better, both aesthetically and mechanically.
Fuel tank capacity – The reason why we don't need adventure bikes with 21-litres of fuel capacity is because the Pulsar offers a 17-litre fuel tank and the Pulsar 200/220 are always ready to cruise at 100-120 km/hr which are safe speeds in India. This in conjunction with those epic km/l figures and a full tank of fuel means a range of 500 kms! Trust me Pulsar guys, this is a feature which makes even superbikers jealous of you, leave normal Japanese or European bikers aside, they envy you even more!
Comfort – The almost upright riding position while piloting the heavy front-end character in slow speeds does not affect you in the city much, after some time of ownership and on the highway even cross winds don't shake you at all. Coupled with that and the excellent ride quality due to soft suspension and high profile tyres doesn't make you hear curse words from your pillion either. All of this is also achieved thanks to well done cushioned and generously large seats for both rider and pillion. Comfort levels are even high with that huge wolf-eyed fairing at the front which prevents wind blast to a quite an extent. Pulsarians will never hesitate a long ride on their bikes and will praise the comfort levels endlessly.
All of this has gained you a lot of respect which no other biker gets. You show your angry red eyes to other guys who have done nothing wrong but they won't say a word. And if you do anything wrong, the roads and others watch that you own a Pulsar, they don't say a word. Because everybody knows how a Pulsarian is! Boy racer at the heart and a man who wants respect more than anything else. Last but not the least, if anybody says anything BAD about your Pulsar, you will argue with him on two points and do what you always do in the end – "chal let's drag".
This post has been written by a person who has spent 6 years with three different kind of Pulsars over time!