2011-2014 Complete Indian Car Sales Analysis [1/14]
The auto industry has been on a roller coaster ride for quite some time and it looks like "Acche din aa gaye hai". No we are not promoting any political party but the sales figures say it. The sales did succumb to inflation and non IT recession but things are looking better now. For the past couple of months, companies have been posting decent numbers on the sales charts. You may be well versed with the recent numbers but we thought analysis of previous year's sales would give you a head start in case you are looking to buy a car.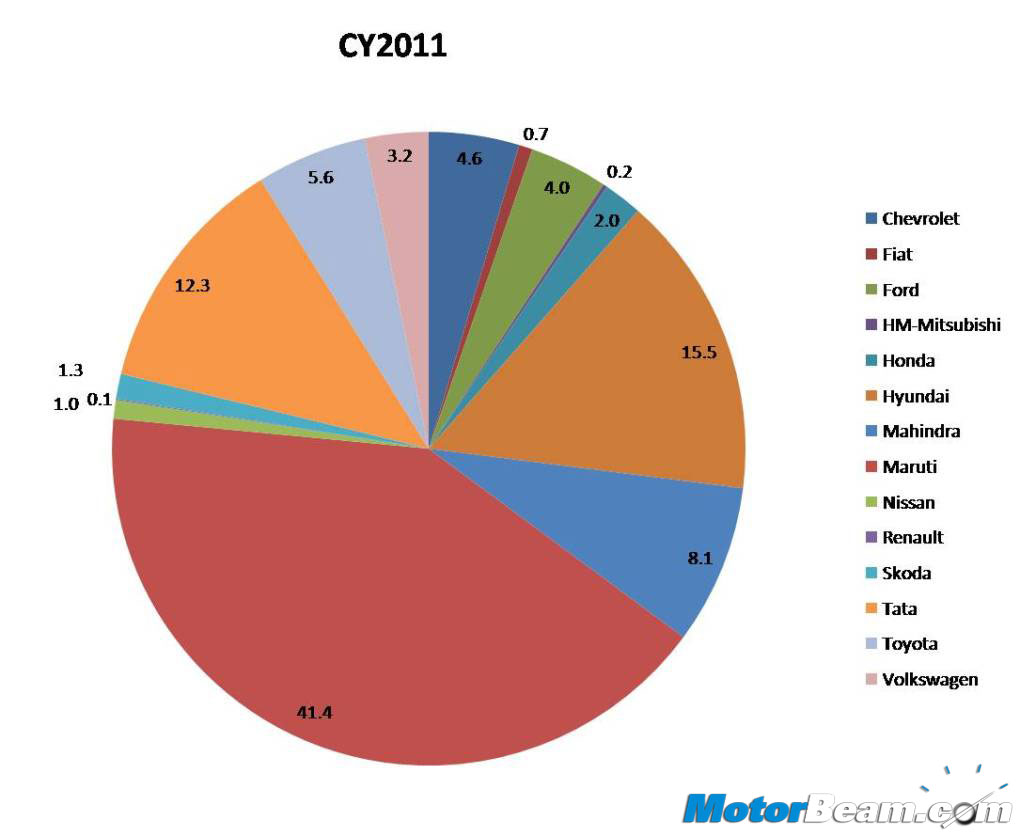 Calendar Year 2011 – Clearly dominating the Indian market, Maruti-Suzuki occupied 41.4% of the market with almost 10 lakh units under its belt. Trailing the Japanese was the South Korean Hyundai grabbing 15.5 percent of the market with 3.75 lakh units. Next to that our country's own Tata's and Mahindra's gained a market share of 12.3 percent with 3 lakh units and 8.1 percent with 2 lakh units respectively. Hindustan Motors-Mitsubishi and Renault stood last as the companies managed to sell only a few thousand numbers. On a total. a little over 2.4 million units were sold across the country.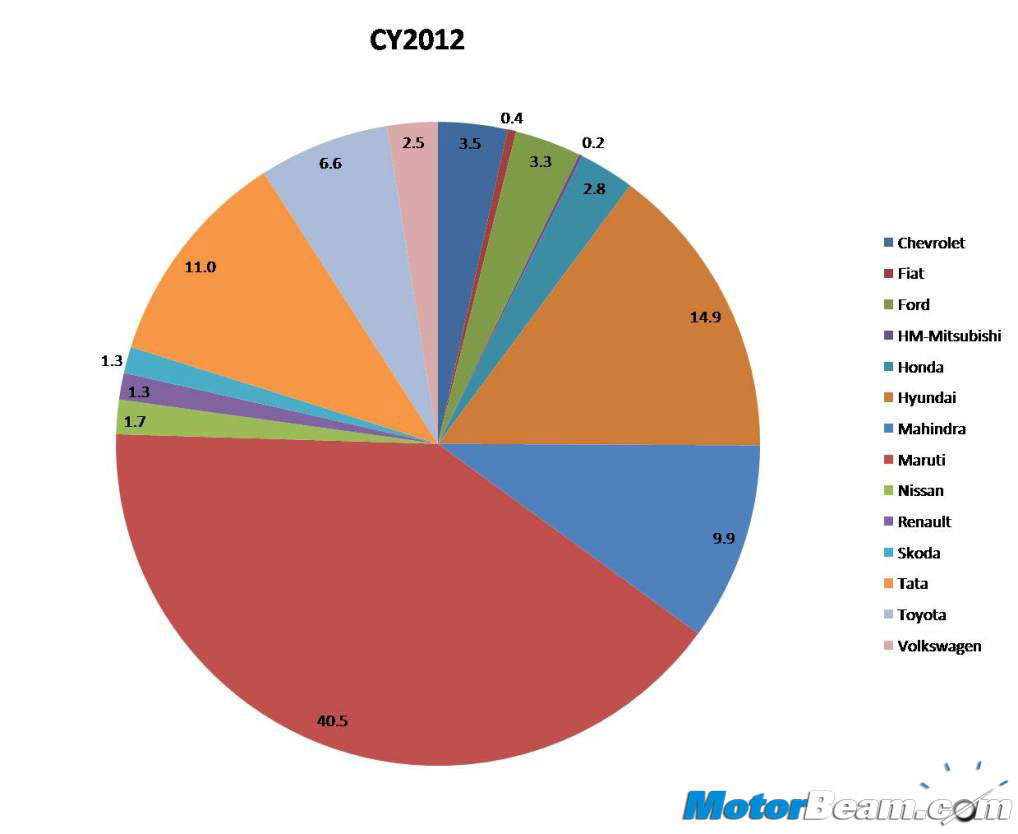 Calendar Year 2012 – In 2012 the scenario remained more or less the same with no change in the leader board, but there was jugglery at the bottom of the table. Though Maruti Suzuki launched a new model, it did not help increase its market share. Neither Hyundai nor Tata Motors launched new vehicles and that did leave a dent as they lost 0.6 percent and 1.3 percent of market share respectively. Mahindra on the other hand launched three models and it grew by 1.8% in terms of market share, while Renault and Toyota grew by 1.2 and 1% respectively. Overall 2.62 million units were sold during this year, as the market grew by 9 percent.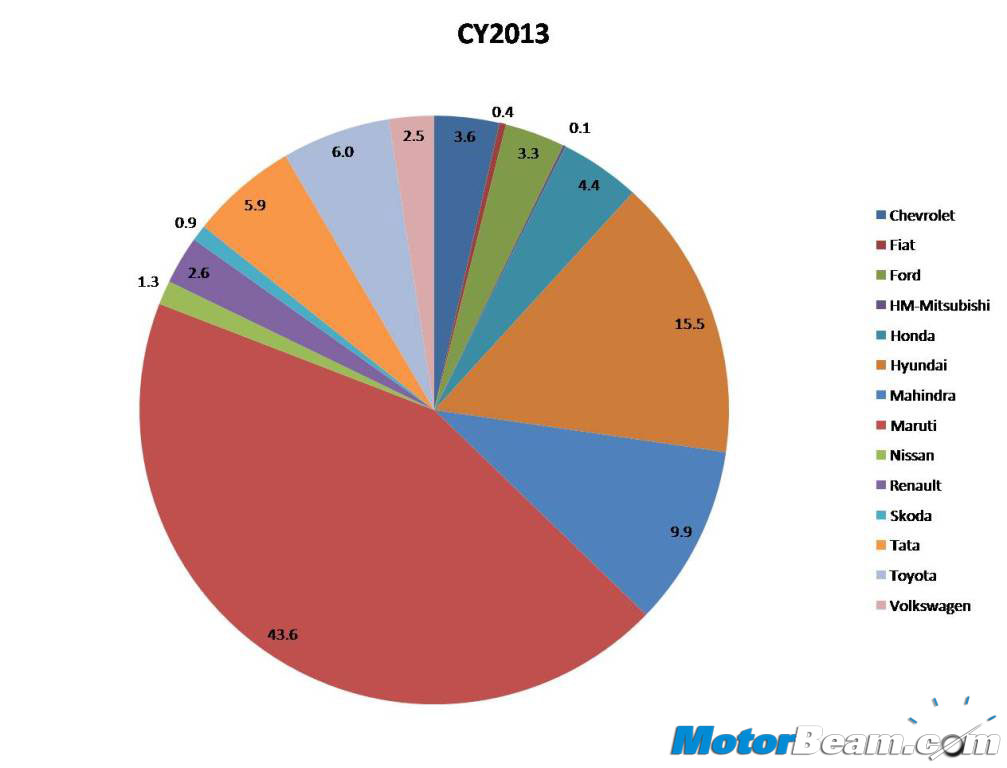 Calendar Year 2013 – The market lost some steam this year as the overall sales figures slumped by almost 8 percent as the figures ended up like that of 2011. Maruti without any new model improved well as it gulped 43.6 percent of the 4-wheeler market. Hyundai proved its mettle by playing its trump card; called off a sedan but introduced a grand hatchback. The Korean again came second with 15.5 percent share. A disastrous year for Tata Motors, as the automaker lost huge market share. The company lost almost half of its market share and slipped down to fifth spot. Mahindra climbed up the rung with a podium finish and a new so called hatchback was added to its portfolio. Fiat though got reliable products but failed to win the Indian hearts and was just ahead of the brutally crushed Hindustan Motors.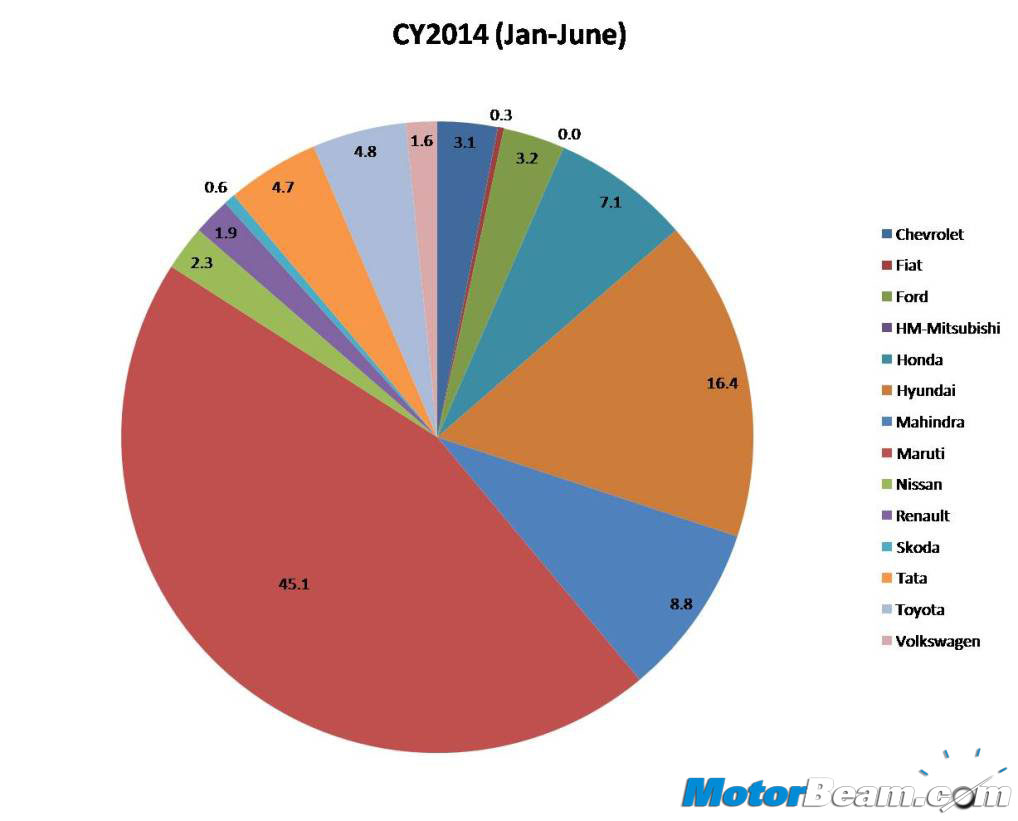 Calendar Year 2014 – As mentioned earlier, this year looks better as the market started posting decent numbers. We have seen instant winners such as the Celerio and new City and we believe this chart will change with the Tata Zest and Honda Mobilio hitting the streets. With the current rate, the market is expected to post a growth of 3 percent but we expect it to grow by 6-8 percent; the reason being the launch of certain well awaited models. Maruti is by far in the unbeatable position with 45.1 percent market share, trailed by Hyundai again with 16.4 percent. The third belongs to Mahindra with 8.8 percent, while Honda has already gained momentum with the Amaze and new generation City on board and the Mobilio will be adding more mass to crush their rivals. Tata's lifeline Zest has already won the hearts of young enthusiasts with its Revotron engine and diesel AMT. Coupled with enhanced build quality, the car is certainly a serious threat to the Honda Amaze and Hyundai Xcent. We have to wait and see its impact on the Maruti DZire though and the company did learn some hard lessons from previous year's performance. To mention, this year has seen the end of the legendary Ambassador with Hindustan Motors being called off the list.
Performances – Over the next 14 days, we will be looking into each manufacturer individually (one a day). Today we start with the lowest seller of them all.
HM – Mitsubishi – The perfect term we could relate to this venture is "Euthanasia". Hindustan Motors once the emperor of auto industry finally made its march towards the grave earlier this year. The HM management hardly did anything to revive the loss stricken company. We truly salute the Ambassador for serving the nation; a privilege for all Indians. Hindustan Motors however did continue the Mitsubishi models by transferring the assets to Hindustan Motors Financial Corporation. Mitsubishi has been out of league for a very long time and with the current products, we don't think it can make a comeback.
Tomorrow we will look into the top selling auto maker of India, Maruti Suzuki.