2011 Nissan Micra Details & Pictures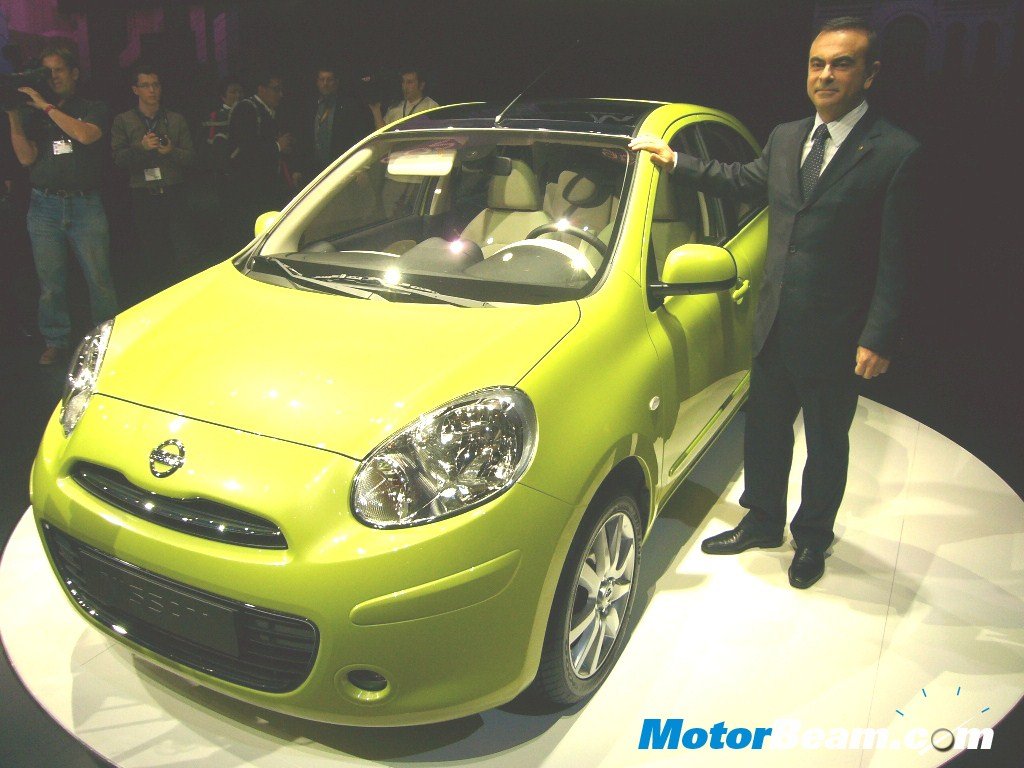 Renderings, spyshots, artist impressions, etc have been doing the rounds ever since Nissan announced plans to manufacture the next generation Micra in India at their upcoming plant at Oragadam in Chennai. But the all-new, fourth generation Nissan Micra has been finally unveiled at the 2010 Geneva Motor Show. Developed and built on Nissan's all-new V-platform, the new Nissan Micra was designed and tested in Japan to be built in at least four overseas locations, and fine-tuned to meet the differing tastes and needs of customers in 160 countries worldwide.
Retaining its compact dimensions, the new car is slightly longer and marginally lower, while its longer wheelbase enables a 'wheels-at-each-corner' stance, the main reason behind the Nissan Micra's roomier interior. Nissan has employed a 'connected cocoon' design featuring a dashboard design which takes on a 'twin bubble' theme. This refers to the circular instrumentation binnacle and the similarly shaped glovebox compartment on the passenger side.
The all-new naturally aspirated HR12 1.2-litre, 3-cylinder petrol engine (which will be on offer in India) employs valve-timing control (VTC) with 80ps of power and 108Nm of torque. In addition to the new normally aspirated engine, Nissan will also offer a supercharged 1.2-litre direct injection iteration with a start-stop system fitted as standard in Europe. Both engines are available with either a 5-speed manual gearbox or Nissan's all-new Continuously Variable Transmission (CVT).
Mounted onto Nissan's new signature V-platform, the suspension has been designed to be both compact, minimizing intrusion at the rear for maximum trunk space, but not at the expense of the car's on-road dynamics. Particular attention has been paid to bump absorption, meaning that the Nissan Micra will ride serenely over challenging road surfaces, not suffer from wallow or float, and cruise effortlessly at highway speeds. In Europe, the Nissan Micra will be fitted with ABS, dual front airbags, curtain and side airbags, Electronic Stability Programme (ESP) and pretensioner seatbelts as standard equipment. But in India, we will only get front airbags and ABS.
The new Nissan Micra is available with reversing sensors and a new 'parking space measurement' (PSM) device with three skill levels (amateur, normal and expert) to lessen the burden of parking in tight spaces – a unique feature in this segment, and likely to be a popular innovation in Europe where 'touch parking' is a way of life. It also offers an Intelligent Key, Nissan Connect, Nissan's accessible touch-screen combined audio and satellite navigation system, glass roof, automatic wipers, speed sensitive volume on the audio, a push button start-stop system in addition to a drive computer which supplies drivers with real time fuel economy information, cruising range and outside temperature. On the security side, the car is also fitted with a speed-sensitive automatic door locking system.
[ id=15]