2012 Honda Civic First Drive Review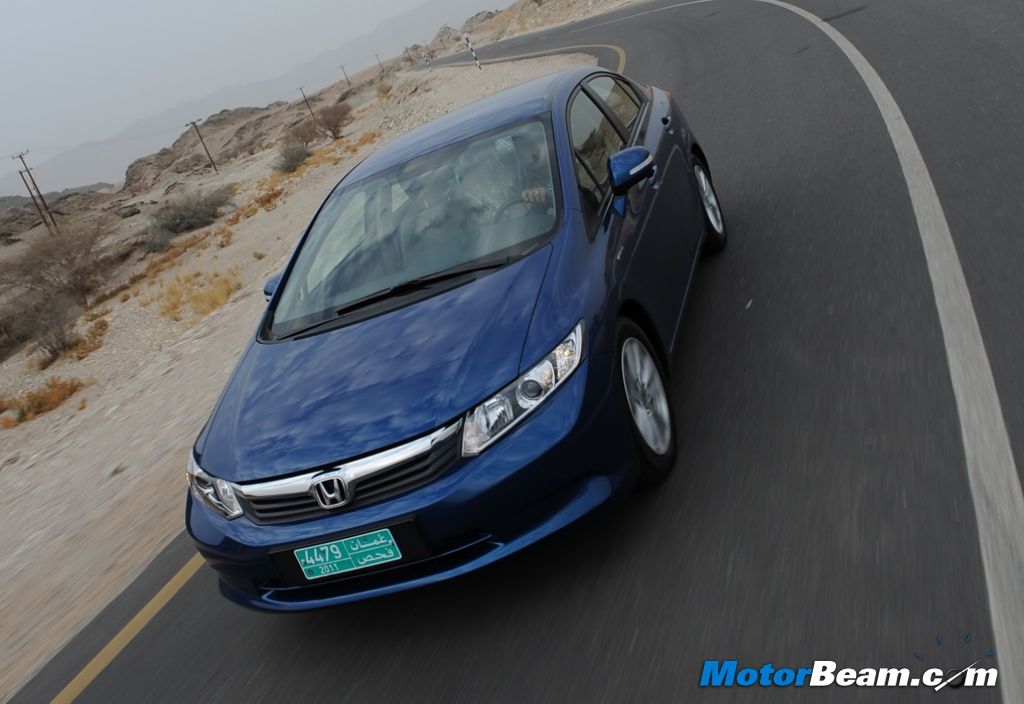 Globally, Honda Motors is beginning to realize the after effects of the economic downturn and for the illustrious car, bike and power products maker, the pressure is beginning to show. On one hand, there's a complex mix of products which don't have a clear cut USP or positioning [each market is offered a different line-up of products] and on the other hand the rising Yen is creating havoc with the bottom lines. Honda produces most of its volume cars and components in Japan and has been a bit late to join the cost effective overseas production bandwagon.
But, as the carmaker looks at India as one of its key markets with specific new products such as the Brio subcompact, one thing that goes in its favour that it has been able to maintain a superb reputation in engineering and reliability, even for the India-built products. However, offering cars at very competitive pricing has been a bit difficult and since Honda isn't exactly considered as a premium luxury carmaker in other markets, to command a premium on pricing isn't also working out, especially in price sensitive markets.
In such a scenario, Honda is putting its best foot forward with the all-new Civic for 2012, setting rest speculation about the new model's availability due to unforeseen production issues in Japan as a result of the devastating earthquake and Tsunami in March and its aftermath. Honda along with other Japanese carmakers are limping back to normal production and with the arrival of the new Honda Civic, at least there's some relief at camp Honda.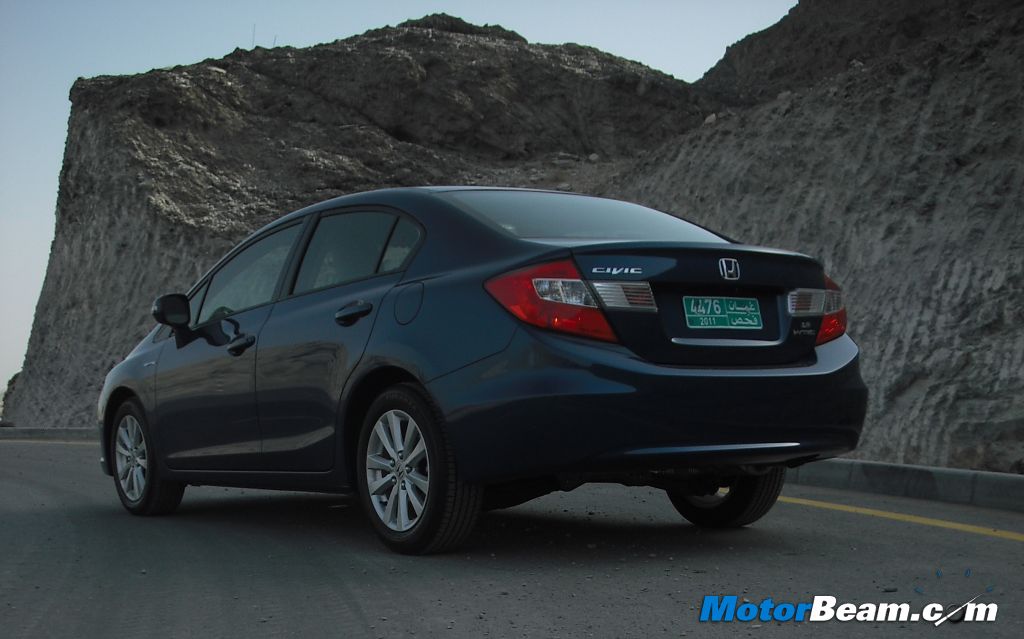 It's no secret that the outgoing eighth-generation Civic [introduced in 2006] was a revolution for the segment particularly in terms of it striking design, presentation and overall packaging. It was a mould breaker considering the fact that most automakers usually style their mainstream C-segment models conservatively as they have to appeal to a wider audience. By far, very few C-segment cars have demonstrated a radical styling theme as the outgoing Civic did.
Looking at how the segment has shaped up in the past couple of years, it seems that emotion is a now a key factor in driving manufacturers to consider more than one factor for a successor. Current market research suggests that while changes may or may not lead into any significant performance increase, but an emotional increase is expected by the driver and occupants when a car is actually driven. Honda's recipe for the eighth generation Civic did very well in these terms, and at the same time the emotional quotient of competitors has also gone up significantly besides the arrival of new models in the region.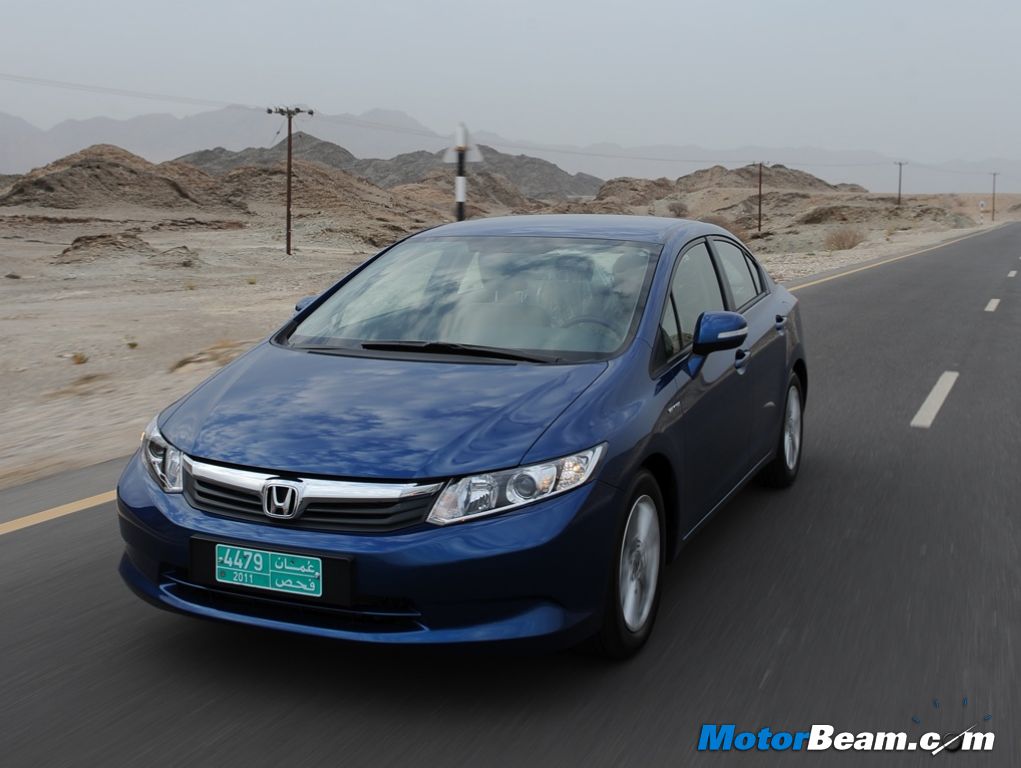 Styling – It seems that Honda has decided to play safe and continue with the outgoing car's profile and graft it with some current design DNA. In fact Honda's lead designer Toshiyuki Okumoto San entrusted for the exterior styling described the new stance as a "one motion form". In fact, Okumoto has tried to make the new car a bit more youthful with some aggressive touches to its sheet metal.
Without disturbing the predecessor's wedge-shape profile radically, it seems that Okumoto San's designer touch has softly massaged soft character lines on the bonnet, and some well-defined flares at the rear. Both front and rear ends have been redesigned and we think the front is more in line with the current Honda design DNA with a steeper windscreen to begin with, while the rear seems to have lost its predecessor's charm. We can empathise with Okumoto's overall treatment in the new arrival which now connects much better with the second generation Jazz and more with the current Euro Honda Civic hatchback. Dimensionally, the car is 5mm shorter in length and width, while the wheelbase has been shortened by 30mm and rear track also reduced by 10mm. Even with 195/65R15 wheels, the car's ground clearance has been reduced by 4.2mm.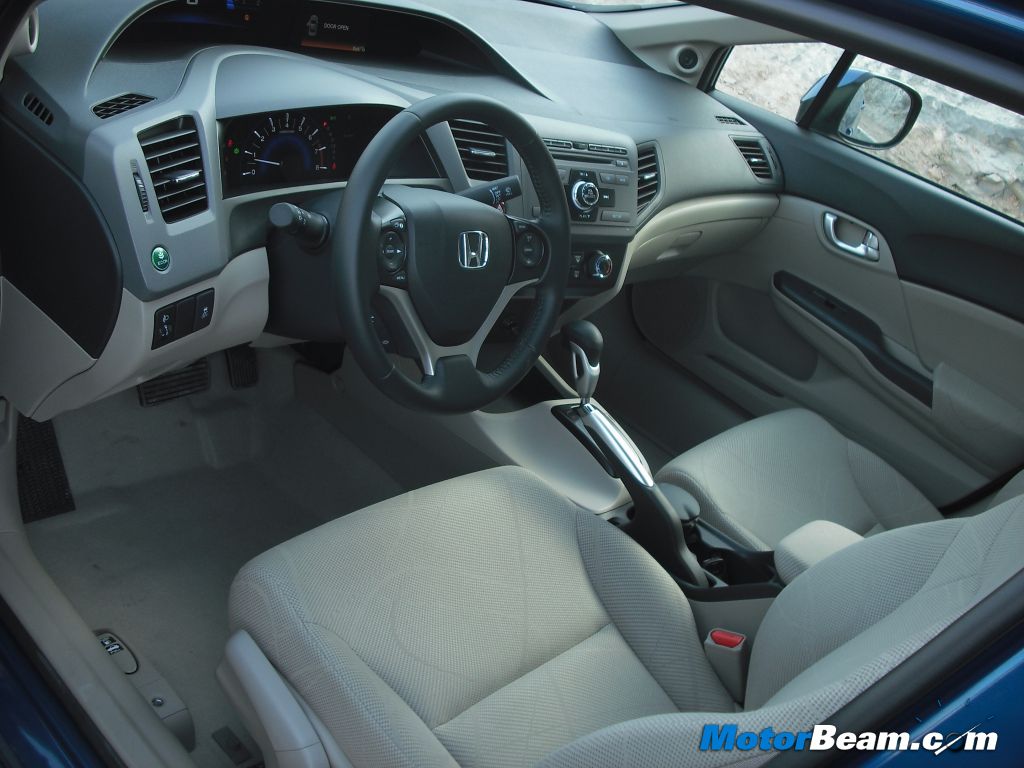 Interiors – Going by the predecessor's interiors, we were expecting a further evolution of the two-tier dashboard among other things. While the cabin feels spacious, thanks to new light coloured fabrics and more glass in the greenhouse, careful observation reveals a revised design of the fixed quarter glass, while the A-pillar appears thinner inside and its housing now also sports a tweeter.
While, the previous Civic's interior, especially its dashboard was 100% revolutionary in design, the new car's design tries to present itself as evolutionary, but it fails to cut the class as large chunks of lifeless grey plastic overwhelm the interior. Front and rear passengers benefit from additional leg- and shoulder room and taller drivers and front passengers will appreciate the extra three inches of additional shoulder room. Honda has realised that rivals especially from South Korea have significantly upped their respective games with mouth watering design, kit and features. Honda tries to narrow that with what it refers to it as its new I-MID, or Intelligent Multi-Information Display system along with some other first time features even in the base models. Essentially, it is an extension of sorts in terms of specific equipment, form and function. The dashboard continues to be split level as before with digital speedo readout. A five-inch LCD screen has been added on this level which is used as information centre and also doubles up as the screen when the rear camera is activated.
Gadgets – An ECON-function is a new highlight in the car which looks at optimizing energy consuming systems, such as engine and air-conditioning with the view of fuel efficiency. It's more of a driver's aid and has two ways of conveying information to the driver on how to optimize driving. On either side of the speedometer is a horizontal strip of colour changing LCDs. Depending on how the car is driven, it will change colours from green to various shades of blue representing most economical to least economical driving modes. The technology behind this is said to include automatic adjustments to engine and air-conditioning in particular. But how it works is still not clear in terms of optimizing performance and balancing fuel economy.
Steering wheel has also been revisited and now it is extra busy with buttons for several duties. A toggle on the left-hand steering wheel spoke allows the driver to sift through a wide variety of vehicle info, and other electronic gadgetry includes Bluetooth hands-free phone capability, auxillary imports and a decent 160-watt audio system. Among the ergonomic improvements, the quirky crane necked handbrake lever which was awkwardly positioned next to the shifter gate has been repositioned further back [it should have been there in the outgoing model] and this time around the lever is a traditional and not a designer one, but we do have some reservation as to why the sliding cover over the cup holders has been discontinued. Besides these, the rest of the cabin's layout and familiar controls is decent and virtually the comfort levels, seat design and bolstering are all carried over. On the cargo front, while boot space in the sedan rose from 14.15 litres to 354 litres, but it's still way behind the new Elantra's 419 litres. and the Chevy Cruze's 425 litres.
Engine – Despite Honda's attempt to keep the Civic top in the game, it still doesn't pull it ahead convincingly and the reason for that is the rest of the packaging. Carried over for this region is the powertrain set-up, but there has been some slight tweaking in mapping, compression ratios. While torque is unchanged, power output is up by 0.72 per cent only. However, what is significant is that peak power and torque now come at higher revs. The SOHC i-VTEC engine is good for 139 hp at 6,500 rpm and 173 Nm of torque at 4,300rpm and to increase fuel efficiency, the engine boasts increased intake airflow, enhanced valve timing, and better exhaust gas recirculation (EGR) flow. The five-speed automatic is also carried over and that's disappointing because the automatic in the 2012 Focus is a more modern and efficient six-speed, as are the ones in the Hyundai Elantra or Chevrolet Cruze.
Honda's policy for this car has been give and take. While some new and trendy features have been added, what it has taken out is unseen to most. The cost differential has been met by taking out the expensive catalytic converter from the older model and replacing it with a budget variety.
Safety – The new car with its ACE-designed safety structure which use five per cent more high-strength steel, Honda claims the Civic's body is seven per cent lighter and 10 per cent stiffer in static rigidity, and 11 per cent stronger in dynamic rigidity. That's not all, a new electric power steering (EPS) system, a redesigned front subframe, and a thin-walled fuel tank all combine to shave some weight, but other kit in the car have made the car slightly heavier than the outgoing edition [15-40kg depending on trim level], which comes as a bit of a surprise as the general trend in the efficiency drive is also to cut flab wherever possible without sacrificing comfort or safety.
Suspension – A front strut and multilink rear suspension carry over with only minor enhancements, but the previous edition's hydraulic power assisted steering has given way to an electric set-up. Safety, on the other hand, is a strong point and although the 2012 Honda Civic doesn't yet have crash-test ratings, the company predicts the new model will earn the highest-possible ratings with it standard safety kit which includes six airbags, stability control, ABS, braking assist and brake-force distribution.
Driving impressions – The Civic sedan line-up sold in the Middle East since 2006 has never been ambitious in terms of driver involvement as it came with a middle order powertrain set-up. While, there was some expectation of inclusion of a fun-to-drive factor in the incoming model in view of the new benchmark standards made by rivals in the segment and the introduction of the UK-built Civic Type R hatchback, sadly, that spirit is difficult to detect as the car is absolutely and totally predictable with no surprises or false moves. While reading the spec sheet, we are aware that a fatter mid-range torque curve now exists between 2,000 and 4,000 rpm and at practical level should have provided more usable oomph for daily driving. But actually, the difference between the outgoing and incoming model is hardly noticeable, however, what livens up the ride a bit is the quick electric-assist steering, a civilized degree of body rigidity and benefits of a shorter wheelbase. The car is a bit sharper than its predecessor.
Considering that the car has gained some weight and modest bump of 2hp to compensate that, on road acceleration car doesn't feel that different. In our opinion, Honda should have considered introducing a Tiptronic function in this set-up to spruce up things a bit more. While tyres are also a factor, one would have expected the front end to be a bit heavier on the power steering, but there's a pleasant surprise out here. Since the new Civic has opted for electric power system instead of hydraulic, the steering weight feels marginally better. In the old car, steering feedback and turn-in was good and the new system manages that and perhaps a shade better.
Driver's front view is now better as the fixed quarter glass area on the front door has been increased. If the car wasn't low, one could mistake it for an MPV from inside. The integration of key functions is much better executed and the simplicity in operating it also scores some marks. Although, it falls far behind equivalent Audi or Mercedes or Lexus systems as far as technology application or gimmickry goes, and considering Honda's very cautious and conservative approach of doing things, we would say something is better than nothing – you get Bluetooth connectivity and an auxiliary input socket for MP3 or IPods, but a shame, there's no storage capacity.
Verdict – The eighth generation Civic was by far a notable and impressive attempt by Honda to energise its C-contender. Honda tried and successfully raised the bar and also pricing significantly on the pretext of premium content, but some users of the car have complained about build quality. Cracking rubber seals, fading plastic and shoddy paintwork have marred the image of this model. We hope Honda has sincerely rooted out its build quality niggles in the new model and also keep the price point attractive.
Civic vs Competition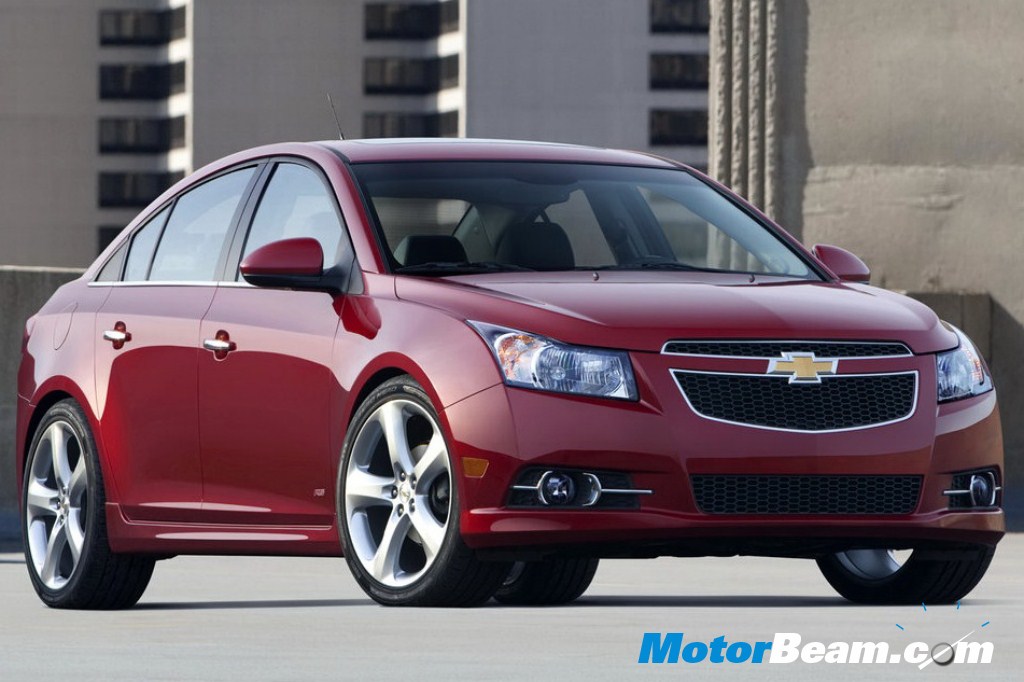 Chevrolet Cruze – One of Chevrolet's new global models specifically developed to satisfy European tastes in design and chassis performance. This compact notchback is a product of a multi-national design team, based in Korea with input from Germany, US and Australia. The svelte looks are accompanied by class-leading features such as flush fit of panels, with exceptionally tight gap tolerances, and generous rear passenger leg, head and shoulder room, despite a signature sloping roofline. The 1.6-litre engine develops 113 hp at 6,400 rpm and peak torque of 153Nm at 4,200 rpm.
[singlepic id= 1723 w=540 h=375 float=center]
Hyundai Elantra – A few years ago, this model from Hyundai wouldn't have even been considered as a worthy rival. In less than two generations, Hyundai is in the forefront of many things including engineering, reliability and now styling. The all-new Elantra was launched in 2010 and is a fine example of Hyundai's application of 'fluidic sculpture' in a compact car. Not only the car looks and feels good, it actually raises the segment's benchmark in several areas. The standard engine for the car is a 148 hp 1.8-litre 4-cylinder with 178 Nm of torque, apparently capable of a 6.9 litres/100 km rated fuel economy.
Toyota Corolla – Technically, the current generation Corolla is at the end of its successful life cycle, so Toyota has decided to freshen up its hot-selling model while leaving core components such as its 1.8-liter engine and four-speed automatic transmission intact. But as a facelift exercise, some performance upgrades have been incorporated last year and now comes with more power, revised styling and a host of new features. As before, the model is offered with new powerful dual VVT-I engines displacing 1.6-liter and 1.8-liter respectively. Besides a bump in horsepower, the focus is also on better fuel efficiency and smoother performance. A new six-speed manual transmission replaces the five-speed of the earlier model.
What's In, What's Out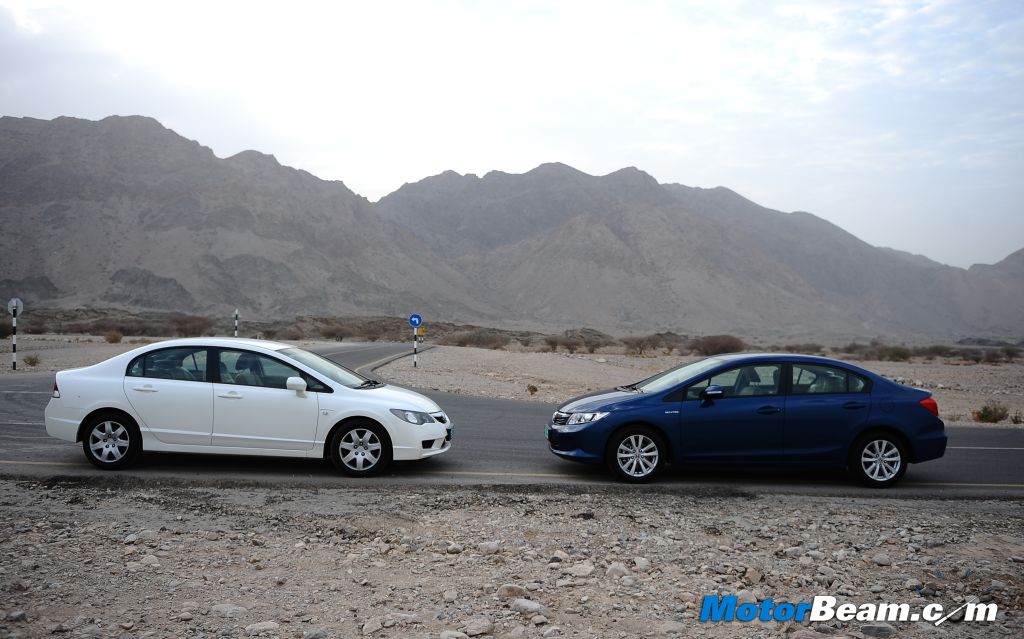 Design and styling – Similar in profile, but with marginally increased dimensions. There's introduction of strong character lines in the sheet metal and the face is a mix of City and Accord stling. Twin exhaust tip no more. The car is now shod with bigger 16 inch wheels.
Engineering – Despite the current trend of flab reduction, the new Civic is heavier. Powertrain mostly carried over with some changes in mapping. Both output and torque now come at lower revs. Hydraulic power steering replaced with electric and eco-mode system included for fuel efficiency.
Interiors – Dashboard is striking as before and is an evolution. More kit has been added and plastics have different texture. Fabric interiors much brighter and youthful, while electric powered steering wheel now extra busy. Quirky mechanical handbrake gives way to normal type. Some convenience features in central console of old model conspicuously absent.
Performance and handling – Despite revisions, the car doesn't feel too different than its predecessor. The overall performance is hardly jaw dropping.