2012 Maruti Swift DZire Testing Started
Maruti Suzuki is buckling up for all the losses it has made under the workers strike, it has hired new workers and the production of the cars is going on in full force. If you remember earlier we told you regarding a sub 4-meter Swift Dzire which was spied by Autocar, the company officials have confirmed that the smaller Dzire is doing test runs at the production factory. The Dzire which is based on the extended new Swift platform will come in a new avatar which will cut short the boot size to save off the excise duty. Earlier the Dzire would attract 22% excise duty which made it a little more expensive car.
Looking at the current situation when we have cars like Etios, Maruti Suzuki is under serious threat as Etios is slowly eating up the Dzire's market as it is priced lower than the Dzire and wears the Toyota badge. With the shorter boot the Dzire will now attract only 10% excise duty and the benefits of the cost saving will be passed on to the buyer. So if the earlier Dzire was priced at Rs. 4.94 lakhs, the new one should cost roughly 4.49 lakhs (all prices ex showroom). We haven't factored in the price increase for the next generation Swift Dzire, which should be around Rs. 30,000/- (still making the new version cheaper than the outgoing model).
There are around 20 such new Swift Dzire's in the plant being tested out of which a few are left hand drive models, which means Maruti Suzuki is not only looking at the domestic market but also markets outside India where people prefer smaller, fuel efficient cars due to global economy slowdown and rising fuel prices such as Europe and Latin America. The new Dzire is all set to be showcased at the 2012 Auto Expo held at New Delhi in January.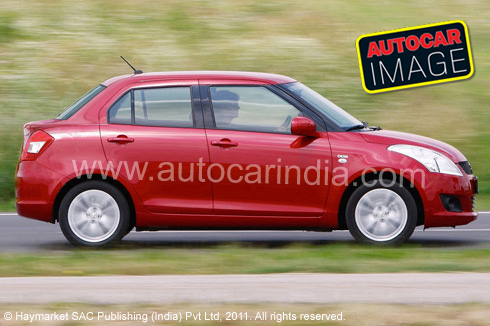 Source – LiveMint and Autocar India