2012 Mercedes M-Class Spied In India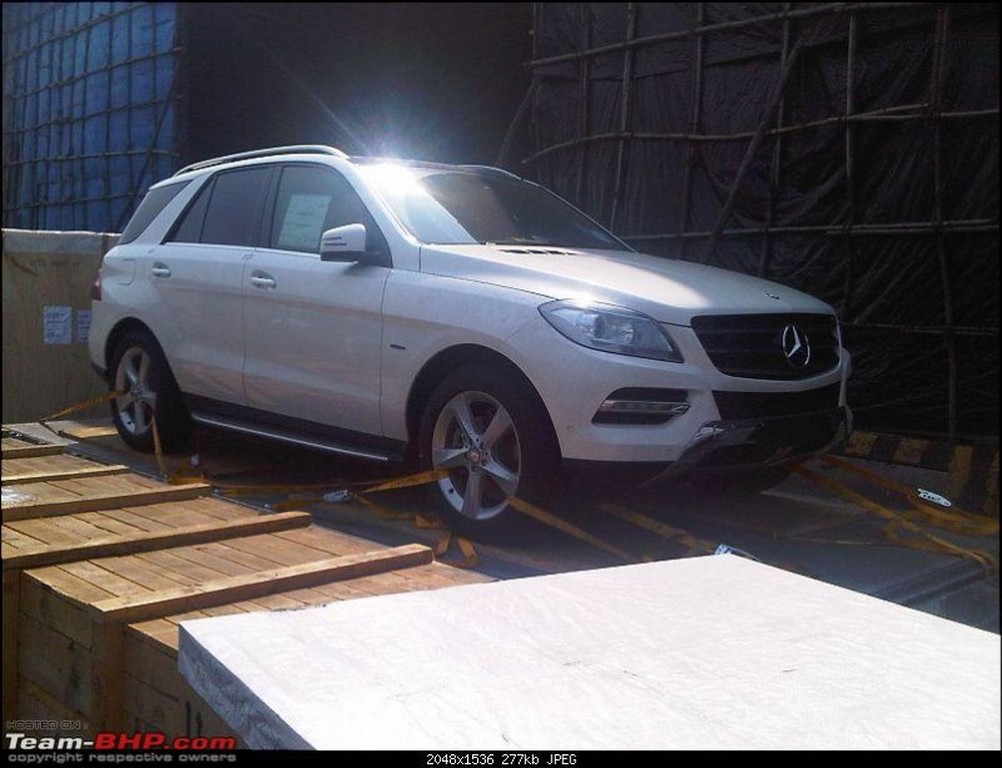 The German car manufacturer, Mercedes Benz had already announced its plans on starting to assemble its M class and the GL class vehicles in India. The company has plans to assemble the M class from next year while the GL will start to be assembled from 2013 at the company's assembly plant in Pune. To complement the company's plans a Mercedes M class was spotted in Mumbai Air Cargo bay, thanks to a member of Team-BHP. Currently the M class and the GL class vehicles are being imported by the company from Europe.
The new 2012 ML is powered by a 3 litre turbocharged diesel V6 engine that produces 240 BHP f power. The engine is mated to a 7 speed automatic transmission. The new ML according to the company has been a major change compared to the older M class in terms of performance, features and efficiency. Like for example, the new ML 250 just consumes 6 litres of fuel per 100 km and the company claims the vehicle can cover as much as 1500 km on a single tank of fuel. The 3 litre engine features BlueEfficiency technology leading to a class leading fuel efficiency value. The engines also feature BlueTec diesel and BlueTec Direct Injection for the petrol counterpart. The drag coefficient of the car is quite low at 0.32.
The vehicle also features Adaptive Damping System, Active Curve System for active roll stabilization, AIRMATIC air suspension and ON/OFF road package with 6 driving modes. The 7 speed gearbox is automatic and is controlled via either the 'Direct Select Direct Select' lever r the 'Direct Select' shift paddles on the steering wheel. The company also claims to have developed something in the latest M class vehicles termed as "energy transparent vehicle". The "energy-transparent vehicle" process which is exclusive to Daimler enables the development engineers to highlight and leverage optimisation potential both for cars with conventional internal combustion engines as well as hybrid, electric or fuel-cell drives. In future, this process may even give rise to a generally applicable development tool for all machines and help boost energy efficiency across the board. Apart from all this, the car also features a host of other features like Attention Assist, Speed Limit Assist, Tire Pressure loss warning system, Brake Assist, Lane Keeping Assist, Active Blind Spot Assist, reverse camera and part assist with PARKTRONIC.
[singlepic id= 6261 w=540 h=375 float=center]
[singlepic id= 6262 w=540 h=375 float=center]
[singlepic id= 6250 w=540 h=375 float=center]
[singlepic id= 6251 w=540 h=375 float=center]
[singlepic id= 6252 w=540 h=375 float=center]
[singlepic id= 6253 w=540 h=375 float=center]
[singlepic id= 6254 w=540 h=375 float=center]
[singlepic id= 6255 w=540 h=375 float=center]
[singlepic id= 6256 w=540 h=375 float=center]
[singlepic id= 6257 w=540 h=375 float=center]
Spy Picture Source – Team-BHP