Shoot Me, Says The M-Class Guard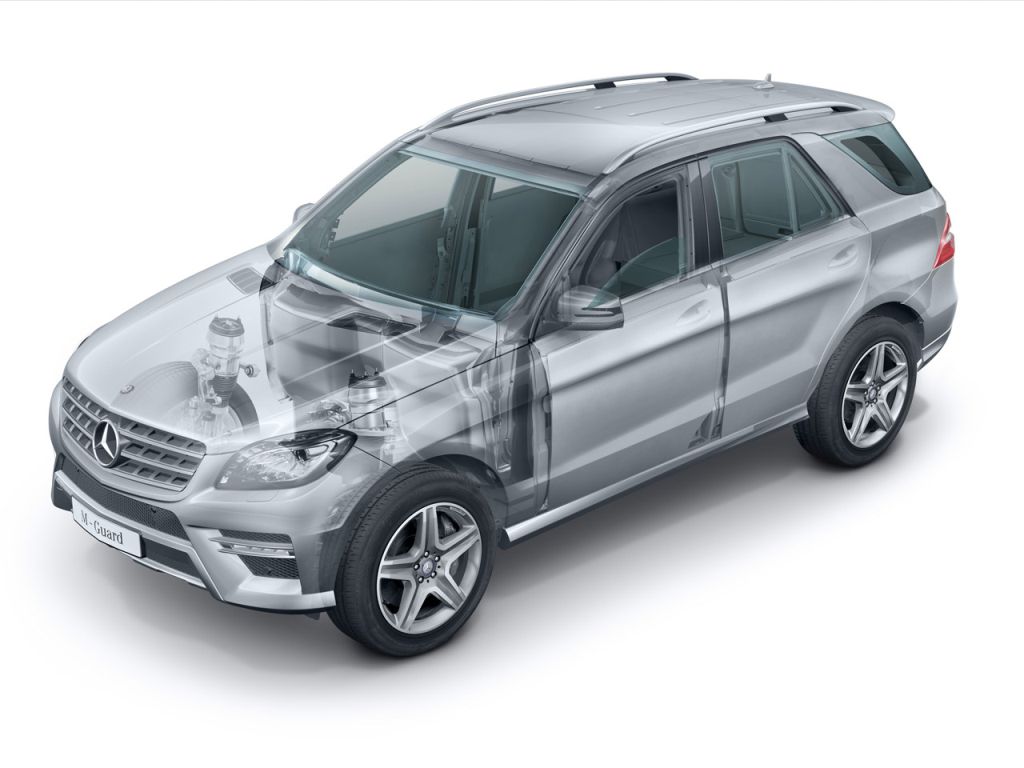 The Mercedes-Benz Guard range of cars gets a new entrant in the form of the M-Class high-level protection SUV. This will be the first M-Class inclusion to Mercedes' personal security vehicles apart from Guard versions of the E-Class, S-Class and the G-Class. The M-Class Guard has been manufactured the conventional way by integrating all the protection elements in the raw vehicle shell from scratch wherein every individual component receives an armour coating. The basic advantage of this method is weight reduced otherwise from retro-fit parts and also the difficulty to place such retro-fit parts in complex areas.
The M-Class Guard complies with VR4 protection level norms as per the Bullet Resistance Vehicles 2009. The windows in the SUV are bullet-proof with special laminated glazing and polycarbonate layer inside. The A, B and the C-pillars, firewall and the roof makes use of tight-fitting special steel which reinforces the passenger compartment. The armoured SUV can thus withstand shots fired from a .44 and a .357 Magnum. Blasts from a DM51 hand grenade was also successfully resisted from the front and rear with an additional armoured floor-fitting for protection from bottom too.
Now that the Mercedes M-Class is protection-ready, time for some decision making among the power figures. The ML350 BlueTEC will be equipped with a 3.0-litre, turbocharged diesel engine which churns out a maximum power of 258 BHP and 620 Nm of torque. On the more powerful front, the ML500 features a 4.6-litre twin-turbo petrol V8 engine with maximum power of 408 BHP and 600 Nm of twisting capability. Assuring to offer the same level of ride quality and luxury of the regular version of the M-Class, the armoured class additionally is employed with AIRMATIC suspension system with Adaptive Damper System (ADS) along with Guard specific torsion bars at the rear axle.
The M-Guard SUV features 5-spoke, 20-inch AMG wheels with run-flat capability which makes it possible to drive upto 30 kms at maximum speed of 80 km/hr even though the tyre has absolutely run out of air. Both the ML350 and ML500 are available in left and right hand drive versions and the former variant should cost about € 1,05,050 in Germany. This amounts to around Rs. 74 lakhs in Indian rupees, whereas the ML500 costs €118,650 (Rs. 83 lakhs). The bookings for the M-Class Guard has begun from the 15th of this month across the globe.