Audi R8 V10 Test Drive Review
Audi R8 V10 Review
Car Tested: 2013 Audi R8 V10
Price OTR Mumbai: Rs. 1,89,71,270/-
The Audi R8 V10 offers mesmerising acceleration from its 525 race bred horses.
Supercar manufacturers are a happy bunch, after all they are reporting big sales growth in India. If we have a quick look down memory lane, around 5 years back, supercars were an alien concept in India. Road conditions were bad (they still are) but with a state of the art race track coming up in Greater Noida, companies are able to showcase the real potential of their fast machines. Today, you can buy any supercar in India (right from an Ariel Atom to a Bugatti Veyron) but can you really drive them on Indian roads? Audi claims it's the leader in the sports car segment with its TT, S4, RS5 and R8 doing well. The company has left no stone unturned in bringing go-fast machines to our roads. A few months back, we experienced the Audi R8 V10 Plus on the track (HERE) and now we drive the Audi R8 V10 on Mumbai roads to find out if supercars are really as easy to live with in a country like India, where potholes dominate asphalt.
Exteriors – The Audi R8 draws so much eye candy on Indian roads, that it sometimes becomes difficult to drive with all that attention surrounding you and the vehicle. When we were driving the R8 V10 on the outskirts of Mumbai, people followed us and even stopped when we did. Some even jumped out of their cars to have a glance. The eye candy was high even in villages, where people quickly removed their phone cameras to snap this beauty. There is no denying that the Audi R8 is a looker. First introduced in 2006, the Audi R8 has evolved over time and only gets sharper and faster with every facelift. While the overall body shape more or less remains the same as the original concept, the company has given sharper exterior elements on the 2013 facelift. The overall body design of the Audi R8 has been a super hit since day one and continues to gather loads of eye-pops. The wide body and sleek appearance undoubtedly makes the R8 one of the best looking supercars today.
[flickr size="center" float="medium"]http://www.flickr.com/photos/motorbeam/9347037543/[/flickr]
Just like every Audi, the biggest highlights are the lights of course. The headlights and tail lights get all LEDs and look extremely sharp and purposeful. We love the rear indicators which continuously run from the inside to the outside and are called as 'Dynamic Turn Signals'. The coupe body style looks throughly exciting and the attention to detail is simply outstanding. For instance, the lower part of the doors slant inwards to make way for the mid-engined R8's air intakes. The single frame front grille has chrome touches while the carbon fibre trim behind the doors reveal the sporty intentions. However it is the rear of the R8 which is the most eye catchy. The low slung rear with those beautiful tail lights and big tail pipes evoke a lot of visual drama. The rear spoiler can be deployed with a touch of a button. The V10 models get bigger 19-inch wheels (4.2 V8 R8 gets 18-inch wheels) which are cast-aluminium units and look beautiful on the vehicle. V10 badges are placed right above the front wheels.
[flickr size="center" float="medium"]http://www.flickr.com/photos/motorbeam/9347035971/[/flickr]
Interiors – Open the long and frameless door and you might find it a bit difficult to get inside the first time. The Audi R8 is a very low slung car which means you have to really bend to get in. This is a normal ritual with any supercar so nothing to really complain about. The interiors are very Audi-like which means you will see many design elements seen on other Audi vehicles. This is a good and bad thing. Good because quality is top class and everything feels so robust and luxurious that you tend to feel you are in a luxury car more than a sports car. The visible stitching on the dashboard is very neatly executed. Bad thing is the lack of exclusivity and for a car of this tech wizardry, Audi should have offered a button start/stop for turning on the engine. You instead get a flip key with a regular turn on/off mechanism.
No two AC vents are of the same size in the Audi R8 with all four getting their own unique shape. The touchscreen infotainment unit offers a plethora of functions and the audio system emits some really good output via its Bang & Olufsen speakers. The head unit folds and reveals SD card and CD slots. You also get parking sensors and a rear view camera to make city driving and parking that much easy. There is some storage space behind the front seats and on the centre console too. There are cup-holders right next to the handbrake (no electric parking brake here) and a decent sized glovebox. The leather clad seats are extremely comfortable with ample bolstering and support from their bucket-like frame. The instrument cluster is easy to read with large dials and also has a voltmeter.
[flickr size="center" float="medium"]http://www.flickr.com/photos/motorbeam/9347038949/[/flickr]
You get a small boot which can store your car cover and a couple of small bags. This area heats a bit so it's best to keep things which won't melt or get damaged due to high temperatures. Fitting a golf kit seems like a tall order but the boot is quite useable considering the Audi R8 is not a car you would go touring in. Visibility all around is fantastic although the rear windscreen should offer you a glimpse of the engine by being a bit reflective.
[flickr size="center" float="medium"]http://www.flickr.com/photos/motorbeam/9347033183/[/flickr]
Performance – Turn on the ignition and the Audi R8 revs up to 2000 RPM, giving a slight hint of what's in store. The gear lever is very unique and you slot it to the left to get into drive mode, a nudge further left puts the transmission into manual mode. Surprisingly the Audi R8 feels at home even at low city speeds. While driving the car in stop-go traffic, there was absolutely no feeling of uneasiness and the R8 ambled around congested roads without any issues whatsoever. This supercar feels at home at lower RPMs (as low as 1200 RPM too) and you can cruise along in seventh gear, doing just 60 km/hr. 100 km/hr in seventh gear shows the RPM needle hovering around the 1800 RPM mark. So as far as city drivability goes, the Audi R8 certainly gets full marks. But it's not the city performance which is as important when you have a V10 engine sitting right behind your head.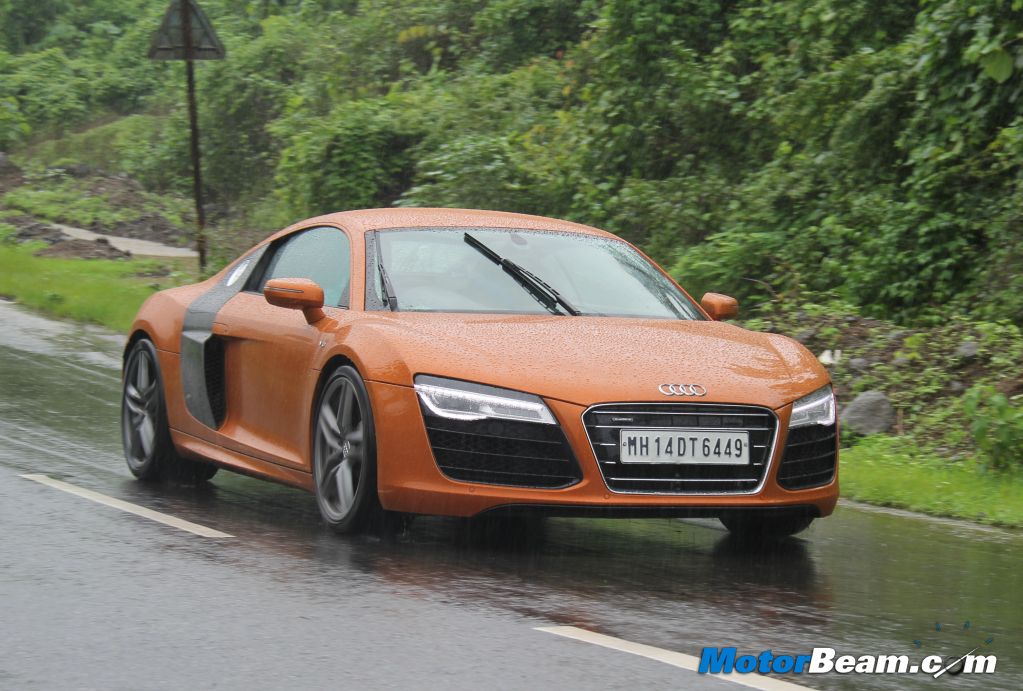 Powering the Audi R8 V10 is a 5.2-litre, 10-cylinder monster which belts out a nerve tangling 525 HP of power and 530 Nm of torque. While peak power is produced at 8000 RPM, the R8 revs beautifully to its 8700 RPM redline and the engine is refined throughout the powerband. The way this car revs is just mind numbing, it's not only smooth but is throughly fast. You have to prepare yourself every time you bury the throttle because the R8 lunges forward with so much ferocity that you simply can't keep up with it. According to Audi, reaching 100 km/hr from standstill takes a mere 3.6 seconds although we were never able to come close to those figures due to the road conditions. Top speed is 314 km/hr, unachievable even on the Buddh International Circuit.
[flickr size="center" float="medium"]http://www.flickr.com/photos/motorbeam/9349815926/[/flickr]
Mated to the facelifted Audi R8 is a new 7-speed S tronic electrohydraulically controlled dual clutch gearbox (the old car had an R tronic box which used a single clutch) which is really the gem in the package. Gear shifts are butter smooth and the box seamlessly upshifts and downshifts, perfectly matching the revs. Although the transmission is automatic, the manual mode gives you complete freedom and will never ever interfere. For instance, once you are in manual mode, the gearbox will never upshift or downshift, no matter how you play the throttle. So when you hit the rev limiter, the R8 still won't upshift till you do so. While cruising at 100 km/hr, if you suddenly want a downshift, the R8 won't intervene and will continue to lug around in the same gear. This gave us a chance to truly appreciate the in-gear acceleration from this motor and boy does it pull even at low RPMs in high gears. You shift gears via the steering mounted paddles which are beautifully crafted with aluminium. They are longer than what you usually see and are extremely good to operate.
[flickr size="center" float="medium"]http://www.flickr.com/photos/motorbeam/9347030227/[/flickr]
Now this V10 engine is the same unit which powers the Lamborghini Gallardo so naturally performance is hair raising. Every time you bury the throttle the Audi R8 pushes you back into your seat and takes off with such urgency that you see scenery blurring past you as if you were time traveling. Hitting the double ton takes less than 12 seconds (around 11.8 seconds to be precise) and the R8 never ever loses breath, no matter what speed or RPM you are doing. It pulls in such a linear fashion to high speeds it's addictive and such a splendid experience. The motor really comes into its own post 5500 RPM and at full throttle you can never see anything between 6000-7000 RPM because it's so quick to gather revs and propel you into oblivion. Peak torque is produced at 6500 RPM and hence things really get mental in the higher end of the rev range.
[flickr size="center" float="medium"]http://www.flickr.com/photos/motorbeam/9349814706/[/flickr]
The engine sits right behind your seat and is thus very audible and emits 88 dB of pure aural nirvana at idle. The V10 powerplant roars right from the word go and as you pin the throttle further, it gets louder and increasingly melodious. It even burbles when you downshift and makes an insane racket near the redline. So can you really extract all those 525 galloping horses on Indian roads? NO, the R8 is way too fast for our roads although you can still enjoy it thoroughly, knowing very well you are just a pedal away from defying the very laws of momentum. This is a car you can drive with 20% throttle and still be fined for over speeding. Not that anyone would want to know, but the Audi R8 V10's gasoline direct injection unit will return a mileage of 3-4 km/l. You need 98 octane fuel to run this beast.
[flickr size="center" float="medium"]http://www.flickr.com/photos/motorbeam/9349817494/[/flickr]
Driving Dynamics – The R8 uses Audi's ultra lightweight aluminium construction which gives it massive weight savings which results in superb body control and an extremely low weight of just 1645 kgs. Putting all that power inside the engine is one thing and transferring it to the road is another thing altogether. Audi has done a fantastic job with the dynamics of the R8. We drove the car in Mumbai's famous monsoon and at no part of our drive did we encounter any dry patch on the road. At several instances when we floored the throttle, the R8 felt like it's losing stability but the ESP and quattro quickly intervened to keep things safe and surefooted. Yes, when you do floor the pedal on uneven, rain soaked Mumbai roads, the R8 does tend to leave its line and you start to fight with the steering wheel to keep the car pointing firmly straight. You come out impressed by your driving skills but it's really Audi's quattro all-wheel drive system (with mechanical differential lock and traction control) which is the real hero and helps in smoothly transferring all that power to the tarmac. It transmits 85% power to the rear wheels and can channel up to 30% power to the front wheels. You don't get oversteer which keeps you safe and at the limit, there is a slight hint of understeer.
[flickr size="center" float="medium"]http://www.flickr.com/photos/motorbeam/9349818082/[/flickr]
The steering-wheel is very well contoured and has a flat bottom. Even at parking speeds, the steering wheel is quite heavy and you feel there is no power assistance. As speeds build up, the steering gives tremendous feel and feedback. The hydraulic unit offers point and shoot precision which means you can turn in with ample confidence and the car simply follows right where you want it to. Ride quality is naturally on the stiffer side but one can live with it. Our test car came equipped with Audi magnetic ride adaptive damping system and in normal mode it does offer a decent ride quality. Turn on Sport mode and the R8 becomes sharper but at the cost of crashing into each and every road undulation. The low ground clearance means you have to be very careful on Indian roads, which have high amounts of unevenness or so we realised after driving the R8. In spite of being very careful, we still managed to scrape the underbody, that too at a narrow toll lane, where there is no way we can drive the vehicle in an angular way.
[flickr size="center" float="medium"]http://www.flickr.com/photos/motorbeam/9349817452/[/flickr]
With great power there is the need of great brakes too. Audi has given the R8 some fantastic stopping power and the car offers terrific pedal bite along with surefooted retardation. You really need good brakes because the way the Audi R8 pulls, it's still accelerating when you have lifted off the pedal. The massive petal discs (carbon ceramics are options) all around help in quick stops enabling you to make short power sprints on our roads. They feature a wave design to reduce weight and are internally vented and perforated.
[flickr size="center" float="medium"]http://www.flickr.com/photos/motorbeam/9349819192/[/flickr]
Verdict – When Audi asked me to come drive the Audi R8 on Mumbai roads, I was very excited. After having put the car through its paces, the excitement is still there. It's been more than 48 hours since I touched 8700 RPM and my heart is still beating heavily from the adrenalin rush I witnessed driving the fantastic Audi R8. Although our roads are really not meant for supercars, the R8 tries to change our perception to a certain extent. The way this supercar delivers in normal conditions is truly an applause worthy characteristic. If you don't have access to a track, the Audi R8 is still drivable on normal Indian roads as long as you are careful while approaching bad roads and speed breakers (taking them in a 45 degree angle). However if you do have a race track nearby, the Audi R8 is among the best supercars you can buy and live with today. After all, the Audi R8 is one of the few supercars which is retailed through a good 20+ dealers. While the price might not be cheap but there are few supercars which are as affordable and practical as the R8.
The Audi R8's V10 motor offers instant on-demand power with every dab of the accelerator pedal giving you an endless locomotive pull.
[flickr size="center" float="medium"]http://www.flickr.com/photos/motorbeam/9349816512/[/flickr]
What's Cool
* V10 motor's performance, refinment, in-gear acceleration, sound, everything actually
* Exterior styling and attention to detail
* Braking performance
What's Not So Cool
* Ride quality
* Price
[flickr size="center" float="medium"]http://www.flickr.com/photos/motorbeam/9349818058/[/flickr]
2013 Audi R8 V10 Specifications
* Engine: 5204cc, 90-degree V10, Gasoline Direct Injection, DOHC, Intake manifold with charge movement flaps
* Power: 525 HP @ 8000 RPM
* Torque: 530 Nm @ 6500 RPM
* Transmission: 7-speed semi-automatic S tronic
* Top Speed: 314 km/hr
* 0-100 km/h: 3.6 seconds
* Fuel Consumption: 3 km/l (City), 4 km/l (Highway)
* Fuel Type: Petrol
* Suspension: Aluminium Double-wishbone, Adaptive Magnetic Dampers (Optional)
* Tyres: 235/35/ZR19 (Front), 295/30/ZR19 (Rear)
* Brakes: 365 mm Discs (Front), 355 mm Discs (Rear), ESC with integrated ABS
* Safety: ABS, EBD, ASR, ESC, Four Airbags, Reversing Camera with front and rear parking sensors
2013 Audi R8 V10 Dimensions
* Overall length x width x height: 4400 mm X 1929 mm X 1252 mm
* Wheelbase: 2650 mm
* Front/Rear Track: 1638/1595 mm
* Boot Volume: 100-liters
* Fuel Tank Capacity: 90 litres
* Kerb Weight: 1645 kgs