Tata Launches 2013MY Nano Facelift With New Features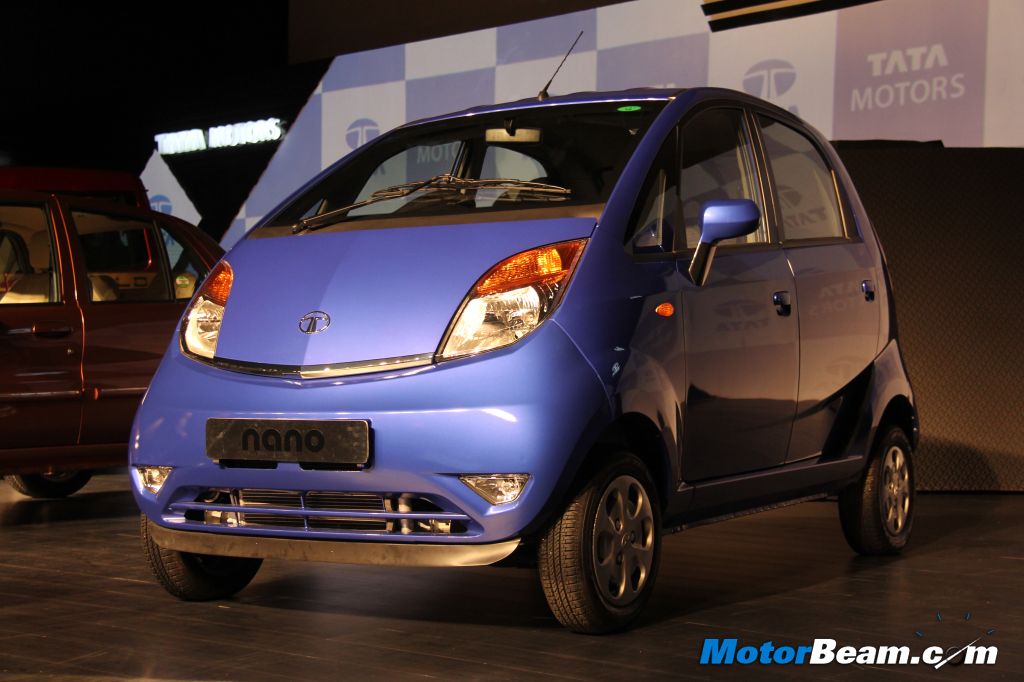 Tata Motors has launched the Model Year 2013 Nano, which gets a minor facelift and the addition of a host of new features. You might not find these features new as the special edition Nano had some of these features. The facelifted Nano gets chrome inserts on the front and rear (new mesh above the bumper) along with the availability of new colours. The 2103 Tata Nano range starts at Rs. 1.50 lakhs (ex-showroom, Delhi). The company hasn't touched the mechanicals of the car and the vehicle continues to be powered by the same 624cc engine which produces 38 PS of power and 51 Nm of torque, returning an ARAI certified mileage of 25.4 km/l.
The main changes happen inside the car. Tata Motors has given the Nano twin glove boxes on the dashboard which are available on the CX and LX variants. The rear seats now fold down to give access to the boot (one has to pull a switch to drop the seats, this switch is located on the left most side of the rear seat). The company has shifted the jack from below the front co-passenger seat to the boot. The interiors get dual-tone vinyl seats and the LX variant gets beige or black fabric seats with dashboard tones.
The top-end Tata Nano LX gets a 4-speaker AmphiStream audio system with 4-speakers (two placed on the dashboard right next to the glovebox and the other two are placed on the parcel shelf). The audio system offers Bluetooth and AUX connectivity. The company has also given the Nano LX remote keyless entry, central locking, front power windows, rear spoiler, fog lamps, etc. Three new colours debut on the Nano – Cornflower Blue (available on Nano Standard and CX), Royal Gold (available on Nano CX and LX which also get a 3-spoke steering wheel) and Dazzle Blue (available on Nano LX only).
The Tata Nano comes with a 4-years/60,000 kms standard warranty. Tata Motors showcased the CNG variant of the Nano, which is called the Nano emax. It will be introduced in the market in September and returns a mileage of 36 km/kg.
2013 Tata Nano Prices (ex-showroom, Mumbai) –
* Nano Std – Rs. 1.65 lakhs
* Nano CX – Rs. 2.02 lakhs
* Nano LX – Rs. 2.31 lakhs
[flickr size="center" float="medium"]http://www.flickr.com/photos/motorbeam/9083098063/[/flickr]
[flickr size="center" float="medium"]http://www.flickr.com/photos/motorbeam/9085316654/[/flickr]
[flickr size="center" float="medium"]http://www.flickr.com/photos/motorbeam/9083095289/[/flickr]
[flickr size="center" float="medium"]http://www.flickr.com/photos/motorbeam/9085315796/[/flickr]
[flickr size="center" float="medium"]http://www.flickr.com/photos/motorbeam/9083096049/[/flickr]
[flickr size="center" float="medium"]http://www.flickr.com/photos/motorbeam/9083095359/[/flickr]
[flickr size="center" float="medium"]http://www.flickr.com/photos/motorbeam/9083096325/[/flickr]
[flickr size="center" float="medium"]http://www.flickr.com/photos/motorbeam/9085316736/[/flickr]
[flickr size="center" float="medium"]http://www.flickr.com/photos/motorbeam/9083097817/[/flickr]
[flickr size="center" float="medium"]http://www.flickr.com/photos/motorbeam/9085317508/[/flickr]