2014 Audi RS7 Test Drive Review
2014 Audi RS7 Review
Car Tested: 2014 Audi RS7 Sportback
Price OTR Mumbai: Rs. 1,69,57,000/- (without options)
The RS7 is the most powerful Audi and quicker than the base R8, it's so freaking fast
It's just a regular rainy day here in Mumbai and since it has been pouring cats and dogs, driving around could be quite a mess with traffic soaring and people slowing down their pace. As I started the Audi RS7, I instantly knew something was special, since the engine roared to life with an anger unseen in cars today. Still it settled down into an humble idle making me believe that I was dreaming. So I got going with driving this big Audi coupe which made me be extra careful owing to its more than 5-metre length. All was well until I arrived at an open stretch of road, that's when the world went upside down, this Audi vehicle made me skip a multitude of beats at once with its stonking acceleration.
You see, with all the reviews we do on MotorBeam, there is a set format we follow, going through the introduction, history, exteriors and so on and so forth of the vehicle before talking performance. But the Audi RS7 isn't your usual 4-door car, it's vastly different and breaks the mould that 2-door supercars are the real deal when it comes to speed and madness, compelling us to break our regular agenda of following the routine. Once I gave this big Audi the full pedal to the metal treatment, I was so dazed that I couldn't really recollect the exteriors of the car, so more on that later. Let's first get to the heart of the matter, in this case a wild little 4-0-litre V8 TFSI mill, employing twin turbochargers. This engine will restrict redline to 5400 RPM when cold and will even upshift in manual mode till the motor doesn't reach optimal temperature.
The force fed V8 thrusts out mind tingling performance, there is a huge unending surge
This engine is one terrific unit, when driven sanely, it shuts off 4-cylinders which is "Audi cylinder on demand" in company speak, there is also a start/stop function. That's the reason why this mind boggling coupe doesn't feel crazy when driven sedately, it just feels right and perfectly normal too. The refinement levels are excellent and with half the cylinders working, fuel mileage is good too, around 3-6 km/l if you care to know. Still this isn't a car you would really bother to know about how it works with only half its capacity propelling it. Better still then to switch from Comfort mode to Dynamic mode, the RS7 having four modes with the other two being Auto and Individual. What these modes do is alter various parameters of the vehicle including engine, gearbox, engine sound, suspension control, sport differential and belt tensioner.
So with the RS7 set on Dynamic mode, I give it the full beans, get thrown back in the seat and see 100 km/hr in like no time. Slotting the gearbox into manual mode, by the time I blink for the first time, I have already reached 60 km/hr and have to push the gear lever into second (you see the RS7 won't up or downshift till you do so in manual mode which is activated by pushing the gear lever to the left). A second blink of an eye lid and the rev limiter is hit in second gear, showing 90 km/hr, I pull the paddle to get into third and before I can make sense of all this, we are already at the rev limit, yet again, this time doing 138 km/hr. I immediately slot the car into automatic, forget the speedometer and gun it, seeing 200 km/hr on the heads-up display in another few blinks of the eye. This car is truly a rocket ship.
It's this stellar performance of the Audi RS7 which makes us go totally in love with it, every time we throttle even partially. Despite being big in size with a monster of an engine, low-end performance isn't compromised and the vehicle is at home ambling around town at low speeds. Think of the RS7 to have characteristics of both David and Goliath, only thing being the change between both characters takes no time at all. A little prod on the A pedal is enough to send a huge rush of adrenaline through your body. All this can be credited to the mammoth 700 Nm of peak torque which is delivered from as low as 1750 RPM, till an impressive 5500 RPM, that's a wide peak torque range.
Driving the Audi RS7 is a hair raising experience, it accelerates brutally quick and keeps going ahead
The Audi RS7 produces 560 PS of peak power between 5700 to 6600 RPM, redlining at the same RPM, so the car's quick 8-speed Multitronic gearbox (ZF sourced as the 7-speed DSG can't handle as much torque as the RS7 spits) upshifts at peak power and puts the next cog with the engine spinning at peak torque. All this results in a claimed 0-100 km/hr time of 3.9 seconds, that's really very fast and the feeling of driving this car on full throttle is akin to you being strapped on a javelin and being thrown. Exhaust sounds sweet and there is a kick back on both up and downshifts with a pop and crackle on lift off but the quad pipes aren't very vocal like say an AMG or an M vehicle (they do become louder on Dynamic setting). 100 km/hr comes in third while at the same speed in top gear, the tacho ticks in at 1500 RPM. With all that massive torque, you can easily cruise in higher gears and still extract impressive performance to make overtake moves in a jiffy. The motor is alive all throughout and that makes the driving experience such a hoot.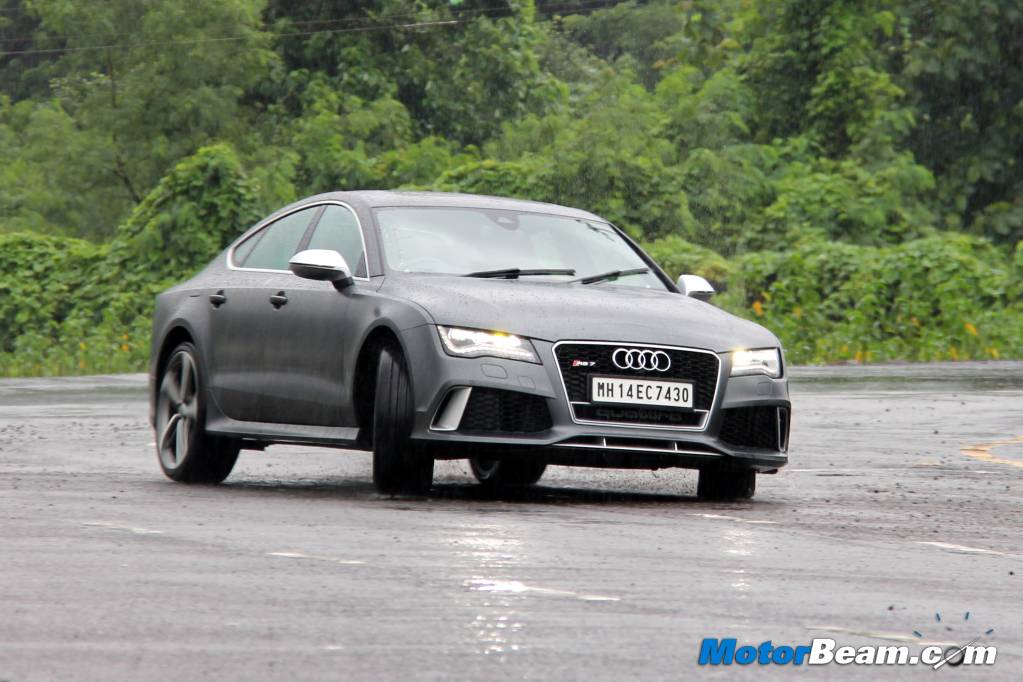 With all that power, the Audi RS7 is in total control thanks to the power being channelled smoothly across all four wheels via the fantastic quattro all-wheel drive system. There is terrific grip (even in pouring rain), the balance is excellent even with the 1920 kgs weight the RS7 lugs around. The steering is quick too, having a lock to lock of just two turns, it however doesn't communicate as much as you would expect and feels a bit numb. In spite of running on massively low profile (275/30/21 on our test car while the standard tyres are 275/35/20, there is no spare wheel), the RS7 isn't harsh at all. Ride quality is decent when in Comfort mode although it gets a bit choppy when you get into Sport mode. The vehicle remains glued to the road at high speeds, there is an active rear spoiler which automatically engages at 120 km/hr and retracts at 80 km/hr (can be activated with a touch of a button too). The air suspension with continuously adaptive damping and the optional Dynamic Ride Control ensure all is always well and you are pointing in the direction you always intended to.
Braking performance is excellent, those massive discs helping to stop in no time although our test car had its tyres a bit worn out, resulting in a bit of twitch under extremely hard braking. Launching the car off the line is easy, simply give it some revs (it holds at 2750 RPM) with left foot on the brakes and leave, it takes off with no drama at all. The best part about the RS7 is how practical it is to drive on a day to day basis, remember we told you that it's at home in the city, what's even better is the ground clearance, you don't have to approach speed-breakers at an angle or have to worry about scraping the body kit because the clearance is perfect and the car simply goes over breakers at normal speeds, no crawl required. In spite of that, it still has impressive high speed poise and the low NVH levels also deserve an applaud.
The terrific engine can accelerate to 250 km/hr without even a hint of lag and that makes it imperative for the vehicle to be composed, it doesn't disappoint one bit. But that's not all, you can remove the limiter to go to 280 km/hr. Still a speed maniac, the limiter can be further bumped to top out the car at 305 km/hr. Just remember, these kind of speeds being done with ample space for four adults and a boot which can swallow half your bedroom with its 535-litres trunk capacity. This brings us to the interiors of the RS7 which is similar to the A7, the car on which it is based on. Obviously Audi has given it some sporty bits on the inside to make you feel that much more special when you go fast like a complete hooligan.
Open the doors and you will love the frameless windows, there is a 3-spoke flat bottom steering wheel and the interior is bathed in Alcantra and suede leather. There are carbon fibre inlays along with piano black inserts on the dashboard which look cool if you ask me while the seats are simply terrific in both look and comfort, they are Sport seats and hug you profusely, even at the rear. The rear seat too have ample amount of knee and legroom while headroom is just about adequate as the sloping roofline does hamper people who are too tall or choose to spike their hair up. The under-thigh support is decent, not great but manageable.
The cabin is well appointed, the attention to detail fab (like the wipers won't work if the hood is open) and the features aplenty including a 4-zone climate control, 360-degree parking sensors, 360-degree camera, powered tailgate, touchpad MMI controls (there is also an RS7 Menu which shows lap timer, boost pressure and temperature), etc. The sunroof should have been bigger though with a panoramic one adding to the airiness of the cabin. Being an RS, there are multiple RS7 badges inside the car including on the instrument cluster, gear lever, seats, scuff plates, etc.
Being so gung-ho about the Audi RS7's brutal performance that I completely forgot about the exteriors of the car. It's based on the A7 after all so it already has a stunning design to start with but the go-fast bits make the car looks absolutely scintillating. The front gets a high-gloss black honeycomb grille with the RS7 badge and a single frame matte aluminium surround, sporty bumper with large air intakes and a chin spoiler. The car also gets silver rearview mirrors (the right mirror is too magnified and hinders visibility), massive 21-inch 5-spoke wheels (standard wheels are 20-inch, 7-spoke), side skirts, rear bumper with a diffuser and chrome lining along with bigger oval tail pipes. The matte-grey paint shade looks stellar and the overall result is a car which not only draws eye candy but also makes people remove their mobile cameras to capture it, too bad that it's too fast to be snapped by anyone.
And one more thing, the Audi RS7 you see in the pictures here is loaded with a range of extras which come at quite the cost. The matte-grey paint job costs a massive Rs. 12.35 lakhs, top speed increase to 280 km/hr – Rs. 3.53 lakhs, Sport Differential – 2.47 lakh, 21-inch wheels – Rs. 4.70 lakhs, quattro logo on the lower half of the front grille – Rs. 1.88 lakhs, Sport suspension with Dynamic Ride Control – Rs. 2.24 lakhs, front and rear cameras – Rs. 1.84 lakhs, Bang & Olufsen sound system – Rs. 14.11 lakhs (standard speakers are Bose) and the Night Vision Camera is priced at Rs. 5 lakhs. In fact the total ex-showroom (Mumbai) cost of the extras turns out to be a whooping Rs. 46.39 lakhs.
The Audi RS7 mesmerises you the moment you see it and the craze for this Sportback only accentuates once you take to the wheel. This is one car which has so much performance on tap that you are unlikely to dig into all of it, even on big open roads. The moment you wring the throttle, you are pinned hard into the seat and that continues till you back off, the RS7 simply doesn't let go, it has so much thrust on tap. But it's not only performance which impresses you, the flagship RS looks every bit gorgeous, the interiors are well laid out and the features are generous too. What really impresses is the fact that the Audi RS7 is a genuine 2-door supercar alternative which can also seat four in comfort, accommodate all their luggage while offering terrific grip at any speed and also boasting of a good ride quality. This not only makes it huge fun but also a practical supercar for every day driving. As they say all good things in life come at a price, the Audi RS7 too doesn't come cheap but is the next best thing if you want the best of both worlds.
The Audi RS7 is so terrific that we can easily rank it as one of the best 4-door performance cars we have driven in recent times. Fast and fun with a lot of appeal, the RS7 beautifully blends supercar performance with practicality.
What's Cool
* Bomb of an engine which terrific response all throughout
* Ride quality and grip
* Exterior and interior appeal
What's Not So Cool
* Pricing of optional extras
* Steering not feedback rich
Alternatives: BMW M6 Gran Coupe
Further Reading –
Audi A7 Review
Audi RS5 Review
Audi S6 Review