2014 BMW 1-Series Petrol Test Drive Review
2014 BMW 1-Series Review
Car Tested: 2014 BMW 1-Series (116i)
Price OTR Mumbai: Rs. 27,77,850/-
The BMW 1-Series petrol is good fun to drive but lacks the special aura of a German car.
It's ironic how price and positioning change the perception towards a particular body style of vehicles. Let's talk about hatchbacks. Most people buy hatchbacks because they are cheap to buy and run with a majority owners wanting to upgrade to a bigger vehicle as a hatchback doesn't carry any prestige. However in the premium segment, luxury car makers are trying to lure buyers to their fold with their premium hatchback offerings, which are also the cheapest way of owning a German brand. While the hatchback segment is booming in Europe, even for cars like the BMW 1-Series, in India the situation is quite different. After having driven the 1-Series diesel last year, we now get behind the wheel of the petrol variant, the 116i, to gauge if it has the sporty quotient to lure petrol-heads.
Exteriors – The BMW 1-Series isn't an attractive looking car and there are no two ways about it. In reality the 1-Series has given birth to the X1 but in India the X1 came first and thus the 1-Series appears to be a X1 turned into a hatchback. The end result is a car which although proudly boasts of the BMW badge on its long hood, doesn't solicit a second glance on the road. The 116i comes with 16-inch wheels which look a bit puny on this car. The rear is very plain too and overall this vehicle doesn't make a visual impression. In spite of being in the market for more than 8 months now, the styling fails to grow on you.
Interiors – The 116i is available in only one trim and that's not particularly loaded. The interiors are very plain and basic and feature a black theme with silver inserts on the door handles, AC vents and centre console. But what is even more shocking is the lack of equipment on offer. Both the AC and seats have manual controls while USB and Bluetooth connectivity have been skipped altogether (even a Rs. 2.5 lakh Tata Nano comes with Bluetooth and USB). In the interest of keeping costs low, BMW has entirely skipped on equipment which is a shocking omission on car costing Rs. 27 lakhs. iDrive, sunroof, leather seats aren't on offer either. The cabin has good amount of space and in spite of the 1-Series looking not so big at the rear, there is ample rear seat space. The boot is large and cabin quality is good.
Performance – The BMW 116i utilises a 1.6-litre engine with direct injection and turbocharging to output 136 BHP of power at 4400 RPM and 220 Nm of torque between 1350-4300 RPM. Turbolag is almost negligible and thus you can amble around town comfortably. The torque band is quite wide and the peak of the twisting force is available right from 1350 RPM, giving the 1-Series petrol a very strong mid-range. With good low-end poke, drivability is amazing and there is no real spot in the powerband which you can call weak. The motor itself is terrifically refined and only shows its wild side post 3500 RPM, where it starts to sound vocal, emitting a raspy snarl around its 6500 RPM redline.
The 116i revs very freely and quickly with power delivery being linear all throughout. The vehicle is matched to a 8-speed ZF automatic gearbox which offers blitz shifts. There are three modes on offer – Eco Pro, Comfort and Sport, with different settings altering the engine response and gear shift time (holds gears longer). While the BMW 116i isn't the fastest vehicle at its price point, it sure is quick and reaching 180 km/hr is a breeze with the top speed being 210 km/hr. 0-100 km/hr takes 8.74 seconds as per our VBOX run which is decently quick for a car of this power. You can comfortably cruise on the highways with 100 km/hr in top gear resulting in 1700 RPM on the tacho. The 116i returns a mileage of 9-10 km/l in the city, stretching to 12 km/l on the highway. There is a start-stop system which we found to be quite intrusive as it shuts the car as soon as you come to a halt.
Driving Dynamics – While the world is shifting to more economical and lighter front-wheel drive platforms, the 1-Series continues to channel power to its rear wheels but not for long as the next generation 1 will share its underpinnings with the new MINI (UKL platform), thereby moving to a front-wheel drive architecture. Rear wheel drive has its merits and it shows. The 1-Series is just a hoot to drive, offering terrific balance through the tightest of bends. Handling is just super sharp and precise, with every turn being a laser guided point and shoot action. In fact, even though BMW has now shifted to electro-mechanical power steering, the 1-Series continues to feel like a go-kart, you sit low and pilot the car using a super sharp steering. The three settings (ECO PRO, Comfort and Sport) also vary the weight at the helm, the steering becoming extremely heavy on Sport mode, making high speed feedback very rich.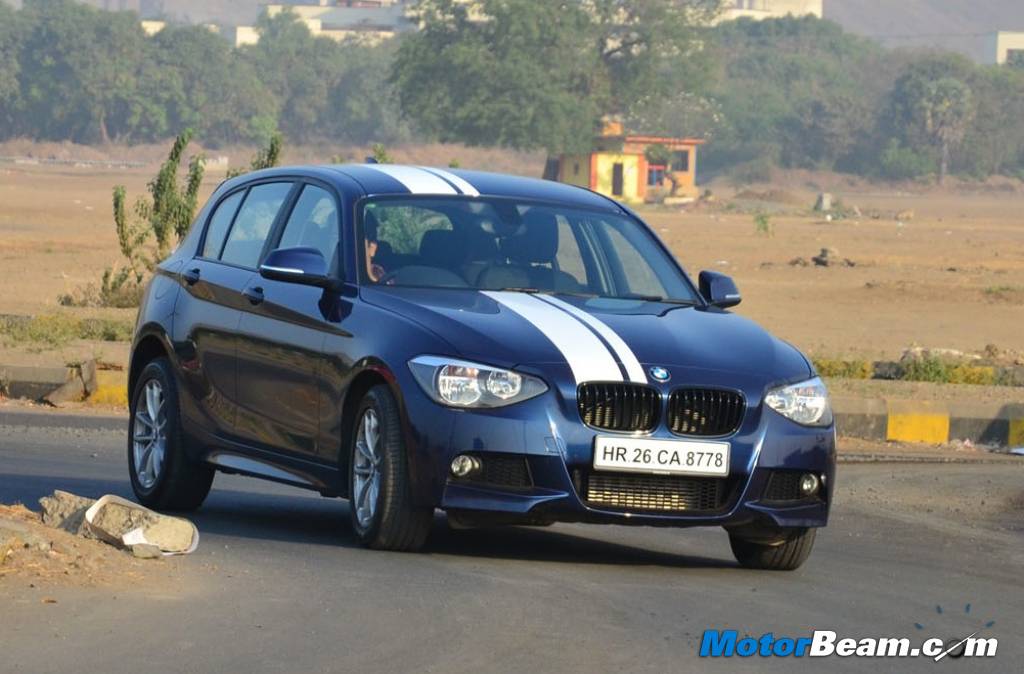 The steering is decently light at low speeds so manoeuvring the car in congested city conditions isn't that much of a task. In spite of being a sporty model (the 1-Series boasts of 50:50 weight distribution), BMW has achieved a fantastic ride quality on their entry-level hatchback. When we drove the diesel, we appreciated the good ride of the car and the petrol is even better. Running on 55 profile rubber (the diesel we drove had lower 45 profile tyres), the 116i rides very maturely. It remains glued to the road at high speeds, where you can switch directions in nano seconds, the 116i is just so quick and confident. On bad roads, the car does get a bit bouncy but that's only post triple digit speeds. Braking performance is excellent, the pedal has massive bite and the 1-Series stops with surety in all road conditions.
Verdict – The BMW 1-Series is a very involving car to drive and in spite of being an entry-level offering, it's practical too, offering a decently big cabin, a large boot and good ride quality. However look past these things and you feel a bit disappointed. While the base 116i is priced attractively, it doesn't even have features which the world's cheapest car comes with as standard. The top trim is only available in diesel and that car costs as much as a 3-Series. Thus the petrol 1-Series doesn't make a strong case for itself. It's limited audience are those who want a BMW on a budget and are ready to live with the bare basic equipment in return for the ultimate driving experience in the segment.
The petrol powered BMW 1-Series is quite fun to drive and is practical too but is priced quite optimistically for what if offers. This as a proposition is hard to justify.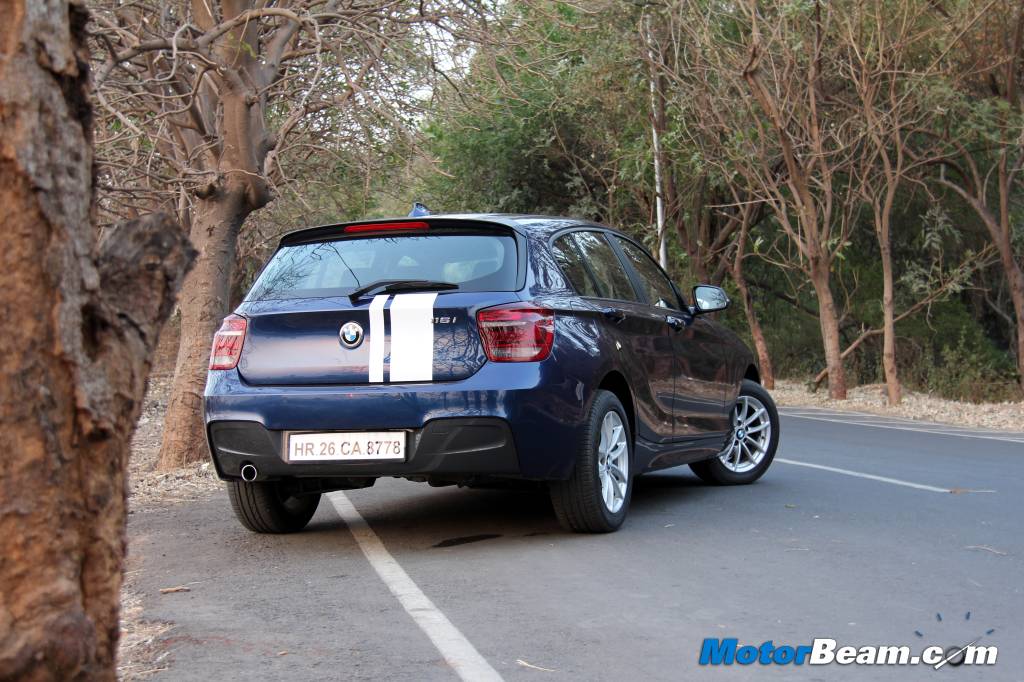 What's Cool
* Free-revving motor
* Sharp handling and precise steering
* Ride quality
What's Not So Cool
* Basic equipment levels
* Doesn't feel special, neither on the outside nor on the inside
Alternatives: Mercedes A-Class, Audi Q3 S, Volvo V40 Cross Country
Further Reading –
BMW 1-Series Review
BMW 1-Series vs Mercedes A-Class