2014 Hero HF Dawn Gets Minor Updates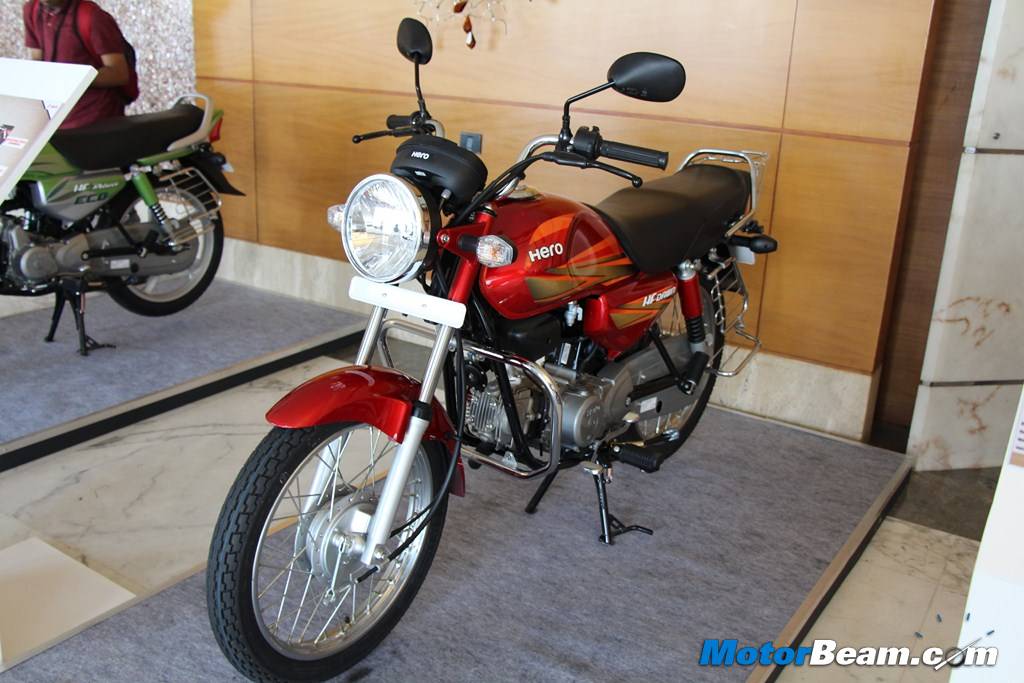 Hero MotoCorp unveiled 15 new products yesterday but the motorcycles aren't as new as you would think. Some of the bikes get minimal changes. India's top selling 2-wheeler manufacturer plans to launch 35 more products in the next 3 years and we can expect most of them to be comprehensively new. However currently Hero hasn't touched the mechanicals much but refreshed most of its lineup in time for the upcoming festive season. Hero has been in the news several times as its breakup with Honda cast an uncertainty on the company's future.
Hero did come out strong (at least that's what appears) by tying up with a multitude of global companies for sourcing technology. The automaker has also set up its own R&D centre which will reduce the dependancy on its partners for technology and design. The HF Dawn is Hero's popular model in rural markets and the retro look of this motorcycle does attract quite a few buyers who are looking for ruggedness and affordability. The 2014 Hero HF Dawn isn't much new as it gets very few changes. Hero has given the HF Dawn a side stand indicator which is the only substantial change.
Powering the Hero HF Dawn is a 97.2cc, air-cooled, single-cylinder engine which is the same Honda motor which also powers a range of Hero commuter bikes. This pint sized motor is known for being very frugal, producing 7.8 PS of power at 7500 RPM and 8.04 Nm of torque at 4500 RPM, paired to a 4-speed gearbox. The rear shock absorbers are adjustable and the wide seat helps in carrying luggage, a boon for many in the villages.
The HF Dawn comes with a 5-years/70,000 kms warranty, which is indeed class leading. The Hero HF Dawn is priced at Rs. 39,200/- (ex-showroom, Mumbai). It is the cheapest Hero bike, offered with drum brakes and kick-start only, as there is only one variant on sale.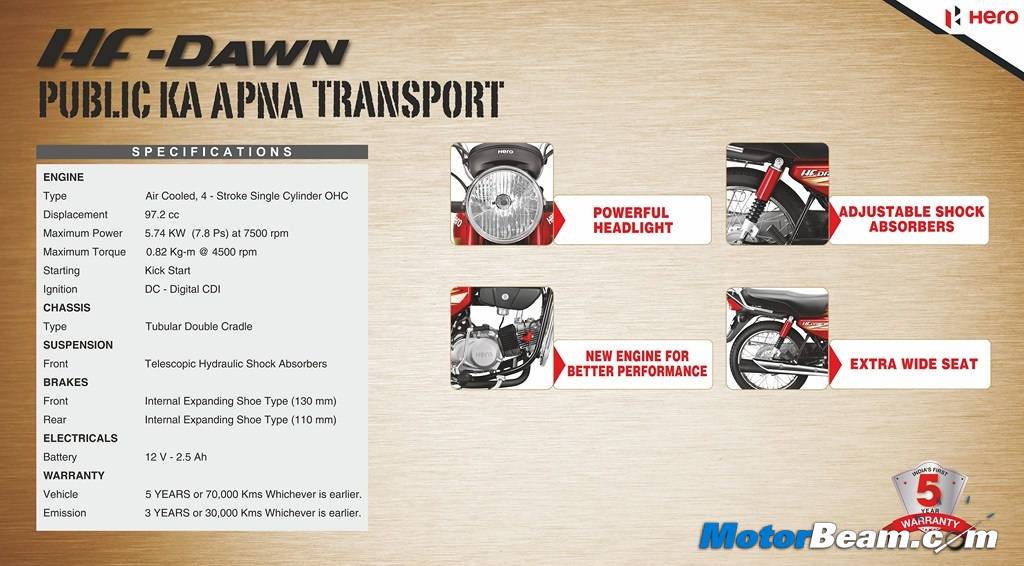 [flickr size="center" float="medium"]http://www.flickr.com/photos/motorbeam/10193277595/[/flickr]
[flickr size="center" float="medium"]http://www.flickr.com/photos/motorbeam/10193302786/[/flickr]
[flickr size="center" float="medium"]http://www.flickr.com/photos/motorbeam/10193357643/[/flickr]
[flickr size="center" float="medium"]http://www.flickr.com/photos/motorbeam/10193171174/[/flickr]
[flickr size="center" float="medium"]http://www.flickr.com/photos/motorbeam/10193358363/[/flickr]
[flickr size="center" float="medium"]http://www.flickr.com/photos/motorbeam/10193307626/[/flickr]
[flickr size="center" float="medium"]http://www.flickr.com/photos/motorbeam/10193306036/[/flickr]
[flickr size="center" float="medium"]http://www.flickr.com/photos/motorbeam/10193273935/[/flickr]