Updated Hero Karizma ZMR Detailed Pictures
Hero MotoCorp has officially unveiled the updated Karizma ZMR, which gets similar changes as the Karizma R. The 2014 Hero Karizma ZMR gets heavy changes in the styling department although not really in a good way. Like it's sibling, the Karizma R, the ZMR too takes heavy influence from other bikes across categories. The front of the new Karizma ZMR sports day time runnings lights, twin headlights while the rear gets the EBR inspired tail lights. No changes to the instrument cluster which continues to be the same all digital unit.
Hero has also given the Karizma ZMR a split seat and made minor changes to the clip-on handlebars. The fairing doesn't look as bulky as the old ZMR although we feel the black graphics below the ZMR graphics helps in reducing the visual bulk of the bike. The updated Karizma ZMR will be launched by the end of this year and the company's tech partner, EBR, has made some tweaks to the 223cc motor to increase power and torque. We expect the updated Karizma ZMR to output 20-21 BHP of power. Hero hasn't put the power figures on the brochure but the torque output has been revealed, which sees an increment from 18.35 Nm to 19.70 Nm.
Hero MotoCorp could have given the Karizma ZMR more changes which would sharpen its dynamics. A monoshock suspension would have helped greatly but that would mean more extensive work than the current styling update. Expect Hero to price the updated Karizma ZMR at Rs. 1.10 lakhs which puts it right between the Pulsar 200 NS and Yamaha R15. Don't get disheartened as this update to the ZMR seems to be a stop gap measure till an all new model arrives next year. The replacement of the ZMR is expected to be a grounds up model, developed with the help of EBR. It is expected to be a 250cc motorcycle.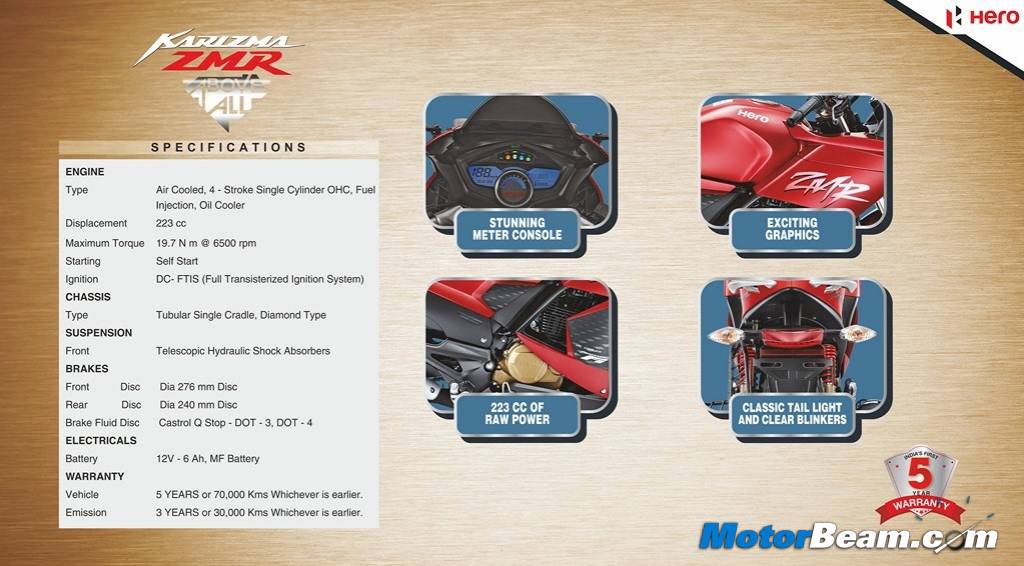 [flickr size="center" float="medium"]http://www.flickr.com/photos/motorbeam/10189058046/[/flickr]
[flickr size="center" float="medium"]http://www.flickr.com/photos/motorbeam/10189109703/[/flickr]
[flickr size="center" float="medium"]http://www.flickr.com/photos/motorbeam/10188920924/[/flickr]
[flickr size="center" float="medium"]http://www.flickr.com/photos/motorbeam/10188919534/[/flickr]
[flickr size="center" float="medium"]http://www.flickr.com/photos/motorbeam/10188920054/[/flickr]
[flickr size="center" float="medium"]http://www.flickr.com/photos/motorbeam/10188915644/[/flickr]
[flickr size="center" float="medium"]http://www.flickr.com/photos/motorbeam/10189062856/[/flickr]
[flickr size="center" float="medium"]http://www.flickr.com/photos/motorbeam/10188918724/[/flickr]
[flickr size="center" float="medium"]http://www.flickr.com/photos/motorbeam/10189059846/[/flickr]
[flickr size="center" float="medium"]http://www.flickr.com/photos/motorbeam/10189058606/[/flickr]
[flickr size="center" float="medium"]http://www.flickr.com/photos/motorbeam/10189062766/[/flickr]
[flickr size="center" float="medium"]http://www.flickr.com/photos/motorbeam/10189018455/[/flickr]