2014 Hero Xtreme Detailed Pictures
Hero MotoCorp has unveiled the updated Xtreme motorcycle. The earlier pictures of the 2014 Hero Xtreme which leaked earlier showcased the positive direction this 150cc motorcycle has taken. After seeing the bike in flesh, we are glad to say the new Xtreme looks even better. Hero MotoCorp has made aesthetic changes to the Xtreme. The bike gets eyebrow lights over the headlight and LED tail lights while other CBZ traits are very much present like the single seat, grab rails and rear section. The mirrors get dual colours (body colour and black) while the front mudguard, alloy wheels and disc brakes are the same.
Hero MotoCorp has given the Xtreme a new instrument cluster, which seems to be inspired from the Honda CBR150R/CBR250R. The blue backlit console has a big readout and is extremely easy on the eyes. The engine belly fairing has been removed and the new model also gets rubber-less foot pegs. Hero has also added new technology to the Xtreme. The company has given the motorcycle an electronic immobiliser which secures the bike from the use of a duplicate key. The company has also added a side stand switch with automatic ignition cut-off.
Hero MotoCorp hasn't touched the engine of the new Xtreme. The 2014 Hero Xtreme is powered by the same 150cc, Honda engine which uses air-cooling and produces 14.4 PS of power at 8500 RPM and 12.8 Nm of torque at 6500 RPM. The bike gets a 240 mm disc at the front as standard while a 220 mm rear disc is optional. India's largest 2-wheeler manufacturer offers all its products with 5-years/70,000 kms vehicle warranty and 3-years/30,000 kms emission warranty. The updated Xtreme should help Hero tackle the Honda CB Trigger.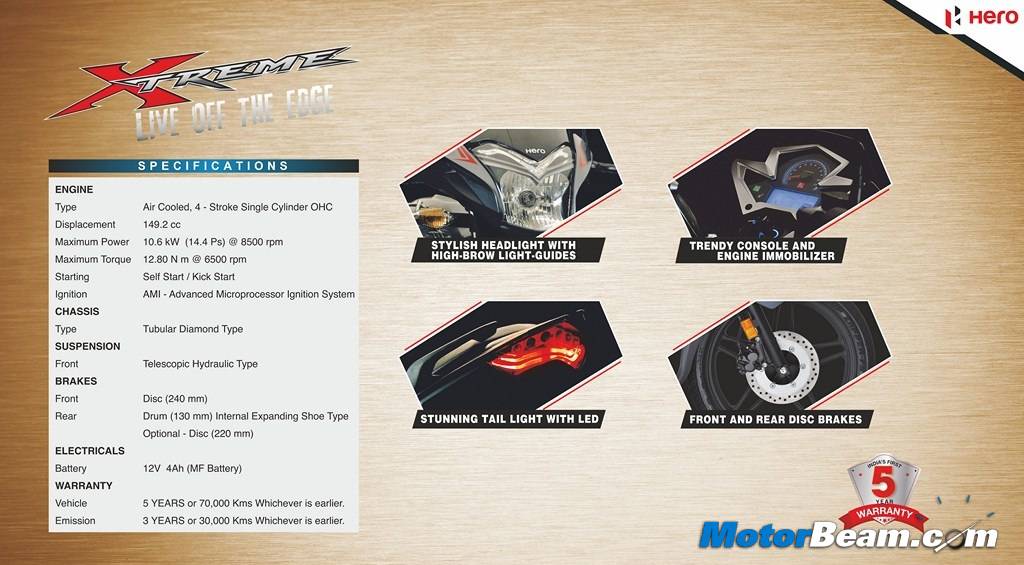 [flickr size="center" float="medium"]http://www.flickr.com/photos/motorbeam/10189639533/[/flickr]
[flickr size="center" float="medium"]http://www.flickr.com/photos/motorbeam/10189540425/[/flickr]
[flickr size="center" float="medium"]http://www.flickr.com/photos/motorbeam/10189444784/[/flickr]
[flickr size="center" float="medium"]http://www.flickr.com/photos/motorbeam/10189584066/[/flickr]
[flickr size="center" float="medium"]http://www.flickr.com/photos/motorbeam/10189440114/[/flickr]
[flickr size="center" float="medium"]http://www.flickr.com/photos/motorbeam/10189547065/[/flickr]
[flickr size="center" float="medium"]http://www.flickr.com/photos/motorbeam/10189548665/[/flickr]
[flickr size="center" float="medium"]http://www.flickr.com/photos/motorbeam/10189585636/[/flickr]
[flickr size="center" float="medium"]http://www.flickr.com/photos/motorbeam/10189583106/[/flickr]
[flickr size="center" float="medium"]http://www.flickr.com/photos/motorbeam/10189583236/[/flickr]
[flickr size="center" float="medium"]http://www.flickr.com/photos/motorbeam/10189447234/[/flickr]
[flickr size="center" float="medium"]http://www.flickr.com/photos/motorbeam/10189589426/[/flickr]