KTM Duke 390 Long Term Review
KTM Duke 390 Long Term
Bike Tested: KTM Duke 390
Kms Done: 3373 kms
Test Started at: 55 kms
Test Concluded at: 3428 kms
Fuel Cost: Rs. 9703/-
Liters: 129 litres
Mileage: Highway: 35 km/l, City: 27 km/l, Worst: 18 km/l, Overall: 26 km/l
Service Costs: Rs. 1645/-
The KTM Duke 390's mind blowing engine and chassis combo are simply unmatched.
The KTM Duke 390 is without any freaking doubt the most exciting bike launch of 2013. It's a bike which has finally fuelled the dreams of enthusiasts offering them exactly what they want – mind boggling performance, sharp dynamics, excellent brakes and all that without breaking the bank. While all does appear rosy when you talk about 0-100 km/hr in 5.6 seconds, there is more to the Duke 390 than just outright acceleration. Thus a nice long term stint and daily riding has helped us understand this Austrian motorcycle better. The KTM Duke 390 has joined our long term fleet and we are quite excited to put this pocket rocket through its paces.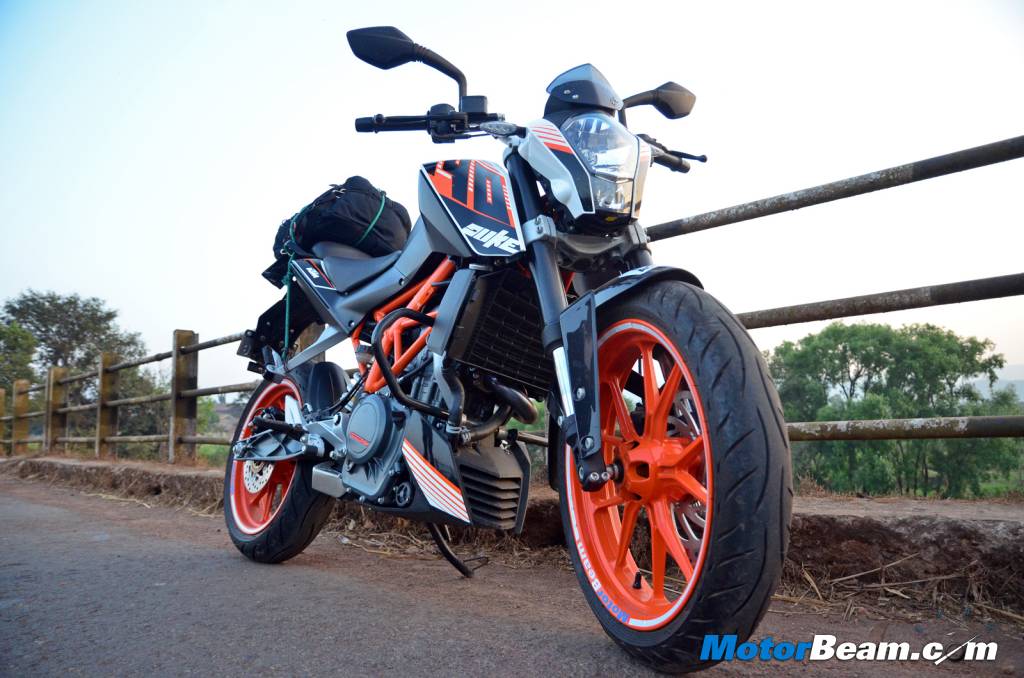 One area of major setback for the Duke 390 is its looks. While the styling is quite attractive, many are not impressed with the similarities of the design with its younger siblings, the Duke 200 in particular. Yes KTM has tried to visually distinguish the 200 and 390 with the use of colours but there is no denying the fact that the Duke 390 is a small bike and a tall passenger on it can look quite out of place, or so is my case. To KTM's credit, the attention to detail is worth an applause like the deliciously painted orange frame and the LEDs on the indicators and tail lights (even the rear number plate holder has multiple LEDs which light the road up). However this isn't a bike you are going to draw eye pops from girls, no way. That is the reason a girl pillion did not easily grace the seat of this Duke. Neither is the pillion seat very welcoming and with the brutal acceleration under its belly, it's best ridden solo. KTM doesn't have good brand presence in tier-2 and tier-3 cities as was so evident when I stopped en route on my way to Goa for the India Bike Week where people asked if this was a Honda (maybe orange colour makes them believe it's a Repsol model). However people in villages do get amused by the exhaust and keep searching for the "silencer".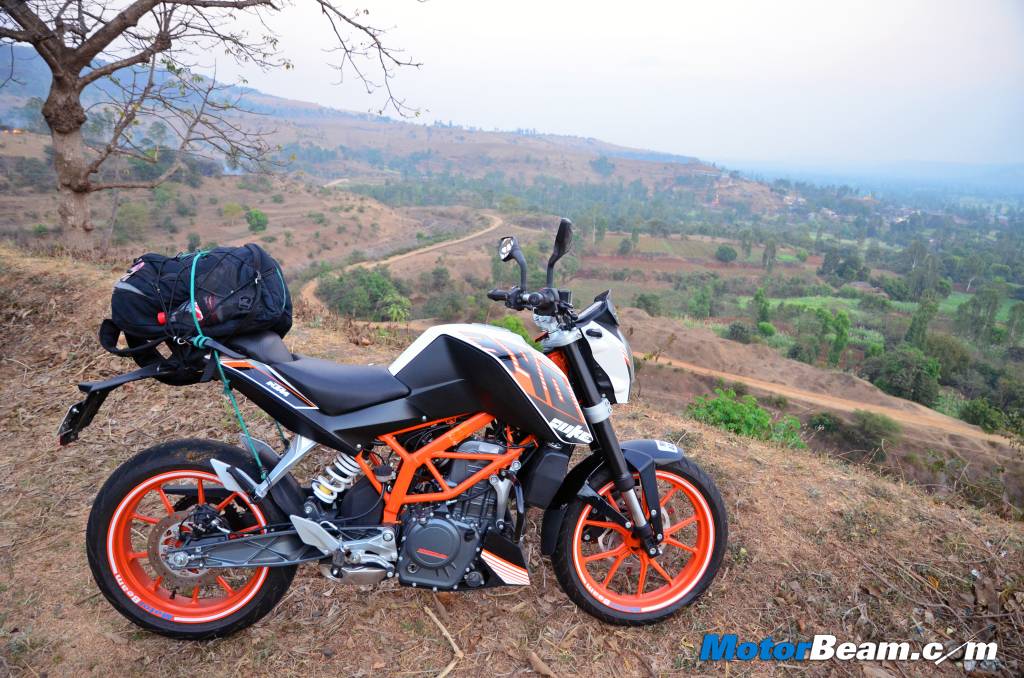 So what is the first thing we did once the bike arrived? We went ahead and removed the saree guard and rear tyre hugger. This has transformed the appeal of the bike ten folds (I know I am exaggerating but still). The rear looks a bit odd with the long tail but tail tidy kit is a loot at Rs 9000/-. The handguards are not to our tastes either, so they had to go as well. Pin stripes were put on the wheels, costing Rs. 400/- from a sticker shop which did a fab job. A quick fill of nitrogen went in vain as the valve was faulty and we lost pressure in the rear tyre. These issues aside, there was a bigger problem I had to go through before I could truly enjoy this KTM.
The run-in period!, which meant keeping the monster tamed for a full 1000 kms and seeing Pulsar 220s flash by you, at times teasing you for being so slow with such a quick machine at your disposal. The initial riding was very sober with heavy control on the right wrist (the Duke 390 is a very difficult bike to run-in as it feels quite rough at low RPMs). Not wanting to be judgemental before the first service, I thought to myself that the Duke 390 is not a city friendly ride as it does tend to heat up quite a bit in stop-gap traffic. We also did face the bike not starting issue a few times but all that got massively subdued post first service.
In the first few days with the bike, the excitement wore off quite quickly and I was not being faithful to the Duke 390 (thinking about other and more comfortable alternatives while on the saddle of the KTM) but post first service when the restrain on my right wrist was lifted, everything was forgiven (the stiff ride and uncomfy ergos) and I pledged my legions back to this orange wheeled monster. The 390 Duke isn't a bike for everyone, period. While it's easy to pilot thanks to its light underpinnings, it's just holy moly quick. When I was running in the bike, I was restricted to under 5000 RPM, which honestly is where this single is the weakest. Whizz past 6000 RPM and the acceleration transforms into instant rocket ship. The 390 jolts ahead with zest and it moves with the kind of thrust you can only dream off at this price point. It's beautifully poised in corners, requiring little effort to master a set of curvy terrain.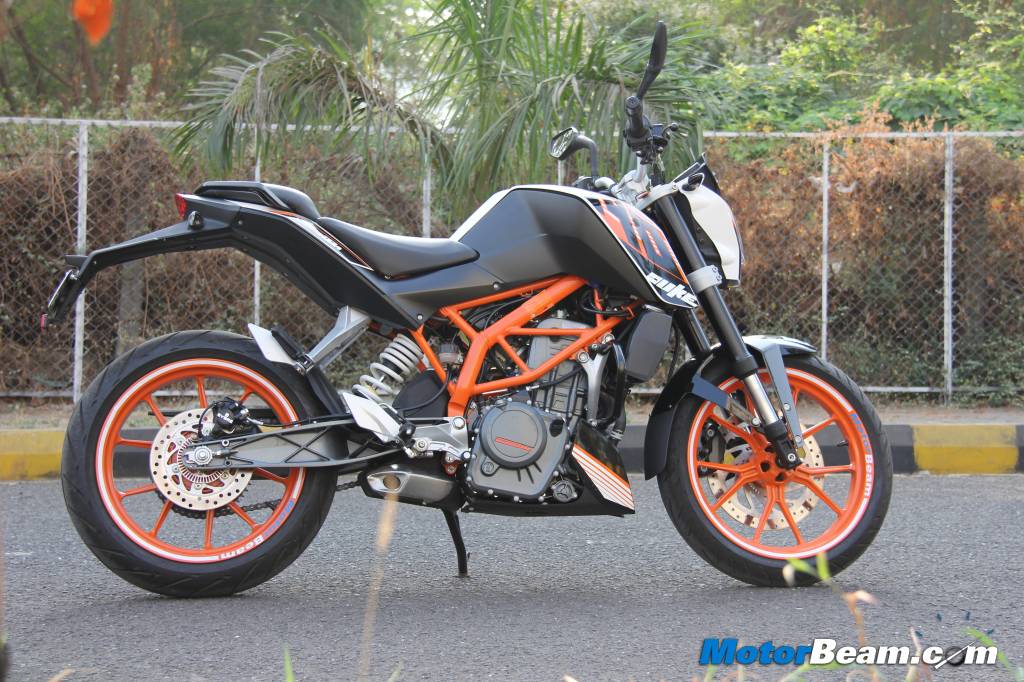 In fact, the highlight of the KTM Duke 390 is the hardware, more so the trellis frame. Every time I remove the bike from the garage, I feel so at ease as there is absolutely no effort required to move it out of the parking area (the mirrors offer good visibility although they could be better positioned). The bike is just super light and this weight balance is more appreciated when you hit the twisties. The Duke 390 inspires immense confidence and you do start feeling a bit of Marc Marquez on nicely laid and turning asphalt. Lean in and the KTM simply jinks into corners making you look like a super hero. The chassis has terrific balance, the steering offers good feedback and it's at this point you really don't mind the harsh ride quality one bit.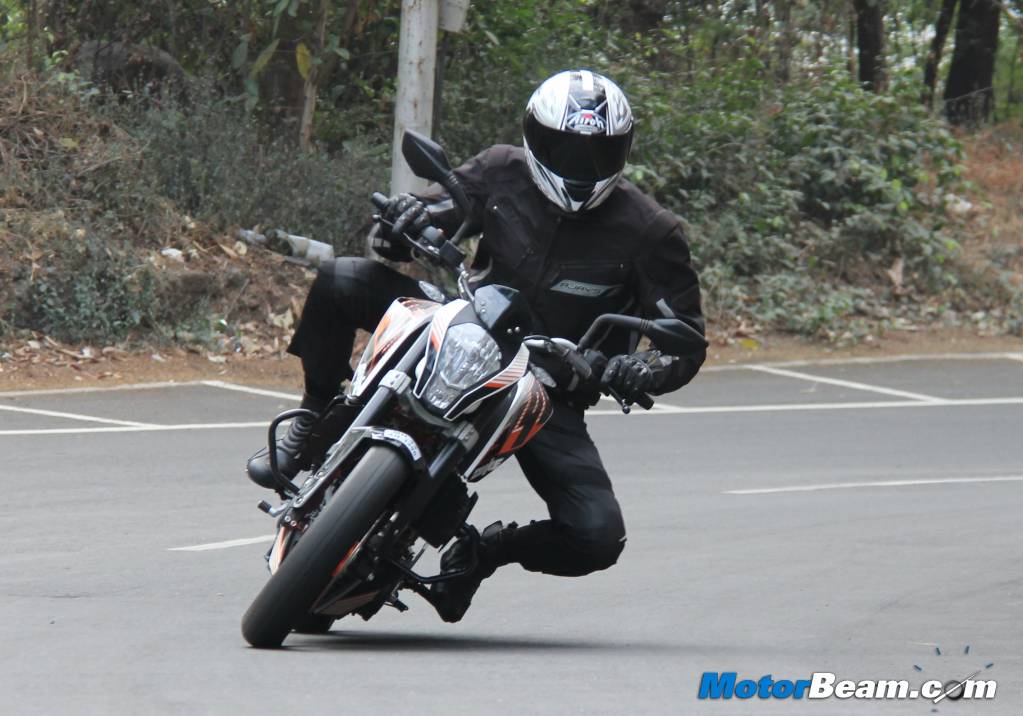 Even after long time on the saddle, the seat refused to shape itself according to my derriere so I went ahead and got seat padding done with carbon fibre finish seat cover, a Rs. 750/- and 45 minute job. Build quality is good minus small issues like exposed wiring and some parts not feeling at home on a KTM. Cost cutting is evident at some places like no radiator guard, use of mineral oil in the new bike and parts sharing with Bajaj bikes. The side stand warning is a neat feature, if you engage first gear and the side stand is down, leave the clutch 10% and the bike will shut of automatically, so you never ever ride with the side stand down. The drawback is, you need a racing stand to lube the chain else doing it yourself isn't possible. The bike was given for service at around 850 kms as I couldn't wait any longer to unleash all of those 44 horses. Service was excellent by the KTM service centre and these guys are total professionals (I saw one service mechanic opening a Duke 200 engine to address oil leak issues, such is the level of expertise). I stayed back during the service to see what all happens and yes I was very impressed by the way they handle each bike.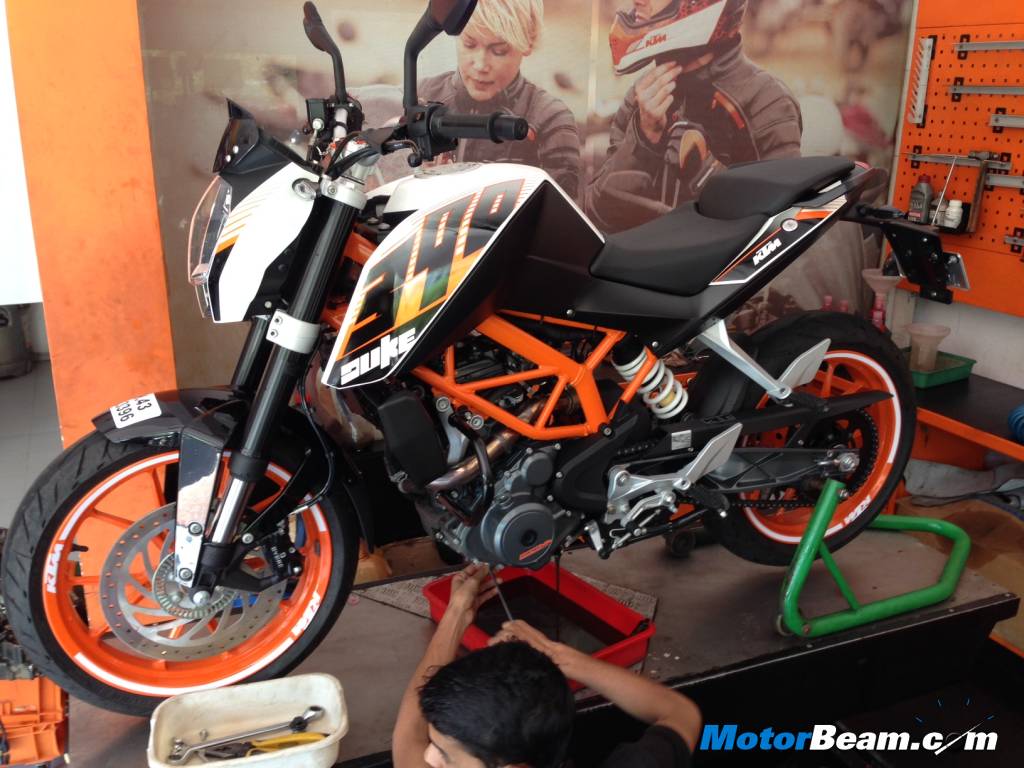 So once you take a service appointment and drop your KTM, they will quickly make a job card and give you an estimate of costs and time of delivery. The bike will first be washed (takes up to 30 minutes as it's washed with utmost care and pictures are taken by the service centre) and dried, ready for service. The service commences with the bike being placed on a racing stand on the bay. Being the first service, the engine oil was totally ruined, after all it was mineral oil. You can't use mineral oil in the Duke and the service guys will only put Motul fully synthetic oil in the 390. The bike uses two strainers, the second one is for the gas to escape. I had also complained about the brakes making noise so they cleaned the pads and disc's edge. Brake pads remind me, there was a Ninja 250 at the service centre too and a quick conversation made me really happy to know that the brake pads on the Ninja cost five times as much as the Duke's!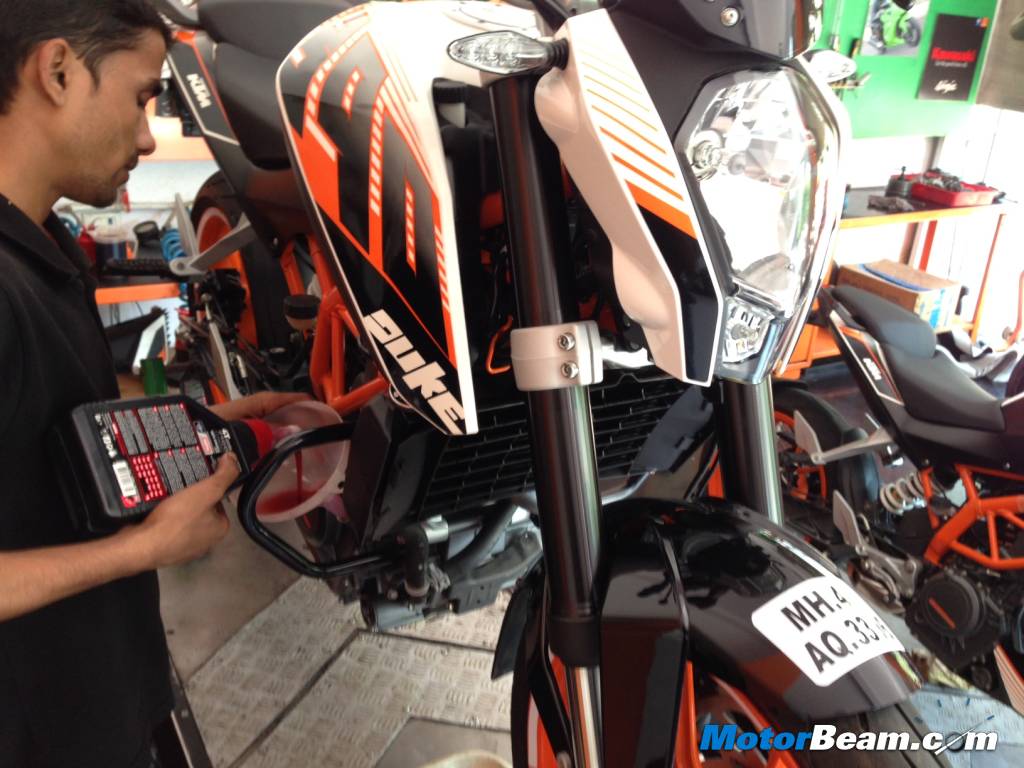 While at service, I also got a good chance to look at the bike more closely, realising that the headlight bulb comes from Germany (illumination is excellent but a projector would work wonders) and that KTM has added a seal protector on the front forks to prevent fork oil seal breakage (ironically the 390 Duke standing right next on the other bay did not have the seal protector which makes me believe this was added in the second batch). Some parts which aren't so clearly visible have Bajaj written on them while visible things like the switchgear are from the Pulsar. The pointy palm grips are hard for my liking, I have added a cover on them (cost Rs. 100/-). The 5000 RPM shift light warning on the tachometer was changed to 7500 RPM. All this can be done by anyone as you just need to hold the reset button in the trip mode to change these settings. There are two settings, RPM1 for first five gears, set to 7500 RPM till second service and RPM2 for sixth gear, set to 10,000 RPM.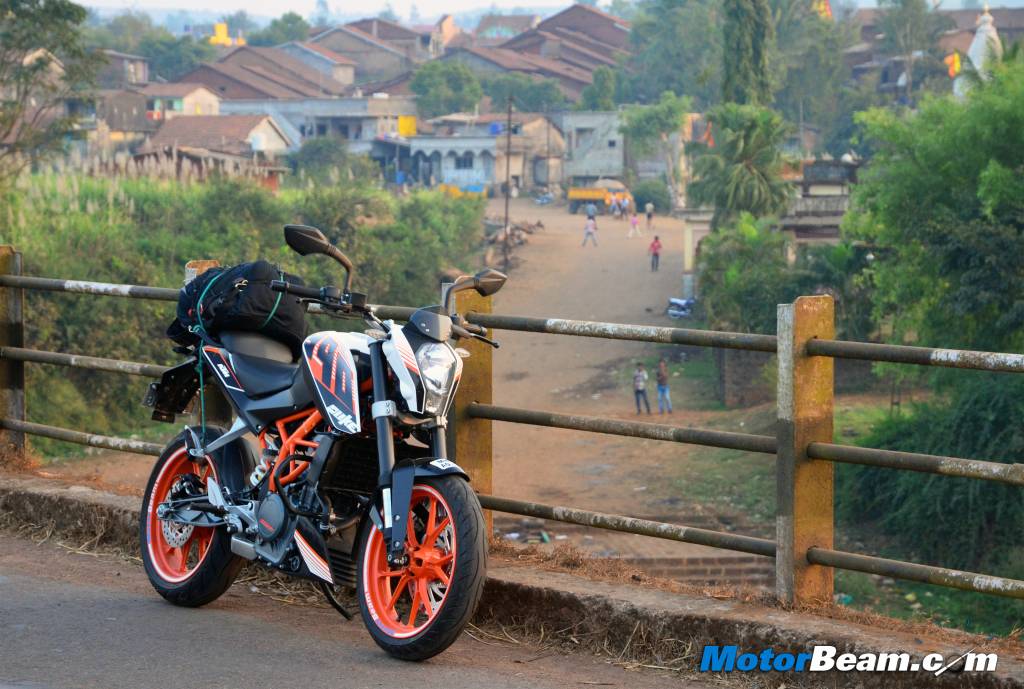 The ride quality of the Duke 390 is stiff and on bad roads, you feel every bit of the tarmac, jostling your every bone. At the first service, I had the suspension setting changed from stiffest to medium (there are 6+ settings, I mostly keep it on 3). With the suspension on setting 3, ride quality is simply brilliant. Whoever said that the Duke 390 has too stiff a ride and the likes needs to experience the bike on this suspension setting. No more does the bike make you feel the pinch of our bad roads and the ride quality is more than acceptable. However you do lose the composure and that's why I feel a level up on the suspension is needed since the front ends up becoming a bit soggy as you reduce the stiffness of the rear monoshock.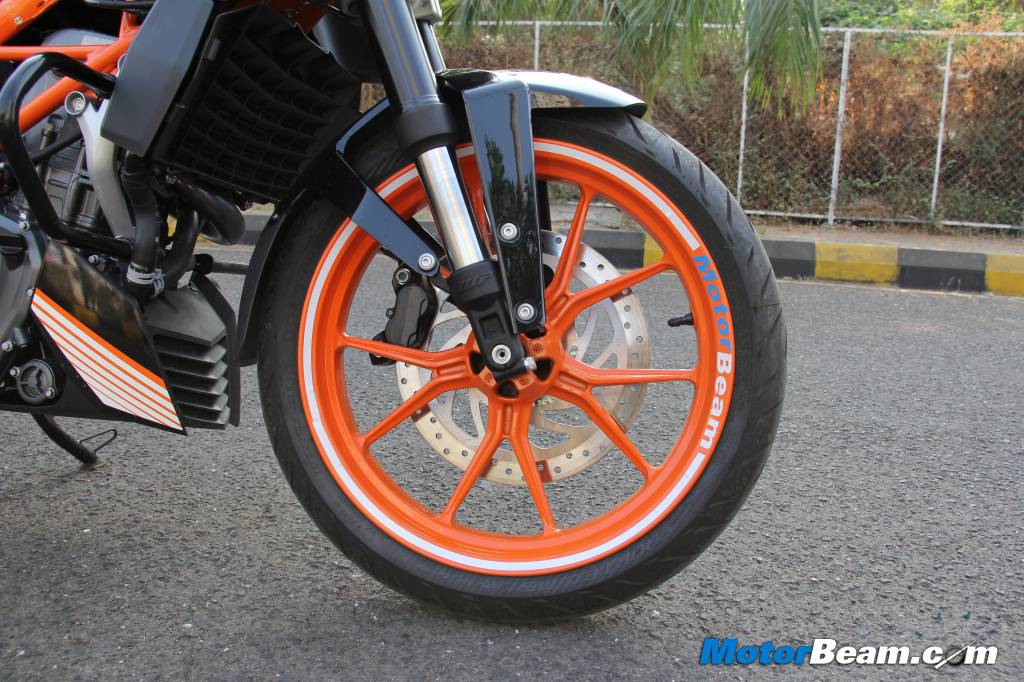 However there are other issues. The Metzeller tyres are simply fantastic but the low profile rubber makes you want to be more careful on bad roads than what you usually are. The seating position is upright but the handlebar is so close that you do end up folding some bit of your hand and that takes a toll on your upper back and shoulder on long rides. The instrument cluster isn't small but the tachometer is almost useless, there is no way you can see the RPM level when you are accelerating as the revs rise extremely fast. The buttons on the cluster are very hard (with gloves you have to put a lot of force to operate) and require some bit of an effort to change the read-outs although the multi-information display has a ton of data to display, makes you feel so geeky, in a good way and is so useful when you are touring. The naked styling isn't to everyone's taste but I can actually sit for days admiring the bike's body parts (from the side angle). However all this exposed internals are a pain when you go for a long ride as the Duke gets dirty very quickly and isn't easy to clean. The white monoshock attracts dirt like a magnet and is difficult to keep shining so a cover for it is recommended.
When riding in the city, 27 km/l is easy but you have to be very careful with the gears as the Duke simply hates to be under 3000 RPM, knocking in anger. This is because of the tall gearing and you have to be in first gear in stop-gap traffic, no two ways about it. So KTM ended up short gearing the Duke 200 and to make up for it, they geared the 390 way too tall. This means you have to remain in lower gears in the city and that can lead to the bike heating up quick a bit, making a tandoori of your thighs and calves in no time. The clutch is slightly heavy too and the gearbox although smooth does have a different mind occasionally. On the highways with cruising speeds of 100-120 km/hr with a short high speed burst, the Duke 390 returned a commendable 35 km/l while on rip mode (150 km/hr + and redlining), it returned a measly 18 km/l.
Probably the biggest issue is the fuel tank. With an average mileage of 30 km/l and a tank size of 11-litres (let's keep 1 litre as reserve for the sake of practicality), the range is just 300 kms (drops to under 200 kms when you let loose all of those horses). On my way to Goa, I filled twice the number of times than the Kawasaki Ninja 250R and Honda CBR250R who were riding along with me. The Duke 390 would take around 7-8 litres on every stop while the Ninja and CBR would gobble 15 and 11 litres respectively. This is very poor because if you plan to tour, you have to stop for fuel quite frequently as the low fuel warning light comes up with 3-litres remaining and it's not recommended you run the bike on low fuel for long. But the fuel station is a great conversation starter. When ever you stop for petrol, the pump attendant almost always asks about the bike and so do other people filling up. Questions like price, mileage are obviously the first thing on us Indians minds but some also ask about the top speed and how much have I done yet. There are bikes better than the Duke 390 with better performance, mileage, styling, etc (like superbikes) but people are always awed by the Duke 390 because it's an affordable bike which most of us can actually buy and enjoy and hence the inquisitiveness.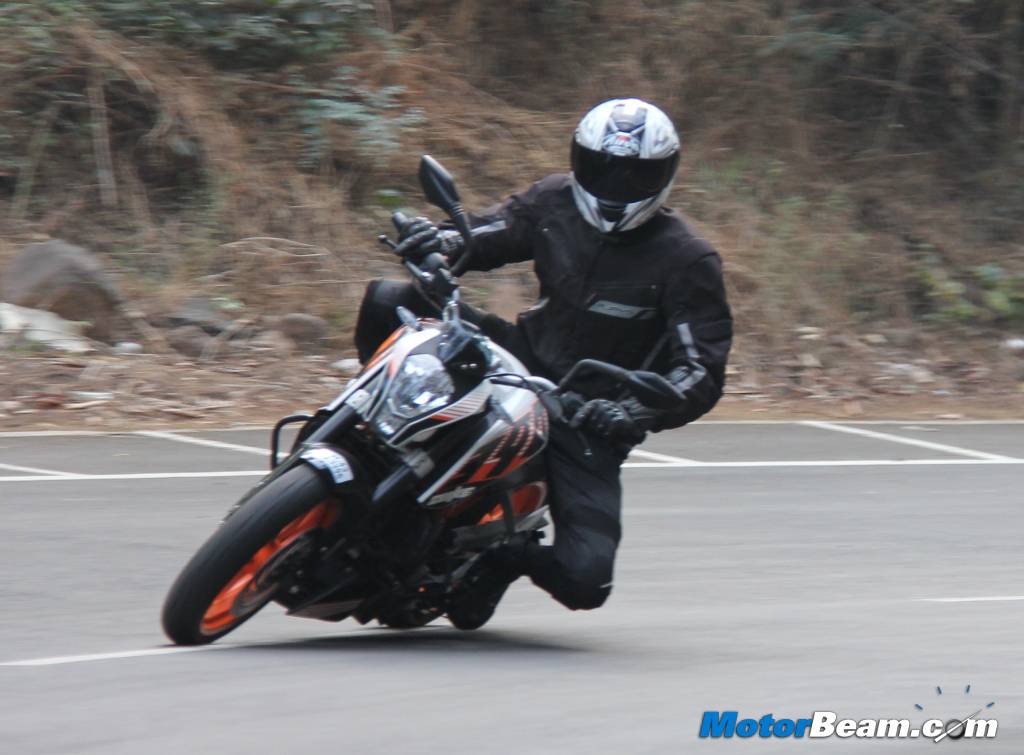 No bike is perfect, neither is the Duke 390. There are these small issues which I have mentioned above but you get used to them overtime. But then there is that bomb of an engine and a launch with full zest will see you pointing towards the sky. The single produces its peak 35 Nm of torque in the mid-range and it's past 5000 RPM when the bike simply goes mad and takes off with such ferocity you are simply in love. It does 100 km/hr in third gear and has a power to weight ratio in excess of 300 BHP per tonne! You can easily do 130 km/hr on almost any given highway road and 150 km/hr is always in sniffing distance. It's only past 160 km/hr that you need to take efforts so you can understand this bike is truly fast in every way. 170 km/hr requires you to duck to get wind on your side. Vibrations are well contained and only felt at higher RPMs but if you are wearing gloves, you won't notice much.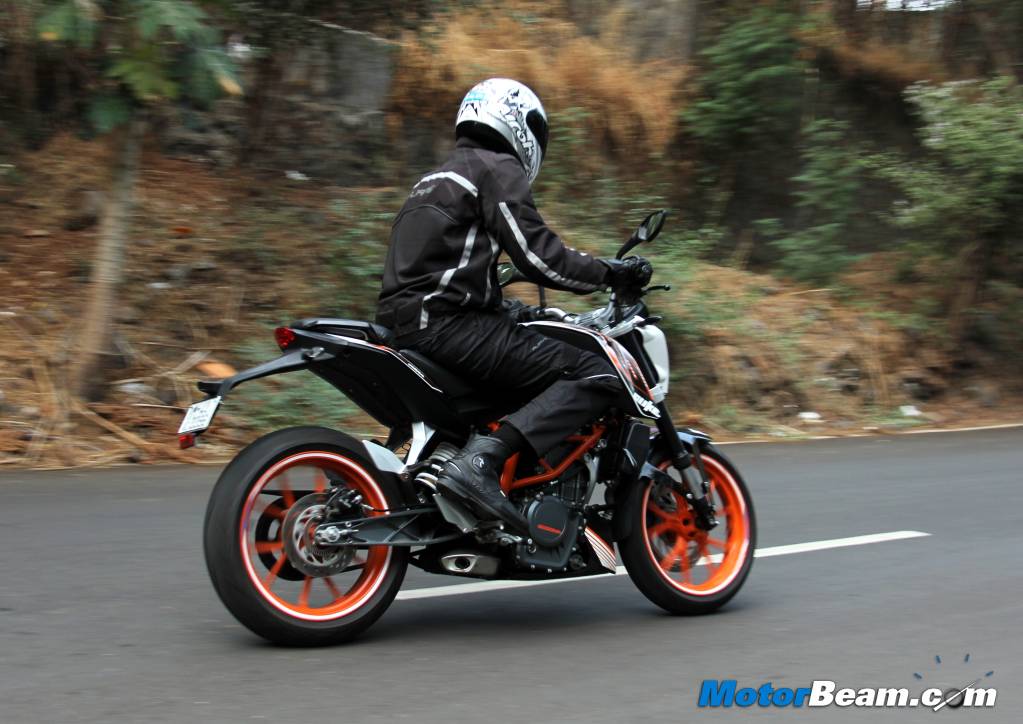 You can also cruise comfortable (once you get used to the hard seat and stiff ride quality) as the sixth gear is even taller. Overtaking is a slight twist of the right wrist away as there is ample amount of juice on tap leading to a simple point and shoot. Yes there is windblast post 140 km/hr but you aren't going to do those speeds for long durations as the ideal cruising speed on this bike is 120-130 km/hr. So if you are cruising at 120 km/hr in sixth gear, the RPM ticks in at a relaxed 6500 RPM. The engine is loud post 140 km/hr and the throttle is too long making many owners opt for quick action throttle (which results into instant wheelies). The problem with the Duke's motor is that it doesn't sound like it goes, more so at low revs where the exhaust emits Bajaj rickshaw like note. However get into the mind range and the bike does sound sweet, while at high revs it sounds almost like a jet. Tying luggage on the Duke 390 is a big issue as the small rear seat hides the brake light and using bungee hooks will scratch the grab rails, it's best to get saddle bags.
Clearly the KTM Duke 390 isn't as comfortable a tourer; hard seats, stiff ride and too many of horses who feel best at full pelt. But for biking enthusiasts, there is nothing more pure you can get at this price. The Duke 390 feels raw and unadulterated in a way which can instantly pull a wide grin across your face. It's way more fast than what we need in India so there is always plenty of reserve on tap, ready to surprise you when you are in the mood for fun and games. But it's not all power without control, excellent handling with a very communicative steering and terrific brakes assisted by ABS helps you stay in total control of this KTM. Not only does the Duke 390 offer almost superbike like performance, it's also easy to live with thanks to affordable service and easy accessibility of spares. The Duke 390 is a dream come true for many motorcyclists and there is no reason why a biker shouldn't have this Austrian street-fighter in his arsenal.
The Duke 390's power pack is simply the highlight of this machine, not to forget the sure-footedness at speed and the ability to dive into corners with superglue stuck on the wide rubber. While it isn't the motorcycle for everyone, the Duke 390 sure is the ultimate machine for performance bike enthusiasts.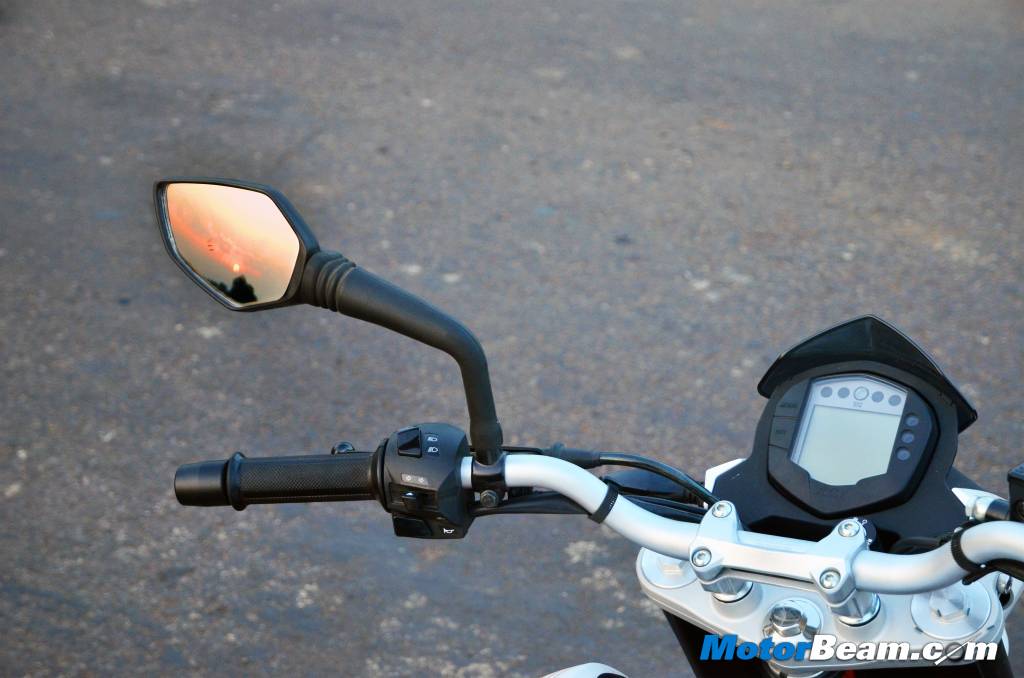 KTM Duke 390 Service and Parts Costs –
* Paid service – Rs.617/-
* Engine oil – Rs. 1100/- (1.5-litres of synthetic oil)
* Spark Plug – Rs.193/-
* Oil Filter – 97/-
* Air filter – Rs 274/-
* Chain Lube – Rs. 130/-
* Front disc pad – Rs. 236/-
* Rear disc pad – Rs. 210/-
* Metzeler tyres – Rs. 12,000/- (front and rear)
Further Reading –
KTM Duke 390 Long Term Review – Second Report
KTM Duke 390 Review
KTM Duke 390 vs Kawasaki Ninja 300
KTM Duke 390 vs Yamaha RD350
KTM Duke 390 vs Honda CBR250R vs Royal Enfield Continental GT
Kawasaki Z250 vs KTM Duke 390
Kawasaki Z250 vs KTM Duke 390 – Video