Seventh Generation Volkswagen Golf Unveiled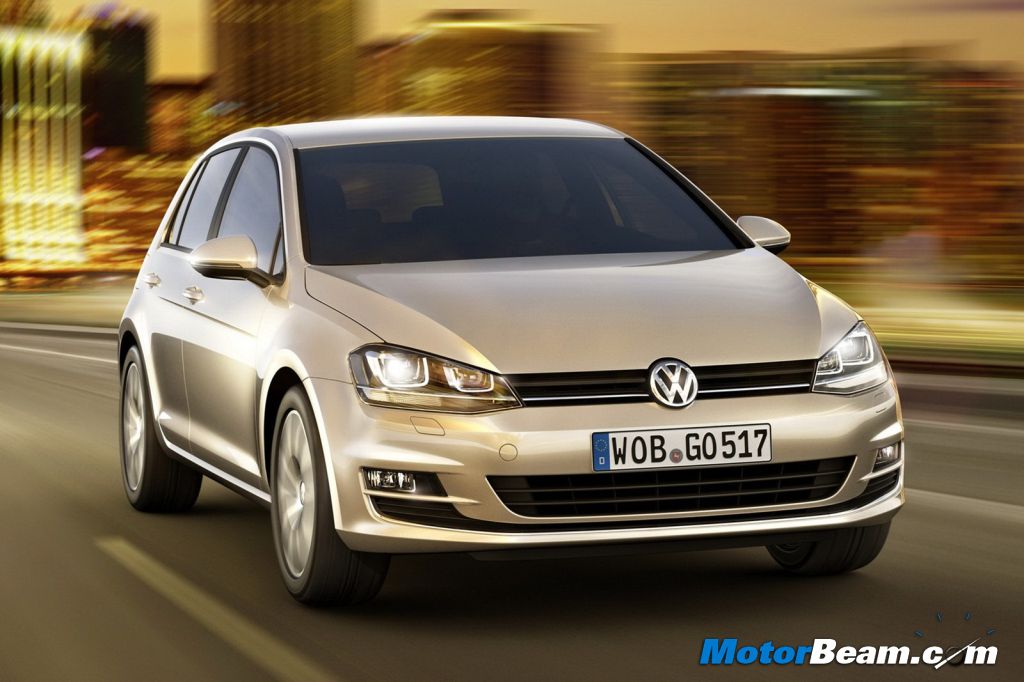 Volkswagen has unveiled the all new seventh generation Golf. The German automaker has made several changes to the Golf, which has till date sold 29 million units in the past 36 years. The design changes are move evolutionary than revolutionary and the new Golf builds on the design of its predecessor. However underneath the new Volkswagen Golf lies an all new platform, which will also feature in a range of VW, Audi, Skoda and Seat cars in the future. The Modular Transverse Matrix (MQB) platform lies underneath the latest generation Golf hatchback.
2014 Volkswagen Golf Dimension Changes –
Length – 56 mm longer than the old Volkswagen Golf. The new Golf measure 4255 mm long.
Width – 14 mm wider than the old version. New Golf is 1799 mm wide.
Height – 28 mm lower at 1452 mm.
Wheelbase – 59 mm increase in wheelbase over the old Golf. New Golf has a wheelbase which measures 2637 mm long.
Wheels – Front wheels have been pushed forward by 43 mm to increase interior room.
Drag Co-efficient – Improved by 10% to 0.27 Cd.
Boot – Increased by 30-litres to 380-litres.
Weight – 100 kgs lighter thanks to the lighter MQB platform. New Golf weighs 1050 kgs.
Volkswagen has made changes to the interiors but the dashboard is not vastly different from the old Golf. The seventh generation Golf has the centre console angled more towards the driver. New features have been added as well including touchscreen system (5.8-inch color display to 8-inch color display, depending on variant). A new safety feature also makes its way to the Volkswagen Golf. Called the Multi-collision brake system, this applies the brakes after a collision to reduce kinetic energy and minimizes impact. The PreCrash system re-tensions the seat belts and closes the windows (not completely to protect form airbags). The 2014 Volkswagen Golf also features City Emergency Braking, Park Assist, Front Assist, Adaptive Cruise Control, etc.
Powering the Mk7 Volkswagen Golf are a range of engines. Petrol models include the 1.2-litre TSi (84 BHP), 1.4-litre TSi (138 BHP), 1.6-litre TDi (104 BHP) and 2.0-litre TDi (148 BHP). All these engines are very frugal and will offer stellar economy in the lighter Golf. Volkswagen will also launch more body types of the new Golf, including 3-door, GTI, R-series, station wagon and MPV. The other body types will have more engine options including all-wheel drive. Volkswagen will showcase the new Golf to the public at the upcoming Paris Motor Show.
[flickr size="center" float="medium"]http://www.flickr.com/photos/motorbeam/7936452808/[/flickr]
[flickr size="center" float="medium"]http://www.flickr.com/photos/motorbeam/7936453526/[/flickr]
[flickr size="center" float="medium"]http://www.flickr.com/photos/motorbeam/7936451356/[/flickr]
[flickr size="center" float="medium"]http://www.flickr.com/photos/motorbeam/7936455524/[/flickr]
[flickr size="center" float="medium"]http://www.flickr.com/photos/motorbeam/7936455744/[/flickr]
[flickr size="center" float="medium"]http://www.flickr.com/photos/motorbeam/7936455094/[/flickr]
[flickr size="center" float="medium"]http://www.flickr.com/photos/motorbeam/7936453680/[/flickr]