2015 KTM RC 390 Long Term Review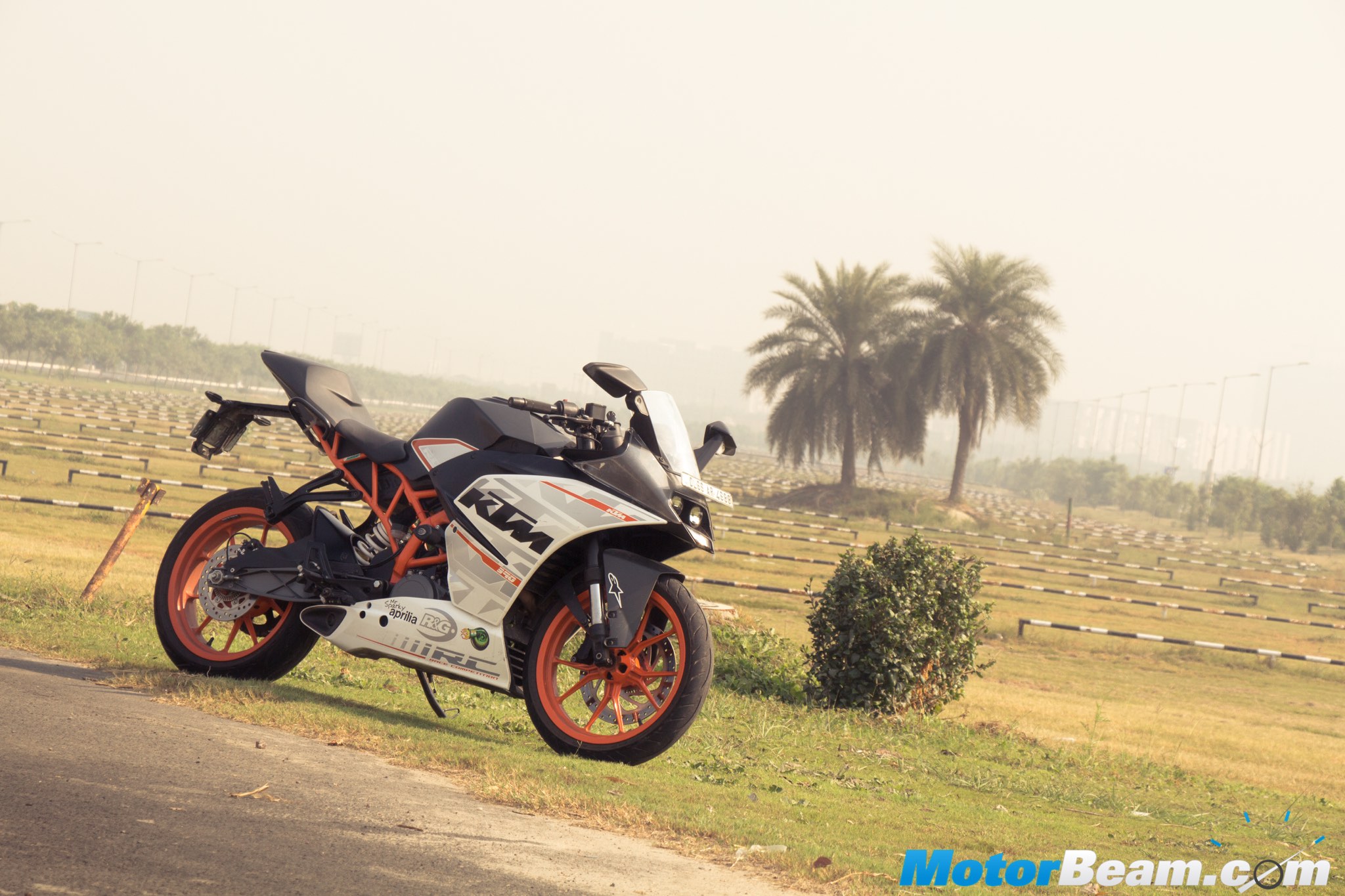 KTM RC 390 Long Term Review
Long Term Test No. 75
Bike Tested: KTM RC 390
Kms Done: 5090 kms
Test Started at: 110 kms
Test Concluded at: 5200 kms
Mileage: 24.00 km/l, 28.30 km/l (best), 19.70 km/l (worst)
Fuel Consumed: 220 liters
Fuel Cost: Rs. 14,080/-
A fast machine but a bit average in quality but what more can one ask for under Rs. 2.5 lakhs?
I'm not just going to start off by saying how much awesome of a machine the KTM RC 390 is, but let's just say it's bang for the buck. Back in February, when I went to a KTM dealership to have a look, what the 'fuss' was all about the RC 390 being a perfect track tool, I never thought I'd buy it. After 5000 kms, nine months of street riding, four track days, two or three stops at the service station and yes, a burnt butt, all I can say is, I am happy. But it doesn't mean that the RC 390 is the perfect bike for everyone. Different people have different requirements. I had owned a Yamaha R15 V2.0 and that clearly is not a touring machine but a track-dedicated motorcycle. I loved the handling and saw the KTM RC 390 as its elder sibling. So I took a test ride and booked it immediately. I did hear a lot about the heating issue and how it cuts off the fuel and makes you look like a complete idiot, standing in the corner waiting for the bike to cool down a little bit. After that I did a little more research and found out that traffic was the main concern here. But I didn't have to ride in traffic much, or did I?
The looks of the KTM RC 390 are undoubtedly one of the best as compared to its rivals. The 'alienatic' front look, naked orange frame, cowl-like rear seat and God those Mirinda wheels, all of these did manage to turn heads every time I passed through a crowded place. The projector headlamps and LED indicators do give the RC a fresh look, unlike those old fashioned orange bulbs. The bike looks very aggressive from the front as well as rear and almost every kid living near my house asked me whether I bought a superbike or not. The visor on the RC 390 also acts as the face of the bike, which goes well with its looks . Judging by the number of starers, I think it's safe to say that KTM did an amazing job by thoroughly looking at the details while designing the RC 390.
Heavy engine on the RC 390 makes it a bit too hot for Indian traffic conditions
For a motorcyclist living in the capital city has its own advantages and disadvantages. We do get a lot of traffic at office hours but it's more or less 'moving' traffic. Filtering in between lanes on the RC 390 is a bit tough at first if you wish to use the rear view mirrors as well. Retracting them helps a lot and gets you in fewer fights for nicking some car's side mirrors. The radiator fan does its job perfectly by sending the heat to the belly rather than the knees. The extremely hot exhaust pipe that resides below the seat dissipates enough heat to make some tandoori butts at a stop signal. Though the heat could only be felt when the bike is standing still and vanishes as we go past 10 km/hr. This is a result of the high combustion ratio of the 373.2cc single-cylinder engine and is meant to stay hot while in its optimum power range.
KTM RC 390 Cost Of Service
* Engine Oil – Rs. 1200/-
* Oil Filter – Rs.80/-
* Motul Coolant Topup – Rs. 200/-
* Motul Chain Lube & Clean – Rs. 150/-
* Bike Wash and Polish – Rs. 250/-
* First Service – Rs. 1600/- (approx.)
* Second Service and thereafter – Rs. 2000/- (approx.)
The KTM RC 390 requires the first servicing at 1000 kms. I got it done at nearly 900 kms because of my own personal satisfaction. Thereafter every 7000 kms, a service is due. Well I've done nearly 6000 kms and visited the service station about 3-4 times. The chain requires proper cleaning and lubing from time to time and I prefer personal touch on my motorcycle but in this case, there's really nothing one can do about it as you'll need a paddock stand just to get the rear wheel up from the ground. The second time I went to the service station was due to the leakage of fork oil caused by an unexpected pothole. It was good that the fork seal was replaced under warranty but I had to pay for the fork oil. And the third time was when the mouth from where the excessive coolant drains out, broke out of nowhere. They didn't have the bottle in stock but temporarily fixed the issue without charging me a single penny for it.
I also tested the endurance of the bike by going on long 'KTM Orange Tour' to Kasauli. The bike performed flawlessly without any issues at all. My body though, was tired within 2-3 hours of continuous riding. At straights, it became quite boring and extremely tiresome for the palms and the back. The heat though was nowhere to be felt and the fan remained off when we rode at 80 km/hr or so. The seating position gave me a very hard time and frankly, I felt like a granny after about 6 hours of the ride. There was one more thing that kept bugging me for a very long time. The tyres on this bike cost a lot. And what I heard about the Metzelers through forums was that they lasted about 8000-9000 kms on an average and spending nearly Rs. 15,000/- on a new set of tyres was something that I was running away from. KTM gave Metzelers for that 'extra' amount of stickiness and I was keen on using them on the track rather than on straight highways. I know other tyres like the Michelin Pilot Street Radials don't have that amount of stickiness as the Metzelers but they do the job just fine on long tours.
At the heart of this bubbly orange bike lies the main reason of hooliganism. The 373.2cc, single-cylinder engine defines the Austrian brand's 'Ready To Race' tag line appropriately. It is fast and a little viby but doesn't fail to impress in terms of its power delivery. Being a single-cylinder means carrying a lot of torque with which the KTM RC 390 does well in the mid RPM range. With just a flick of throttle after 4000 RPM, the all-digital speedometer starts climbing fast till 140 km/hr post which the laws of aerodynamics come into play and ducking down proves to be the best option to reach the top speed of 179 km/hr on the speedo. For someone upgrading from a lower segment motorcycle to this, the clutch might not prove to be your best friend here. It is heavy and does frustrate the hand at lower speeds in traffic while downshifting and upshifting at short intervals. Such power is easily managed by a preload adjustable soft rear suspension which proved to be quite comforting in city rides. The front suspension also handles the bumps very well on our Indian roads.
With sharp and agile handling, the KTM RC 390 always belongs to the race track
The track is probably the only place where the KTM RC 390 comes to life completely. It is one fun bike to ride with a lot of power available at just a twist of the wrist. Changing directions is as easy as it can get. The tyres give immense feedback at hard corners as well. I had to adjust the pre-load of the rear suspension to the hardest as the bike literally bounced at uneven surfaces. I've ridden the Kawasaki Ninja 300 and even other quarter-litre segment motorcycles and I can bet that absolutely nothing can beat the lap times of the RC 390. There were just two things that bugged me though. One, the belly and foot pegs touch the tarmac when you've leaned completely and second, the foot pegs vibrate a lot. And by 'a lot' I mean enough to numb your toes at 170 km/hr. Other than that, I was the happiest person to burn the right rubber on the right tarmac. A lot of aftermarket accessories like Powertronic ECU, air filters (K&N or BMC), Akrapović exhaust, etc. can make the RC 390 even more exciting and fun to ride on a closed circuit.
Fuel consumption in the city has been somewhere between 20-24 km/l. On the highway I couldn't get better than 28 km/l. I've been feeding her with RON 91 high-octane petrol and haven't had any problems whatsoever with the power output from the engine. The brakes lack in bite which results in lack of confidence. Though once I started riding this motorcycle everyday, these brakes felt normal for me and I knew just when to start braking so as to stop right before the line. The ABS on this bike works like a gem. It saved me a lot of times. Places like Karol Bagh and Connaught Place have pedestrians literally popping out of nowhere, leaving us motorcyclists to apply brakes very hard. I could feel the ABS kicking in as the rear wheel locked multiple times. Apart from the regular information that the dash provided, time is something that I found the most helpful as I saw it most of the times. The headlamps also provide good visibility on both low as well as high beam during night rides.
Like I said earlier, the KTM RC 390 is a very good motorcycle but it is not really meant for everyone. Long tours and traffic is something that the RC 390 hates. Though it can turn out to be a perfect tool for weekend getaways and track days. KTM does have an attractive price tag on the RC 390 but that also compromises on the quality of parts used on the motorbike such as easily breakable gear/brake levers, fading paint on switchgear, buzzing plastic parts at idle and much more. But then again, it's well over a lakh cheaper than its competitors, the Yamaha YZF-R3 and Kawasaki Ninja 300 which ultimately leaves us with the rider's personal choice and practicality. Opt for a premium Japanese bike or save a lakh and go for the better performing Austrian madness?
At an eye catchy price, the KTM RC 390 lacks in quality components but covers up in the form of sheer performance and pure riding pleasure. It'a also affordable to maintain and there are plenty of KTM service stations too.
What's Cool
* Affordable race machine
* Agile and perfect handler
* Torquey motor
* Dedicated riding position for the track
What's Not So Cool
* Hard seat
* Very hot and sensitive for Indian conditions
* Rough throttle response
* Vibrating footpegs and handlebar
Picture Editing – Sri Manikanta Achanta
Further Reading –
KTM RC 390 Review
KTM RC 390 vs Kawasaki Ninja 300
KTM RC 390 vs Kawasaki Ninja 300 – Video
KTM RC 390 vs KTM Duke 390