2016 TVS Victor Test Ride Review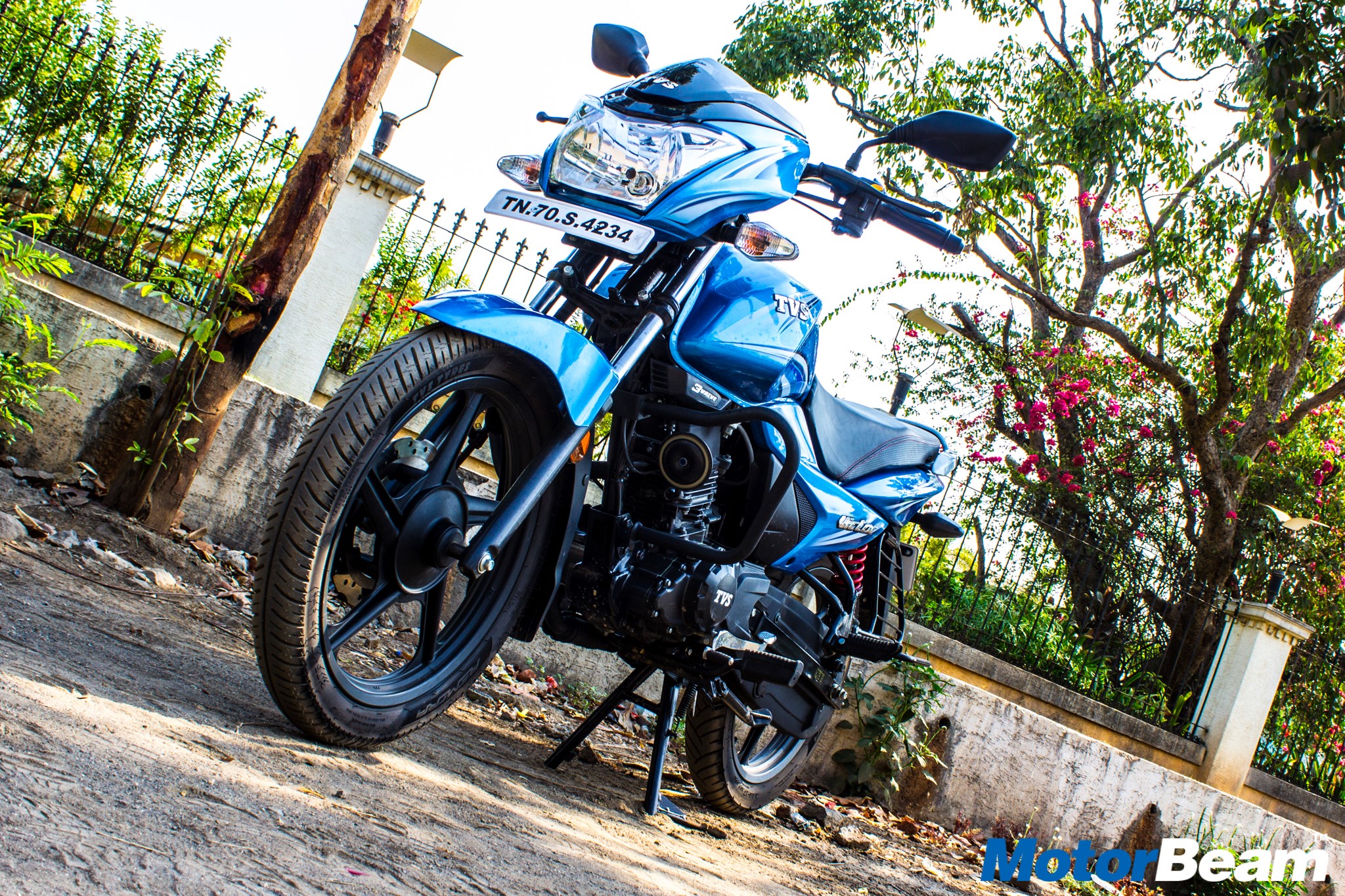 2016 TVS Victor Review
Bike Tested: 2016 TVS Victor; Road Test No. 696
Price OTR Mumbai Rs. 52,934/- (Drum), Rs. 56,229/- (Disc)
The TVS Victor has perfectly blended modernity while still staying true to its original character
It's not very often that you see a discontinued brand being brought back to life, after a gap of nine years which brings along the added burden of changing trends and preferences. But TVS has dared to step into this territory and take the challenge to its competitors. When the original TVS Victor was discontinued way back in 2007, the expectations from a commuter motorcycle were extremely basic; plain jane styling, an engine with enough power to get the bike moving, and a healthy mileage. Well, nine years later, while mileage still owns the highest priority, there is a sudden change in buyers' mindsets which now hunts for a more stylish machine, irrespective of its displacement. Now the 2016 TVS Victor does its best to do all of that and we're going to find out whether it does fit in that mindset or not.
The Victor range of motorcycles was first launched in 2001, and garnered a lot of positive response from buyers initially. However, things turned sour when the bike started facing a ton of reliability and long term issues, which TVS failed to keep up with. This led to TVS focusing more on other motorcycles like the Star series, and eventually discontinued the once famous Victor in 2007, only to be re-launched in 2016.
Styling – The TVS Victor has gone several steps, or rather miles ahead in design when compared with its predecessor. Although not the most fancy, the bike does look smart. To begin with, it gets a large trapezoidal headlamp which looks sharp and attractive. Surrounding it is a beautiful quarter fairing, which also contains the small windshield. The tank has a muscular design with sharp lines cutting through it and a 3D TVS logo embedded on either side. The Victor badge also gets a 3D treatment on both the side panels.
The motorcycle gets a new set of colours and smooth looking attractive graphics
The back half of the bike, although not as appealing as the front, gets some interesting bits like alloy grab rails and a rather beautiful and aggressive exhaust muffler, which comes decked in black irrespective of the colour you choose. Also, the addition of clear-lens turn indicators makes a huge difference in the appearance of the motorcycle. Overall, we're looking at a well designed commuter from TVS which would appeal to the youth as well as mature riders.
Instrument Cluster and Switchgear – The instrument cluster of the 2016 TVS Victor gets a part-analogue, part-digital console with the analogue tachometer taking centre stage. I really love the idea of a tachometer on a commuter, as I get to witness the redline much more often than other bikes which is a different joy altogether. A small portion on the right within the tachometer houses the digital fuel gauge while a separate digital console contains the speed-o-meter, odometer and two trip meters. Switchgear is of excellent quality and is easily the best in its class. There is also a pass light toggle, which has more use than most people think. Finally, we have a kill switch lookalike, which actually turns on the hazard lights, something that you don't often see on a 110cc bike. Not that we'd mind a kill switch either.
Ergonomics – Despite its sharp styling, the TVS Victor is still a commuter at its core. The riding position is unmistakably upright with front set footpegs and a tall, single-piece handlebar. The bike is suited for riders of most heights but it might take a little getting used to for very short riders. The saddle of the Victor is one of the unseen highlights of the bike as it offers more than adequate space for both rider and pillion and has premium cushioning as well. This set-up makes for literally painless and effortless long rides on the Victor.
Performance – This is one aspect that not many people would turn to when they're on the lookout for a 110cc motorcycle. On the contrary, the Victor offers power like no other 110cc in its class and can easily match up to the 125cc offerings in both power and acceleration. Starting with some numbers, the TVS Victor is powered by a 109.7cc, single-cylinder, 3-valve engine mated to a 4-speed transmission. The engine produces 9.6 PS of maximum power at 7500 RPM and 9.4 Nm of maximum torque at 6000 RPM. Now these figures coupled with a 113 kgs kerb weight gives you a bike that is surprisingly fast for its class and is equally lean and agile. On a flat road, I managed a top speed of 97 km/hr and given a slight descent, the bike topped out at a whooping 103 km/hr.
The engine has a good exhaust note which is quite rare for 110cc bikes
Being a TVS motorcycle, a certain degree of vibrations were expected from the engine. But to my surprise, the engine felt relatively smooth and refined when compared to older TVS motorcycles. Still, one would feel there is a certain room for improvement in this aspect. Cruising however, is not an issue as even at speeds close to 80 km/hr, the engine doesn't feel too strained, but pass that speed and the vibrations kick in at the footpegs and handlebar. Also, I must say that the Victor has a rather pleasing exhaust for a 110cc motorcycle which urges one to redline the engine irrespective of the gear.
TVS has also provided a riding mode indicator on the console. Now this can easily be mistaken to be switchable riding modes but unfortunately its just a light that turns red (Power mode) once you cross 4900 RPM and is green (Economy mode) under that. On the whole, we were pretty much satisfied with the performance of the Victor, specially with TVS keeping a check on the NVH levels. The engine isn't butter smooth and there are certain flaws, but for its segment, the Victor certainly ticks most boxes.
Riding Dynamics – This is one area where I was not quite satisfied with the Victor. Riding in the city is not much of a hassle as the hydraulic spring series suspension at the rear handles potholes and undulations with ease. However, take on some really poor surfaces and the discomfort becomes evident. Although the bike is capable of cruising at 80 km/hr with little nuisance, one is better off not attempting a cornering stint at that speed. It would have been the icing on a cake had TVS worked harder on the high speed stability. Not that its meant for that, but still!
The brakes of the TVS Victor offer a positive feedback to the rider
Coming to what it's meant to do, the Victor is extremely agile and manoeuvrable on most roads in the city. What made me extremely happy was the healthy low-end grunt that made for swift overtakes. Speaking of overtakes, what's even more important in a city like Mumbai is the braking. Equipped with a 240 mm petal disc brake up front, the Victor's brakes offer good feedback and confidence to the rider. What was a real let-down was the grip offered by TVS' in-house tyres that made me a little nervy over loose gravel and the occasional wet roads.
Verdict – The 2016 TVS Victor in its all-new avatar is surely a bike that competitors need to look out for. It's got most things going right for it, with some expected flaws that you're bound to find. What you get is an attractive styling, a really comfortable seat, an engine with more power than most in its class rivals and at Rs. 56,229/-(on-road, Mumbai), the Victor offers supreme value for money. The only issue that remains to be dealt with is if the Victor is able to hold good in the long run, a problem that plagued the old Victor and led to its eventual demise.
What's Cool
* Large trapezoidal headlamp with a good looking quarter fairing
* Brilliantly cushioned and large seat for both rider and pillion
* Smooth and powerful engine for most part of the rev range
* Petal disc up-front boosts stopping power significantly
What's Not So Cool
* Vibrations creep in near the top-end
* Handling becomes quite poor post 60 km/hr
* Tyres don't offer adequate grip
Alternatives: Hero Passion xPro, Honda Livo, Yamaha Saluto RX 110, Mahindra Centuro
2016 TVS Victor Specifications
* Engine: 109.7cc, single-cylinder, 3-valve
* Power: 9.6 PS @ 7500 RPM
* Torque: 9.4 Nm @ 6000 RPM
* Transmission: 4-speed
* 0-60 km/hr: 7.2 seconds (claimed)
* Top Speed: 97 km/hr
* Fuel Consumption: 55-60 km/l
* Fuel Type: Petrol
* Frame: Single cradle tubular frame
* Suspension: Telescopic Forks (Front), Adjustable spring series suspension (Rear)
* Tyres: 2.75 x 17 (Front), 3.00 x 17 (Rear)
* Brakes: 240 mm Disc / 130 mm Drum (Front), 110 mm Drum (Rear)
TVS Victor Dimensions
* Length x Width x Height: 1980 mm x 750 mm x 1090 mm
* Wheelbase: 1260 mm
* Ground Clearance: 175 mm
* Fuel Tank Capacity: 8-litres
* Kerb weight: 113 kgs (Disc), 112 kgs (Drum)
"The TVS Victor is a commendable 110cc motorcycle. It states by itself that commuter motorcycles have turned modern and one can have fun riding one. Performance won't be a talking point here but the refinement is and the Victor manages the refinement very well. Features like the petal designed front disc and hazard lights for a commuter motorcycle really make it stand out. With decent ride quality and a noteworthy bassy exhaust note, the TVS Victor's rebirth is totally worth the new avatar." – Dhanil Vira, Road Tester, MotorBeam.
"The 2016 TVS Victor reminded me of the older one. However, without a doubt it feels like a modern era commuter. The brakes have very good feedback which may prove to be undesirable for the layman but nevertheless an advantage in the long run. The engine feels very punchy and could've done well with a 5-speed gearbox. Even then, the bike is very much rideable for considerably low profile riders which is who TVS actually seemed to have in their mind while designing it. The 2016 Victor is definitely a commuter worth buying." – Adwait Babras, Road Tester, MotorBeam.
Further Reading –
2016 TVS Victor First Ride Review