2018 Ford Mustang Revealed, V6 Engine Ditched
The 2018 Ford Mustang has been revealed with cosmetic and performance upgrades.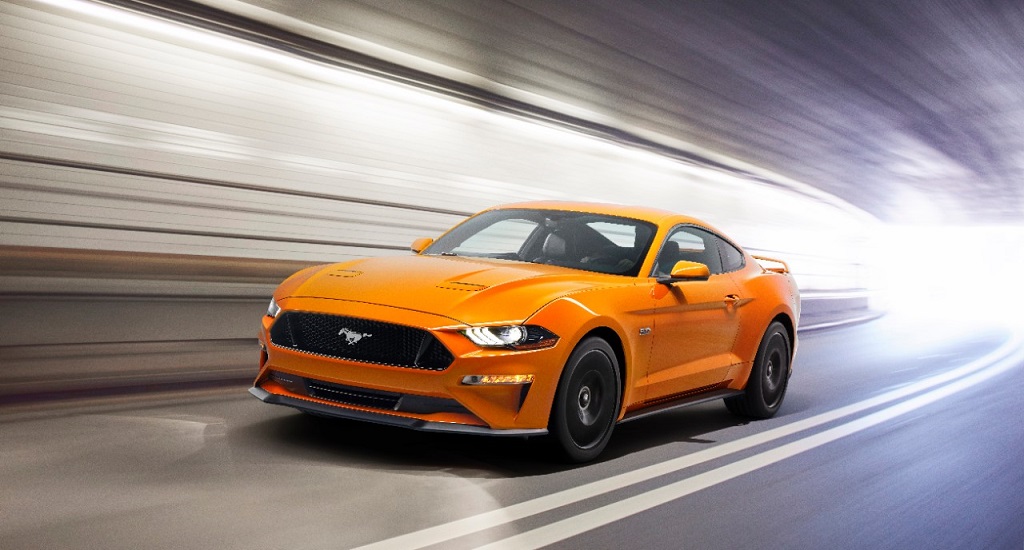 Ford has revealed the 2018 Mustang facelift at the Detroit Auto Show, giving the car mild styling changes, mechanical upgrades and new customisation options such as the "Orange Fury" paint seen above. The front gets new LED headlamps, a 20 mm lowered hood with vents, a new bumper, wider wheel arches and a remodelled grille. On the rear, there are new taillights and dual-exhaust pipes for the EcoBoost models and a quad-exhaust set-up for the GTs. 
Inside, there'a new 12-inch digital instrument cluster that has different views for Normal, Sport and Track mode – similar to what you have in the GT supercar. Furthermore, there's a new "MyMode" memory function that can save the owner's drive settings (for instance- the preferred suspension and steering set-ups).
Regarding the powertrains, the V6 has been axed, but the 2.3-litre EcoBoost engine and the 5.0-litre V8 of the GT have been upgraded for more power and torque, although Ford hasn't revealed any numbers yet. Nevertheless, we do know that the India-bound V8 has been "thoroughly reworked"- its compression ratio has been increased and it gets both direct and port injection. The power is sent to the rear wheels via a revised 6-speed manual gearbox or a new 10-speed automatic unit co-developed with GM.
The dynamics of the Mustang have been further improved by updating the suspension and adding the option for magnetorheological dampers in the Performance Package. You get an active exhaust as well. Ford will commence the sale of the facelifted Mustang in North America from the fall of this year (September), so we don't expect it to come to India before 2018.
2018 Ford Mustang
– EcoBoost and V8 engines get more power, V6 removed from line-up
– Car also gets a redesigned front fascia
– Inside, new instrument cluster is the highlight