2020 Hyundai Sonata Revealed, Is It Really A Hyundai?
The 2020 Hyundai Sonata looks like a four-door coupe with updated tech and design.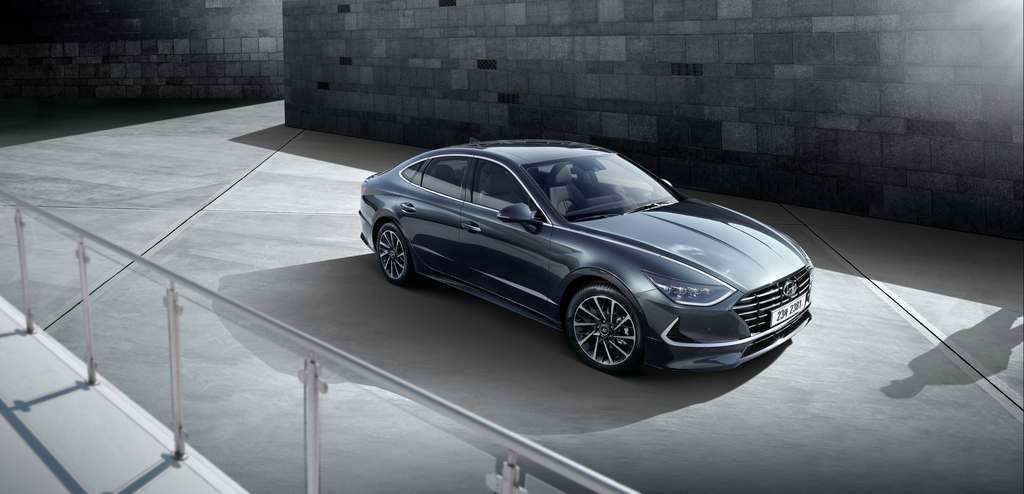 Hyundai has revealed the 2020 Sonata and the sedan is in its 8th generation now. The all-new model is derived from the Le Fil Rogue concept, which was displayed at the Geneva Motor Show in the previous year. The model now has bolder lines and a beautiful grille. The car is larger in dimensions that would effectively result in more cabin space.
The 2020 Hyundai Sonata resembles its concept model largely. The iteration looks fresh and Hyundai calls it 'Sensuous Sportiness', making the model look like a four-door coupe. The cascade grille is massive and has very imposing lines. The headlights are slimmer and all LED. One noticeable change is the new chrome accented hidden lighting; when switched on looks stunning. The lights eventually merge with the lines in front to give it a seamless look. The front is now slightly lower along with a flowing roofline. This makes the design look very balanced. It slightly looks like a sports car from the front if one imagines it to be.
The all-new Hyundai Sonata is now slightly bigger in dimensions, with an overall increase in 45 mm, 25 mm and 35 mm in length, width and wheelbase respectively. The car is now 30 mm lower then its previous model. The change in dimensions make it roomier from the inside. The taillights add to the wider look of the car.
Now moving to the interiors, the cabin is refreshed and mimics an aircraft inspired design. The dash and the HVAC vents are lowered now which add to the lightweight feeling. The instrument cluster is fully-digital along with an infotainment system with a smaller display. Other interior features include mood-lighting and a host of fabric and leather upholstery. The car is said to come with a smartphone based connectivity system to lock and unlock the vehicle.
The Korean automaker hasn't revealed the technical specifications of the vehicle yet. The Hyundai Sonata's 3 generations were sold in India but the vehicle got discontinued owing to poor demand in the upper D-Segment. However, Hyundai is known to be aggressive with its launches in India, and there is a slight possibility that the automaker could bring it here as a niche product to rival the Volkswagen Passat, Skoda Superb, Toyota Camry and Honda Accord.
2020 Hyundai Sonata
– The car is presented with a four-door coupe look
– It carries the design from the Le Fil Rogue concept
– The interiors look inspired from an aircraft design