24 Hours Performance Run Powered By JK Tyres
JK Tyres' new UX1 series tyres put to test at the BIC in a 24 hours endurance run with Mercedes C-Class.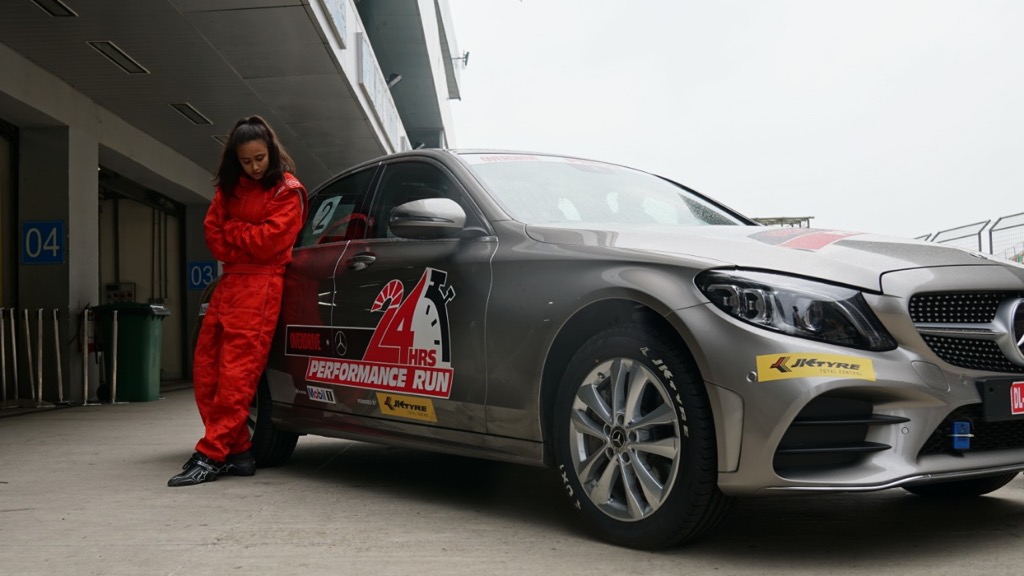 JK Tyre has recently launched its new UX1 series high performance tyres for luxury sedans. The UX1 tyres are optimised for better ride comfort, less tyre noise, high speed stability and superior grip around corners. Now to put these aspects on test, JK Tyre came up with 24 hr endurance drive. The endurance test was conducted with the new Mercedes C-Class facelift at the Buddh International Circuit.
This 24-hour test was conducted to push the limits and see as to how far a production luxury car can perform on commercially available premium tyres. It is a rigorous test of how far the pit crews, track support and drivers can push themselves.
The endurance run was done at the Buddh International Circuit, a world-class F1 race track to attempt a run never tried before in India. The track is 5.1 km long having 16 hard corners. It is one of the most challenging tracks due to elevations and corners.
The variables of the track also change due to weather conditions making the endurance run more challenging. Extra lighting to support vision during night was set up for running two cars non-stop for 24 hours.
The cars were running on JK Tyre's UX1 High Performance tyres, the regular stock tyres that are available at tyre dealers were put to test. The tyres are designed with an asymmetric thread pattern and 4th generation polymers that help in high speed stability and tyre longevity.
All in all, the UX1 series tyres live up to the expectations of high performance and it has been proven with the 24-hour endurance test at the Buddh International Circuit. The JK Tyre UX1 offers confidence inspiring grip around the corners. The tyre is extremely silent, even at high speeds and keeps the car glued to the tarmac. They have achieved a record that was never seen before at the Buddh International Circuit.
With the UX1 tyre series, JK Tyre continues to deliver their promise of total control along with high performance on these pristine luxury sedans. JK Tyre has done this before with Audi, Hyundai, Tata & Maruti. Whenever it comes to endurance, JK Tyre is always considered.
The endurance test was conducted by professional drivers – Anmol Rampal, Raghav Sharma, Mira Erda, Abhay Verma, Bertrand D'Souza, Rohit Khanna, Simran Rastogi, Satish Hataria, Diljeet, Chittesh, Rishabh Bhaskar and Saral Vikram.
24 Hours Performance Run
– Test to see how production luxury car performs on commercially available premium tyres
– The cars were running on JK Tyre's UX1 High Performance tyres
– Designed with asymmetric thread pattern and 4th generation polymers