Uncategorized
320 Kmph Suzuki Kizashi Bonneville Bound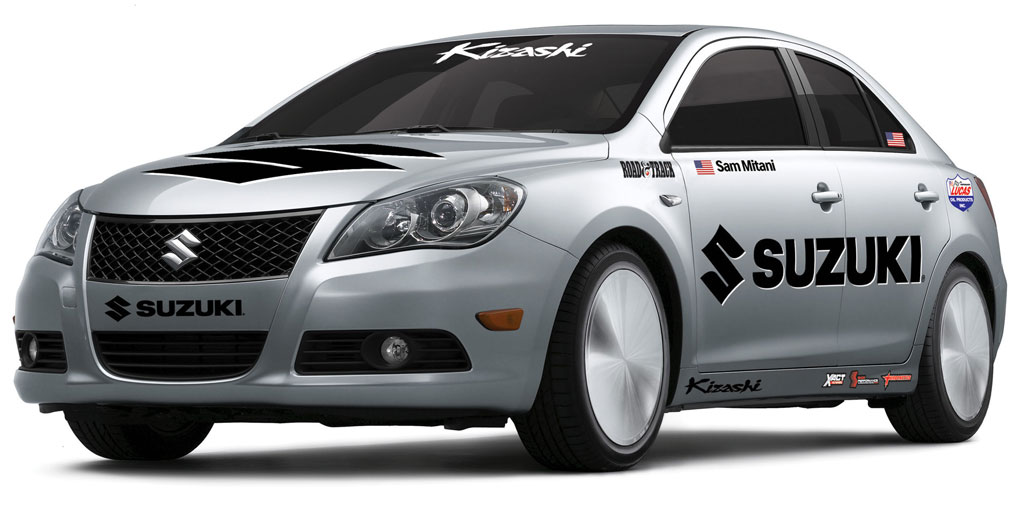 Suzuki moves the Kizashi into a category typically reserved for Bonneville streamliners. With extensive modifications the Kizashi will rocket its way toward the 200 mph benchmark and, if successful, into Suzuki's already remarkable motorsport history. The Bonneville Kizashi began with a pre-production Kizashi prototype. In May 2010, construction of the Bonneville racer began with interior disassembly, underscoring Kizashi's initial design premise.
The spare motor was disassembled to confirm the stock measurements, while the cylinder head was flowed and ported. The Bonneville Kizashi benefits from a new intake manifold, a tuned 'long tube' header and – for high rpm durability – forged rods and pistons. With up to 20 pounds of boost from the Turbonetics turbocharger, the Kizashi's increased horsepower required air-to-water intercooling (and Snow water/methanol injection) – while its output demands a new ACT Clutch and Pressure Plate. A scattershield is added, the oil pan is welded for a new drain fitting and a new 3.5-inch exhaust is fabricated aft of the turbocharger. Additional protection for the high-boost, high-rpm turbo motor is provided by full synthetic 5W-20 racing oil from Lucas Oil.
The Kizashi platform is morphed into a salt-specific recipe with new coilovers, steel wheels seam welded, and speed-specific 15×7-inch Goodyear Front Runner® rubber. An air dam keeps the Kizashi's nose planted, window straps and hood pins ensure the hood and glass stay in place, and a parachute can bring the high speed show to an emergency stop. Finally, a dual fire system provides the extra assurance so important for Mitani, with some 900 boosted horses but only a few feet in front of his now high-speed capsule.
2010 Bonneville Kizashi Technical Specifications : –
Wheelbase – 106.3 inches
Overall Length – 183.1 inches
Overall Width -71.7 inches
Engine – 2.4-liter, four-cylinder, 16-valve DOHC engine
Horsepower – 500 wheel hp @ 7000 rpm
Torque – 420 lb.-ft. @ 5100 rpm
Transmission, Manual – Six-speed manual transmission
Brakes- Front ventilated disc brakes/Rear disc brakes