Armoured Dacia Duster Showcased In Military Parade In Romania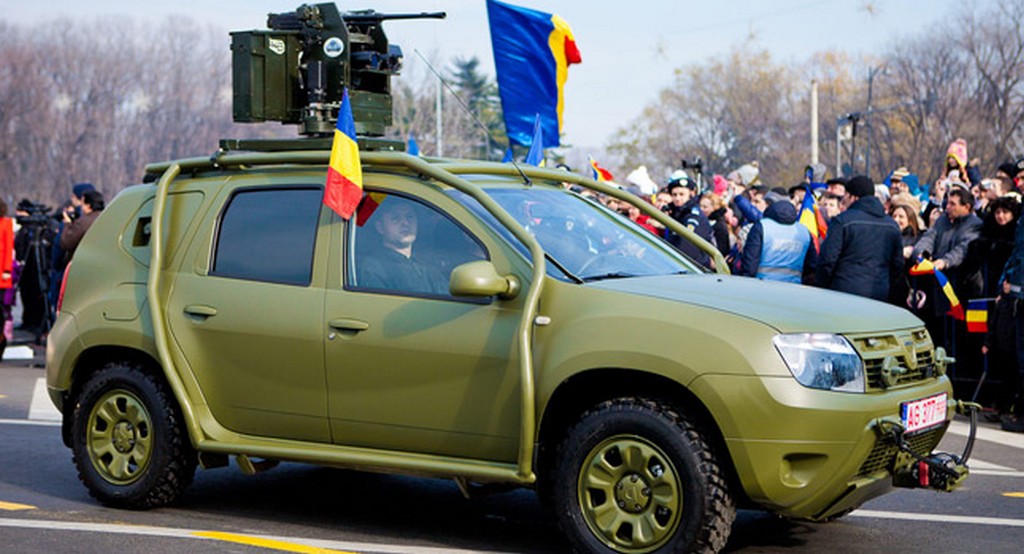 A specially modified bulletproof Dacia Duster was showcased as part of the military parade at Bucharest's Arch of Triumph monument in Romania on the 1st of December. This vehicle has been redesigned for military usage by Romania's Ministry of Defence. The Renault Technologies Romania (RTR) centre was established in 2007 in view of development of vehicles and powertrain projects. The Dacia Duster military vehicle was modified at this technology centre. The Dacia Duster military vehicle is built to comply with the North Atlantic Treaty Organisation (NATO) standards as well as the Romanian Army's transport requirements.
This Dacia Duster is fitted with a series of distinguishing features including an armouring system, additional underbody shield for the engine, modified gearbox and fuel tank, rear differential, a detachable winch, anchoring system for air transport, capability to tow military trailers, "Black out" and camouflaged lighting systems and also external 12V and 24V power sockets amongst others. The most prominent feature would be the machine gun that is mounted on top of the car with the provision of roll cage-like structure for protection.
Engine modification details are currently unavailable whereas it can be safely assumed that the engine has been tuned suitably to produce higher output for heavy-duty performance. The military parade also included a couple of Duster police vehicles based on the facelifted variant. The car features special acoustic and visual upgrades in the police regalia. The other modified vehicles based on the Dacia Duster present in the military parade were from the Gendarmerie, fire fighters and the border police.