Bajaj Kawasaki Breakup At Dealer Level Made Official
Bajaj Auto and Kawasaki will officially end their tie up with effect from 1st April 2017.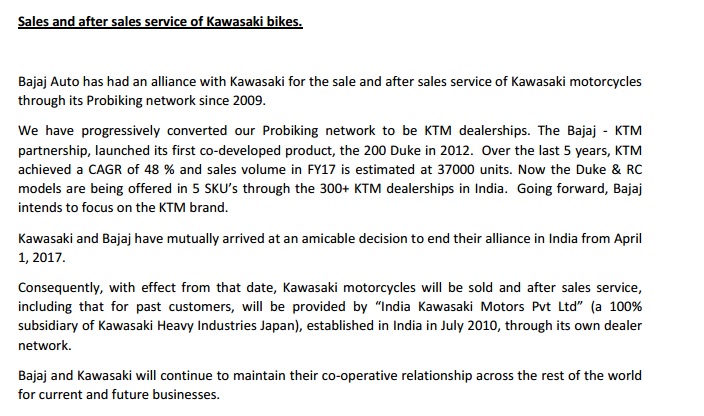 We were the first to report about Bajaj and Kawasaki breaking ties at the dealer level and no Kawasaki bike will be sold or serviced through KTM outlets. While there still seems to be ambiguity on who initiated this breakup between the two brands which share a long association but going by the press release of Bajaj Auto, it seems the decision was taken by Bajaj as they mention they want to focus on the KTM brand.
When Kawasaki tied up with Bajaj Auto to retail its bikes in India, starting with the Ninja 250R in 2008, Bajaj had no product which would cannibalise sales of the green machine. But when Bajaj Probiking was switched over to KTM outlets in 2012, the H2 maker had no idea what was coming their way.
With KTM, Bajaj now has direct rivalry with Kawasaki as the Duke and RC series of bikes compete with entry-level Kawasaki offerings. We have seen it in front of our very eyes, dealers pushing customers to opt for KTM over Kawasaki, using convincing words like 'cheaper to buy', 'cheaper to maintain' and 'equipped with ABS' for the orange machines. This could be one of the reasons for Kawasaki going its own way.
Something similar was witnessed at service centres too where they would not stock Kawasaki spares and would give first preference to KTM bikes. With Bajaj Auto owning a significant share in KTM, it was obvious to focus more on KTM while for Kawasaki, there was no equity holding involved for the Pulsar maker.
For KTM, with the Austrian bike maker now expanding its product lineup and having more customers, showroom space vacated by Kawasaki could be put to good use and the same is valid for service centre space as well. Most KTM service centres have three bays for service and one was reserved for team green while the other two were used for the orange brand.
While this might seem good news for Bajaj and KTM, it spells bad news for Kawasaki which has a wafer thin dealer network in the country. The bigger issue is for customers who had bought Kawasaki bikes in smaller cities (tier-2 and tier-3 markets customers will have to travel a lot to get their bikes serviced and if parts replacement is needed, it will be very inconvenient) and won't be able to service their bikes as KTM has more than 300 outlets across the country which means Kawasaki bikes have been sold through 300 plus outlets and all of a sudden, Kawasaki just has around 10 dealerships, addressing to sales and service of a limited geography.
Bajaj Kawasaki Breakup
– Bajaj and Kawasaki have ended ties to sell bikes through the same dealers
– KTM salesmen had been convincing customers to choose their bikes over Kawasaki
– Kawasaki has a very small dealer network in India