Bajaj Pulsar 180 UG4 Review by Gurvinder
About
Hi. My name is Gurvinder. I am a graduate student in Ludhiana (Punjab) and a bike enthusiast like many of you guys. I bought my Bajaj Pulsar UG 4 in January 2010 and I want to write an ownership review for this bike. I have even dedicated a blog to my Pulsar which can be seen here. Although I have never written anything like that before, but, since I was impressed by this bike a lot and I had always wanted to buy it, I would gladly like to give those people some preview about this bike if they are willing to buy one.
Model Details
I brought this bike in January 2010 in Metal Grey. It is the fourth upgrade by Bajaj. I previously had my loveable Bajaj Pulsar 180 UG3 in Black that I sold in December to buy the new model. So, I think I am in a position to make out the difference between the two models. I chose grey as it is still rare color in Pulsar models rather than black that has become too common. Moreover, the scratches on the body will not be too much visible from far and it looks awesome in this colour. The time I went to buy this bike, only two bikes in this colour were standing there. The Bajaj guys told me very few bikes in this colour were available to them, So, I felt a bit lucky to get it in this colour. I had done 23000 Kms on Pulsar UG3 and have logged 4300 Kms on the UG4 model till today. I will be going for its third service soon.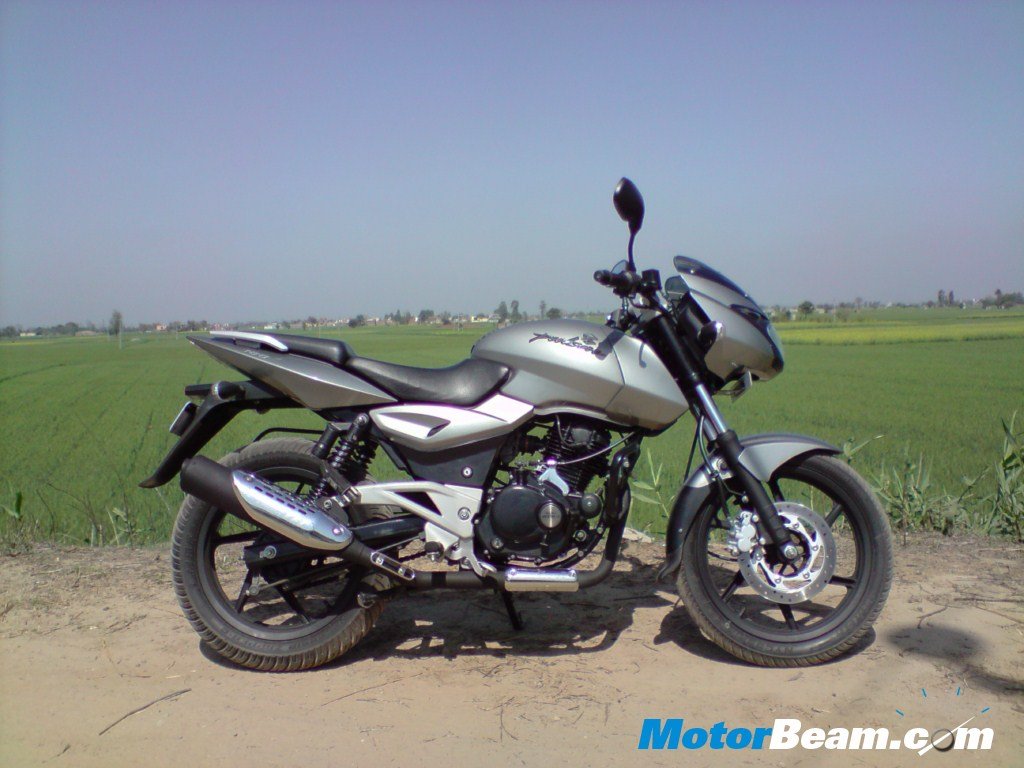 Features
The Bike comes loaded with features and has a lot to offer in terms of value for money. I was happy to see it now comes with SPLIT SEAT, CLIP ONS HANDLE BAR, BLACK FRONT FORKS, BROADER REAR TYRE (120/80 x 17 – Tubeless MRF ZAPPER), BIGGER DISK BRAKE (260 mm), SPLIT REAR RAILS, NO-KICK LEVER – SELF START ONLY, Toe shift only with 1 down and 4 up Gear Pattern, HIGHER REAR END, OPEN CHAIN (as P200 and P220), and TANK FAIRING FLAPS as standard.
These are not the cosmetic changes like many other manufacturer's therapy to change the stickers and little stuff and create the new model, But, these help in refinement and safety level of the bike. These were not present in UG3 (2008) model and believe me these make the bike completely look different than previous models and give it a bulkier look as well in addition to the improvement in stability.
TECHNOLOGY
DTS-i – Digital Twin Spark Ignition
Digital twin Spark Ignition is a revolution in the modern motorcycling era in the country today and we are the first to offer it to Consumers. This technology offers phenomenal performance augmentation and was introduced for the first time on the highly successful Pulsar twins. It is also being patented by Bajaj Auto Ltd.
For faster and better combustion. Currently one spark plug at one end of the combustion chamber is the conventional practice. The flame front created by the spark takes some time to reach the farthest portion of the combustion chamber. This leads to slower burning of the air-fuel mixture and creates limitations in optimizing the combustion chamber characteristics. Two spark plugs at either ends of the combustion chamber help in faster and better combustion This combustion process of Twin Spark Plugs is being patented by Bajaj Auto Ltd. (Digital Twin Spark Ignition).
Ignition with a Digital C.D.I.
A Digital C.D.I. with an 8 bit microprocessor chip handles the spark delivery. The programmed chip's memory contains an Optimum ignition timing for any given engine rpm, thereby Obtaining the best performance characteristics from the combustion chamber. Working together with the Trics III system, it delivers optimum ignition timing for varying load conditions.
TRICS III
Throttle Response Ignition Control System III Generation. It is a means of controlling the ignition by operating the throttle. Depending on the needs of the rider whether it be cruising, acceleration or max speed, the ignition requirements constantly change. Based on a particular amount of throttle opening, the magnetic field generated by the magnet opens or closes the reed switch. The reed switch is connected to the Digital C.D.I., which signals the C.D.I. to change / switch, the desired ignition advance timing maps. This helps in achieving a good balance between drive ability and optimum ignition spark advance, resulting in an almost perfect ignition spark advance for every throttle opening and engine rpm. Constant Velocity (CV) Carburetor The CV carburetor continues to provide high level of performance.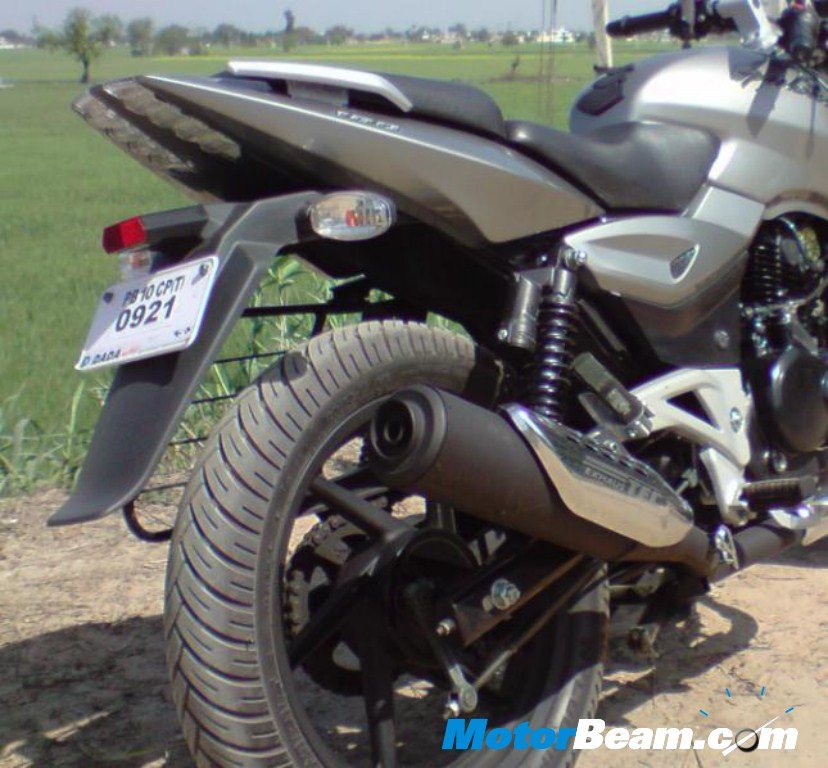 ExhausTEC
ExhausTEC (Patent Number 231498) is a device incorporated in exhaust system of 'Pulsar DTS-i' engine. 'TEC' stands for 'Torque Expansion Chamber'. This world-first technology developed by Bajaj Auto improves the 'scavenging' process. The exhaust system has this revolutionary feature Incorporated, which drastically improves engine torque at low revs without compromising anything at mid or high engine revs. It has been extensively optimized to get the Maximum possible performance out of the engine. The silencer also has a characteristic tonal quality to it. It gives out a pleasant sounding low frequency 'boom' sound. While meeting the mandatory current noise norms, it gives the bike an identity, which is different from any other bike, so as to make it very unique.
STYLE
The style factor in New Bajaj Pulsar 180 comes from its bigger siblings Pulsar 200 and 220. It completely have borrowed its looks from the Pulsar 200 which now Bajaj has stopped production. If you have layed hands on the new Pulsar 180, you won't feel the need for Pulsar 200 as it has everything the Pulsar 200 had and more. The plus point is that it has Clip On Handle Bars from Pulsar 220 which the Pulsar 200 did not possess. Also, power is close to Pulsar200 that comes around 17.02 PS. Only thing missing is the new Silver good looking Silencer, although I do not miss it too much as it still looks good with the Black one. The broad rear tyre and open rear chain on this bike looks really good. And if you want that people should give you a second look, this will happen to you when you go out on this bike. The rear of this bike looks better than the UG3 model as well. It has a higher end with its tail high up and with broad tyre gives a bulkier look. I wished it came with a rear disk brake but you cannot get everything in that price which bajaj is offering for this bike.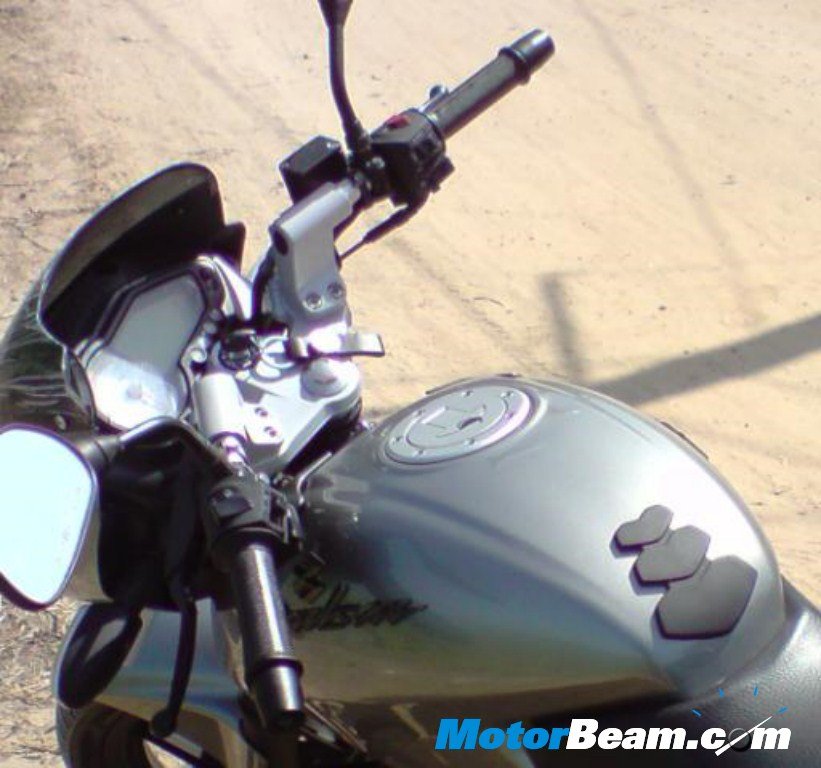 Now, I will talk about the feel you get when you sit on it. The time you sit on the bike, first thing that gains your attention is the speedometer of course. The digital meter with white dial looks awesome with analog RPM that is faster than UG3 model. The speedometer can log Speed, fuel, Kms travelled, Analog RPM (12000 RPM max and 9000 RPM redline), A to B point reading in Kms (Can save two readings at a same time), Low battery indicator, Side Stand Indicator, High Beam Indicator, Indicators (Self Cancelling after turn) and Neutral indicator.
Red Light indicating many things (Mostly it turns on when you are left with low fuel in the bike). The plastic on the handle bar including switches is of good quality and moreover are BACKLIT. At night time the speedo console looks beautiful with bright orange back light and backlit switches gaining attention of the passer bys. The RIDE POSITION is very much similar to 200. It is sportier than UG3 and more comfortable as it now possess split seats. The foot rest on this bike goes backward too giving you a leaning foot position and proving a sportier stance for you. The Clip Ons play an important role and give the bike sporty feel too. The Toe Shift Only shifting pattern adds sugar to the delight. Sitting on the bike and looking on the tank feels so good as it looks beautiful than the UG3 as the tank flaps also gain your attention. Bajaj has done its every bit to improve the ride and handling of the bike and to give you good small sport bike feel. Now you can see the DTSi engine without kick.
Bajaj is very confident with there ignition system and has removed the old kick from the Bike. I haven't heard anybody till date complain about starting problems even in Winters. There is a choke provided under the tank. You can simply pull it and start the bike in winters if you find it hard to start. Bajaj has changed the logo of Pulsar on the tank too. Previously it was a sticker job. It looked good though but, new logo come in steel and the font for the logo has changed too. It matches with grey colour but I can't say it looks good on other colors as well as people have different opinions. Front Black forks from Pulsar 220 look better than UG3 Model. And the bigger disk brake not only looks good but is able to stop the bike from 0 – 60 Kmph in less than 14 Meters comparing the weight of the bike that is 147 Kg.
Performance
Bajaj has increased the power a little bit compared to previous version of the bike from 16.5 PS to 17.02 PS. This bike love wheelies as UG3 and you can easily do stoppies too. The bike has powerspread all over and it feels smooth at all the RPMs. You can pick the bike in the third gear from as low as 20 kmph without engine knock. I will not go around too much and will straight way come to the figures. The figures are not borrowed from any other medium and are my own. I have managed to reach the speedo indicated speed of 128 Kmph on the Ludhiana – Chandigarh Road. Although reaching and getting out the best top end from a bike depends on many things such as Air Friction, Air Pressure of tyres, Maintenance etc.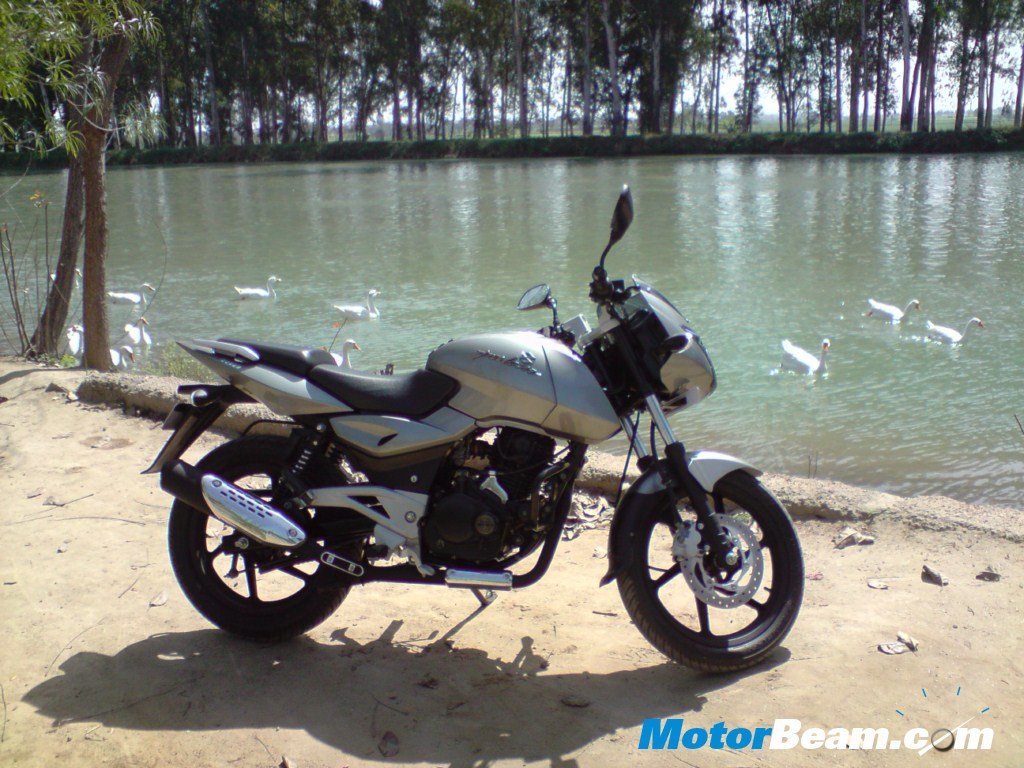 But, these things can well be managed. I get my bike serviced regularly and I usually maintain good air pressure when I go on long rides. I had been to Chandigarh(95 Km from Ludhiana), Jalandhar (60 Km from Ludhiana), Mohali(90 Km) and have never had any problems with these trips and bike managed easily 80 Kmph average speed.
0 – 60 Kmph comes in around 4 Seconds
0 – 100 Kmph in around 13 Seconds
The thing I am impressed a lot is that you just get on the bike and rev it in any gear and you are able to overtake almost anything. After overtaking when you look at speedo, you will notice bike easily doing 70 – 80 kmph at ease. Now comes the vibration factor. I will mention it clearly. The UG4 is vibe less and is very much refined than the old pulsar.
The bike accelerates easily to 68 kmph. After 68 kmph the bike starts to vibrate a little bit or negligible. Or it seems to vibrate to me as the engine sound changes. Although you can't feel the vibration through Handle bar or foot rest and only from the Sound. After 71 kmph, the vibration goes. Just rev up the bike and you feel bike is going at 60 again at a speed of 80 kmph. It becomes so smooth at high RPM as opposed to UG3 model that at high speeds shivered a little bit. Going on long rides on this one is a fun.

Now comes the sound factor. When you push the Self, the 180 cc engine comes to life and you can notice a big change in the engine sound from UG3 model. The bike sounds very relaxed and also is less noisy than UG3. My friends in the neighbourhood used to say to me that whenever you pass by the street we could easily guess from the bike sound that you are passing by. Now a days I have not heard the same from them and it is quite a time. The sound from the engine produces a slight shrillness when you rev down after reving up. I love that sound a lot. When a Pulsar passes by, I can guess it without looking. When the RPM goes past 6000 RPM, the sound of the bike changes altogether. It gives an impression that it is saying, Yes! Rev me hard! You can easily scare anybody. Here is a trick. I have done it many times myself. Just take the bike to 80 kmph. Pull the clutch back and push the accelerator and RPM to 4 or 5000 PRM. The bike sound like a sport bike and sounds like vrrooooommm!! So, I can say the sound is never a problem for a Pulsar.
Economy
Now comes the factor of mileage. Indian people will usually ask this question whenever you talk about the new launch of the vehicles. Be it a car or be it a bike. Or you can say Be it a bike or car that is even based on performance. Milage is very important to us too as petrol prices are going up these days a lot. So, here I am presenting figures. I usually fill up my tank with 10 litres of petrol and fill it up again after two weeks and I usually travel somewhat like 380 – 400 kms. So, I guess, it is giving around 40 kmpl in the city. It can easily give around 45 – 48 kmpl on the highway and if you ride it nicely and at constant speeds it can deliver between 50 – 55 kmpl. I usually ride it between 30 – 50 or sometimes 60 kmph in the city.
Price
Now comes an important part. It costed me around Rs 73000/- including paperwork. I brought the bike from DADA Motors, Ludhiana. The showroom price for the bike without paperwork was 71300. I guess it costs less in PUNE. I have read over the Internet somewhere that it costs around Rs 68000 in PUNE. So the price comes around Rs 70000.
I can say that, looking at the features and the package Bajaj is offering you at this price, it is pretty reasonable. I mean have a look at the features, this bike is loaded with everything you need on a bike. Consider buying bikes that cost around Rs 1,00,000. If there is a bike in the market, that can offer you so much value for money, then, buy this one. You will save over Rs 30,000 and you will not be disappointed. I can say, that, for a true Indian biker, the bike that matters should be the one that reaches 100 kmph in around 10 seconds than a bike that can run 150 kmph in about 25-30 seconds. As, Indian roads won't allow you to reach this high speed in this time. Believe me, you will have to brake somewhere. We usually ride bikes in the city where traffic is to much. So, a bike that can quickly reach 60 kmph is the best bike for you. Moreover, performance is reasonable too. If you go on a highway, you won't feel the need to ride at 128 kmph. If you are spending more than Rs 80000 and you are still buying a bike that can't compete in the city, then you need to think over again before buying it.
Maintenance
I have completed around 4300 kms on UG4 and had completed 23000 Kms on UG3. I have never spent anything other than service on both the bikes. I have covered two free services offered by Bajaj on this bike and the free service costed me around Rs 450 – 500 each time. I have got it laminated for Rs 500. Bajaj has offered me to laminate it second time for free of cost and they have presented me with the free lamination voucher which I need to get done after 6 months. Maintenance of a bike is in your hands. Get the bike serviced at regular intervals of time and ride it with love, you will never have to spend anything. So, I can say, people who say Pulsars are faulty, I oppose them strongly. I bought a Pulsar again as I have never faced any problem, or otherwise I would have brought some other bike.
Competitors
There are a lot of competitors as Indian bike market is flourishing these days. The first competitor is the TVS apache 180 RTR. I respect that bike too as it has very much similar ergonomics as the Pulsar 180, but, looking at the bike resale value that matters much to people like us, it is not reasonable. So, I dropped the plan of buying RTR 180. Yamaha has to offer FZ and Fazer in 150 series. I needed something a little more powerful to them at the same price. Moreover, Pulsar 180 is more feature packed and is value for money. Though I agree that Yamaha is an international company that has its hands on sports models like YZF R1 and R6.
Yamaha R15 is a very good bike but was too expensive for us to buy. It costs around Rs 1,10,000 and is not that quick as is the Pulsar 180 in 0 – 100 range though I agree that it has a higher top end and can reach higher speeds and is more like a track tool than a city+sport bike package. It can't be flicked around in tight streets too. If you are a highway rider and often go to your work or anywhere usually, you can prefer R15 but be ready to spend Rs 40,000 more. Had it been the same price, I would have given a second thought of buying R15 as it is a ver nice bike too. If you are rich, there should not be any problem.
Hero Honda has to offer Karizma and ZMAs in this series. But, again Pulsar wins in the feature packed performance and style that Bajaj has offered in that price. Moreover, the ZMA is too bulkier from front and too thin from back and the rear tyre spoils the look of the bike. Hero honda now has to understand that they need to go beyond Sticker jobs and offer Indian Bikers what they need. Moreover, they have overpriced this bike. Many bike magazines have already done the comparison tests and have proven them lack today's market needs. The little tweaks wont help succeed in today's bike market. They need to provide something better at a reasonable price.
Cons
I have described all the pros. Now is the time to look at some downs too.
Lack of space inside the seat (Although I do not require it for myself but many people do).
Performance should have been better than 128 kmph. But, weight of bike has also increased from the UG3 model. So, can't expect more.
Final Review
Go For it !
Bajaj Pulsar 180 UG4 Specifications : –
Engine
Type 4-stroke, DTS-i, air cooled
Displacement 178.6 cc
Max. Power 17.02 @ 8500 (Ps @ RPM)
Max. Torque 14.22 @ 6500 (Nm @ RPM)
Suspension
Front Telescopic, 130 mm stroke
Rear Triple rated spring, 5 way adjustable with 101 mm travel Nitrox shock absorber
Brakes
Front 260 mm Disc
Rear 130 mm Drum
Tyres
Front 90/90 x 17 – Tubeless
Rear 120/80 x 17 – Tubeless
Fuel Tank
Total litres (reserve, usable) 15 litres (3.2 litres reserve, 2 litres usable)
Electricals
System 12 V Full DC
Headlamp (Low/High Beam- Watts) 35/35 W with 2 pilot lamps
Dimensions
Wheelbase 1345 (mm)
Kerb Weight 147 Kg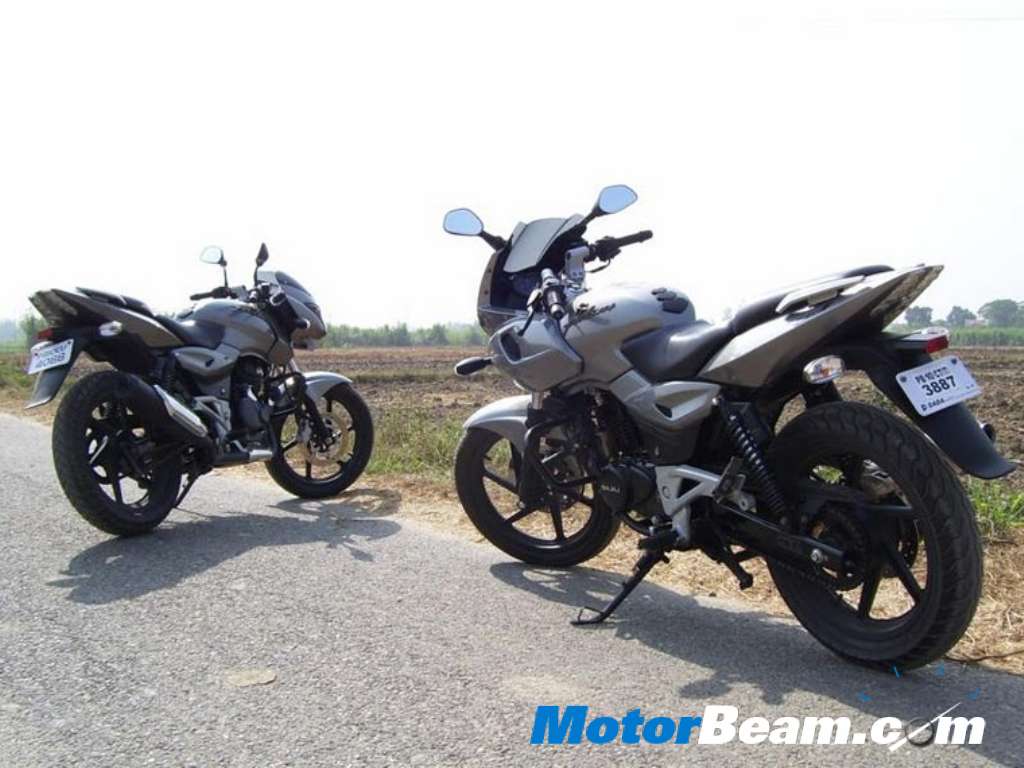 Edit 29/12/2010 – Me and my friend Navjot (checkout his Pulsar 220F review here) were able to find some time and have our hands on both the Pulsars and took them to Chandigarh. Had fun on the way. I am posting some pictures we took on the way to Chandigarh. We were able to push both bikes hard on the way and reached the speeds of 131 kmph on Pulsar 220 and Navjot was able to get 119 kmph out of Pulsar 180 with still going strong readings.. It was a great time. I cannot forget the tea time at Ahuja sweet shop, Khamanon. I had my bike serviced a day before. My bike now speaking 11000 kms on the odometer.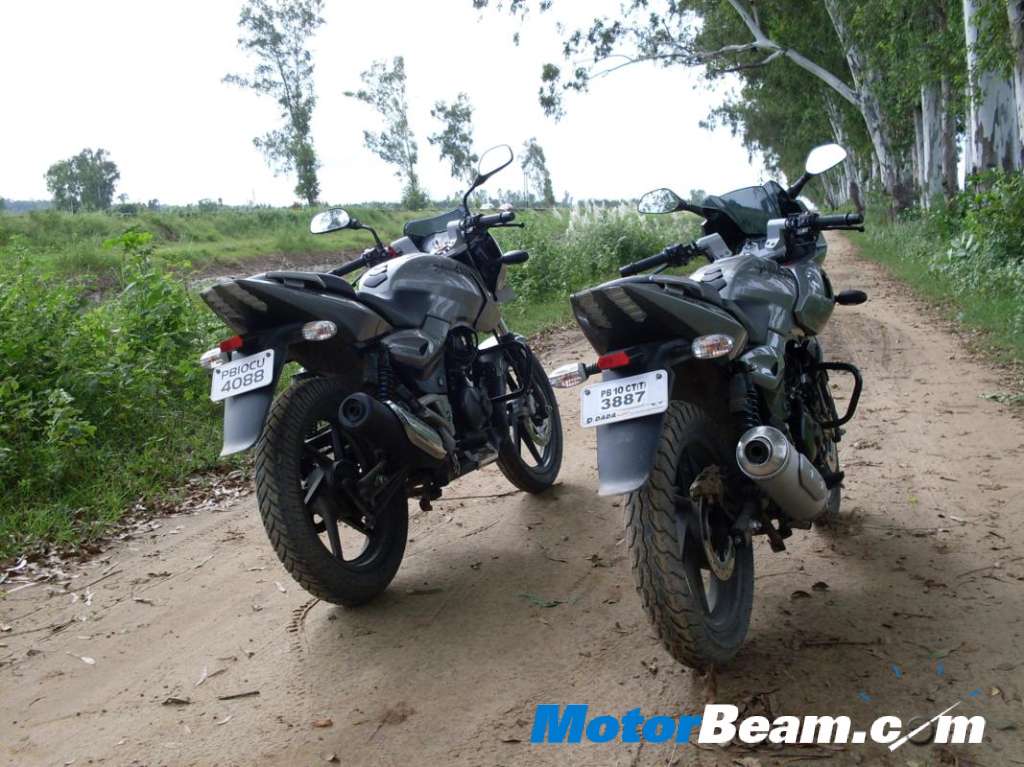 Changes and expenditure on the bike are as follows : –
Chain Locks changed
Chain cover and sprocket opened and cleaned (A lot of sludge because of oil had deposited)
New tyre (Now I put IRC 130/17″ Tyre instead of 120 MRF Zappers) Hardly any difference in looks)
Costed me around 2700 Rs with all these and a new rear tyre.
Self start opened and cleaned.
Regular Paid 7th service costed me around Rs 450 (including oil,spark plug, air filter and a regular wash)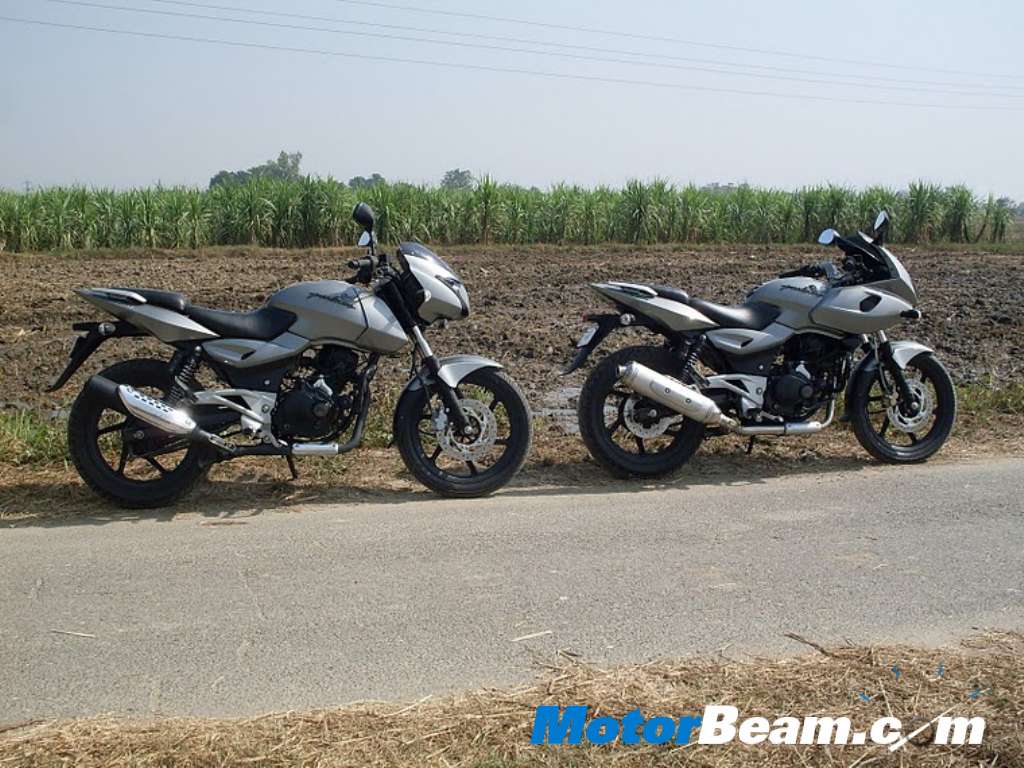 I had taken the membership with Dada Motors in Ludhiana worth Rs 500 in 5th service in which free 5 washes a year and no labour charges were included for each service, But, they still charged me for Labour Rs 60 for cleaning the chain and oiling it and included the tax on top of it. It was not fair. Moreover the service incharge did not knew which oil to put in the bike. He was going to put 20W40 oil in my bike when I stopped him and told him to put 20W50. Also, the washing guys just washed the bike and did not cleaned the water and left it like that. I strongly felt Bajaj service is still very down compared to the market and needs improvement. The technology is improving day by day and staff training is very important for the people working and handling such bikes. If you have spent Rs 75000 on a bike and not getting up to date service then, this is a pity situation. Bajaj bikes are real good but, to a certain extent lacks service standards.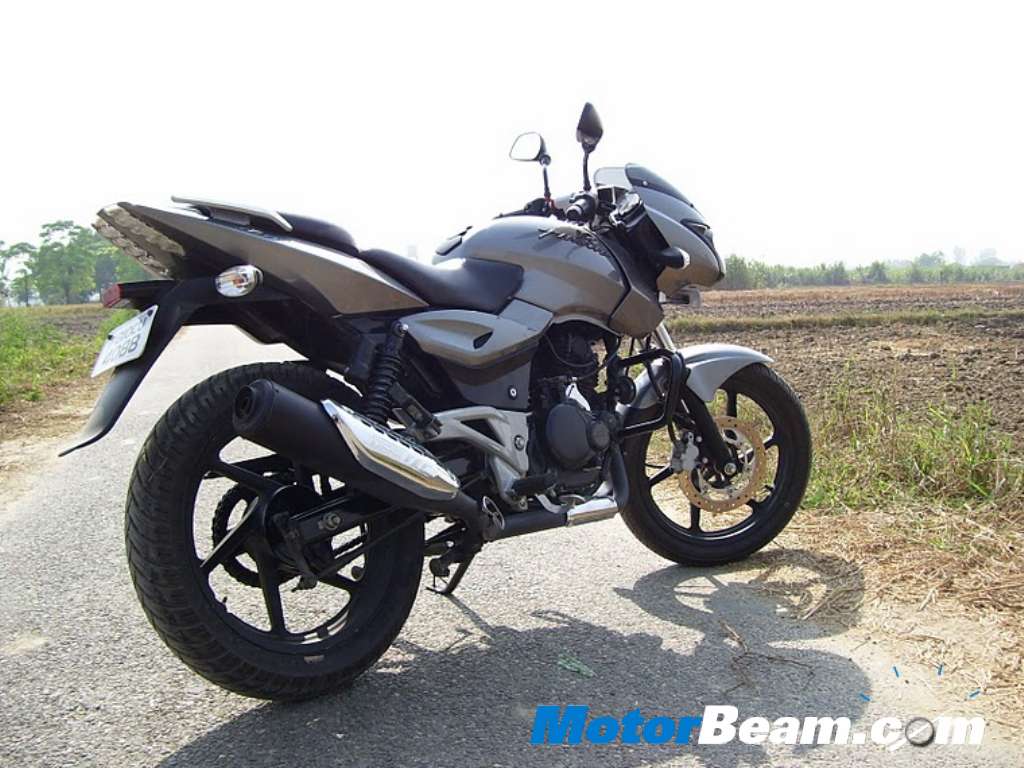 Now coming back to the journey, we started at about 9:30 in the morning and reached Chandigarh in about one and a half hour. I took over Pulsar 220 while Navjot wanted to ride my bike. The first thing he said when we started was " Is your bike a 250 cc or 180? " He felt the smoothness of well run and polished 11000 km bike. There is not much difference in the posture and seating position and feel of Pulsar 180 and 220 but, Pulsar 220 is much more punchy and feels powerful on the whick. I noticed you don't need to twist the accelerator of Pulsar 220 much to get the performance and acceleration out of the bike. In 180 you get the equal performance and acceleration out but you will have to twist the accelerator more. While we managed to attain 131 on 220 and 119 kmph on 180.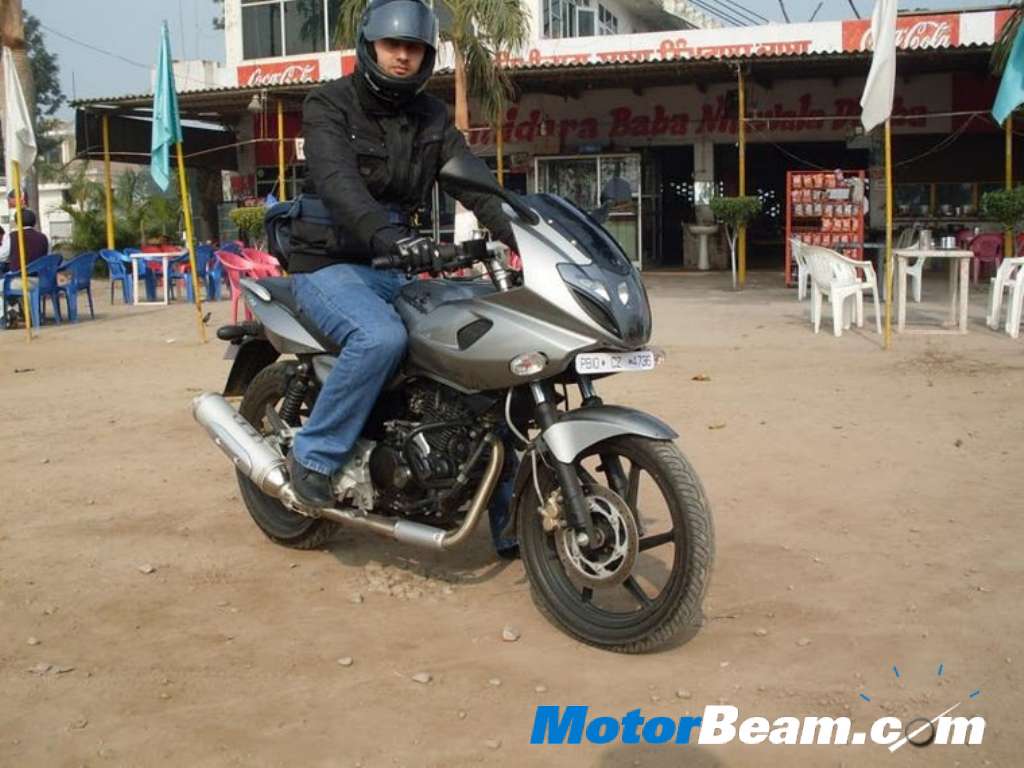 The only down time I can remember was when we tried to race a Toyota Corolla on the way. There were guys seating inside back of the car looking at us and giving a huge smile to us when we were trying to catch the car. They noticed us and started making a race faster and faster, After our RPMs touched red line and we saw 115 on our speedos they were able to get away ahead of us we felt the need of a Ninja on our country roads. Cars are still out of hands of a common average Biker. Well, No, we were not upset and caught them after some time when we crossed Morinda and then we crossed them from both sides and reached Kharar ahead of them. It was a fun ride.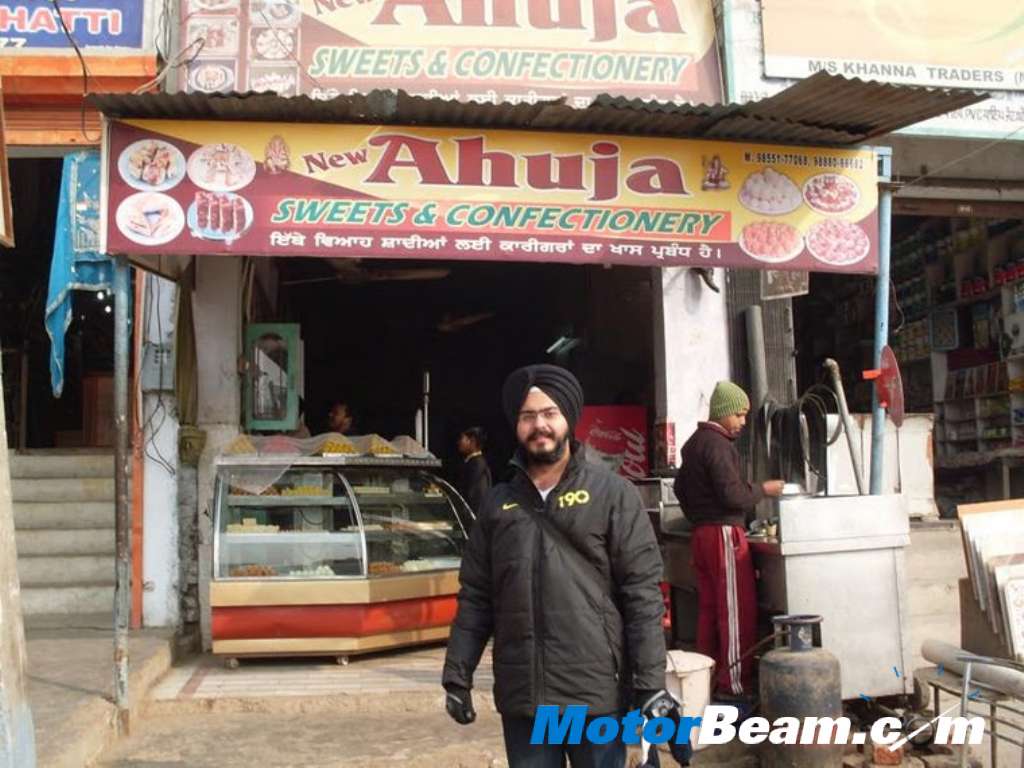 We stopped two times on the way and had tea and breakfast. Zimindara Dhaba was very nice. I posted a picture where I mentioned Two beauties at far end. When we stopped for the tea at Khamanon, the guy at Ahuja sweets was real nice guy. He helped us shoot photograph of us both and made a nice tea too.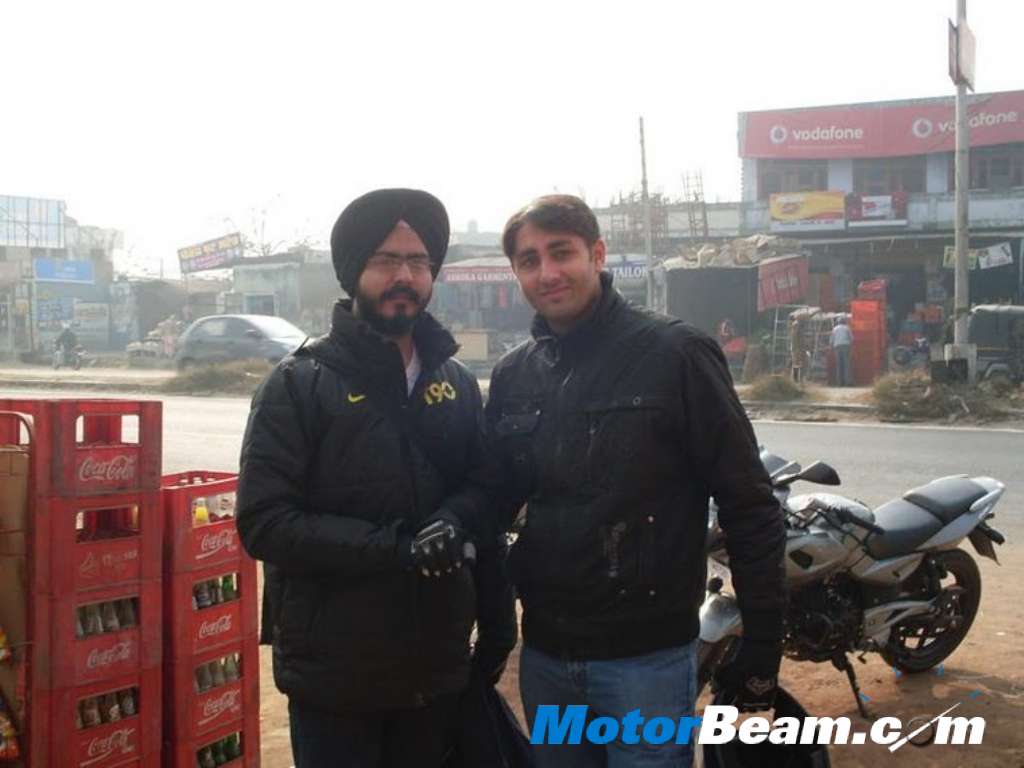 Distance and km run on Ludhiana – Chandigarh highway is about 96 kms. It is not long distance. So, there is not much to write ,I can think, but do have a look at the photos.