Bentley Bentayga Launched In India, Priced At Rs. 3.85 Crores
Adding new definition to the super luxury SUV segment, the mighty Bentley Bentayga has been launched in India with price starting from Rs. 3.85 crores.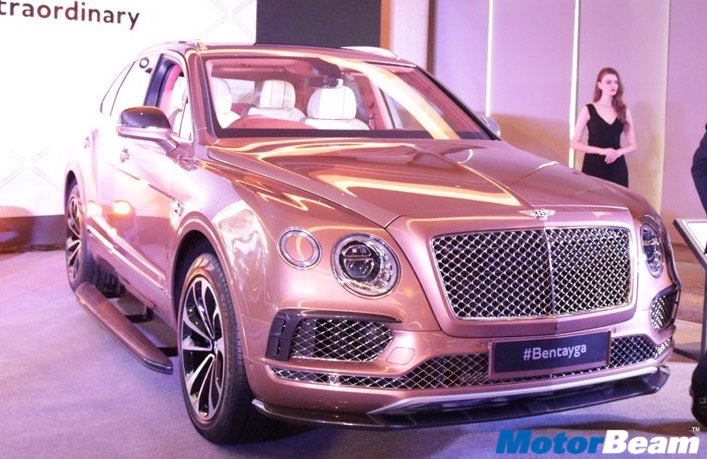 The Bentley Bentayga was showcased at the Frankfurt Motor Show in September 2015. It was said that the company may launch the car in India by April 2016. The premium SUV has now been launched in India at a price of Rs. 3.85 crore (ex-showroom, Delhi). Bentley has allocated 20 cars for India and according to sources all the cars of the very first lot have already been sold in the country. The buyers who are already Bentley owners and brand loyalists were given the first choice for the inaugural units.
The British super luxury car maker has done justice to the family design language and posh style statement with its new ultra luxurious SUV. With the imposing looks and height (1742 mm), the Bentayga undoubtedly takes the first impression of the SUV to the next level. The salient use of chrome in the exteriors will definitely catch every eye on the road. Overall, the SUV looks muscular but still manages to get that elegant and luxurious distinction.
The Bentayga is powered by a twin-turbocharged 6.0-litre W12 engine developing 600 BHP of power. The giant motor produces a massive torque of 900 Nm with the 8-speed automatic transmission. With the huge power figures, the SUV gets a top speed of 310 km/hr and dpes 0-100 km/hr in just 4.1 seconds. The Bentayga is based on a iteration of the VW Group's new MLB-Evo platform for large vehicles just like the Audi Q7.
The interiors of the SUV are quite worth mentioning. Bentley has added a lot of luxurious materials and tech to the dashboard and cabin. The high class driver info panel with bright mineral glass screen, chrome finished controls and metal grilled speakers speak high of Bentley standards. The highly furnished cabin space with high class ambience adds more to the super luxury feel.
Bentley Bentayga Launched In India
– Bentley Bentayga will soon hit Indian roads
– The Bentayga is a super luxury SUV priced from Rs. 3.85 crores
– The first unit of 20 cars has already been sold in India
– It is powered by a twin-turbocharged 6.0-litre W12 engine producing 600 BHP of power