Bentley Teases New SUV, Confirms Launch In 2016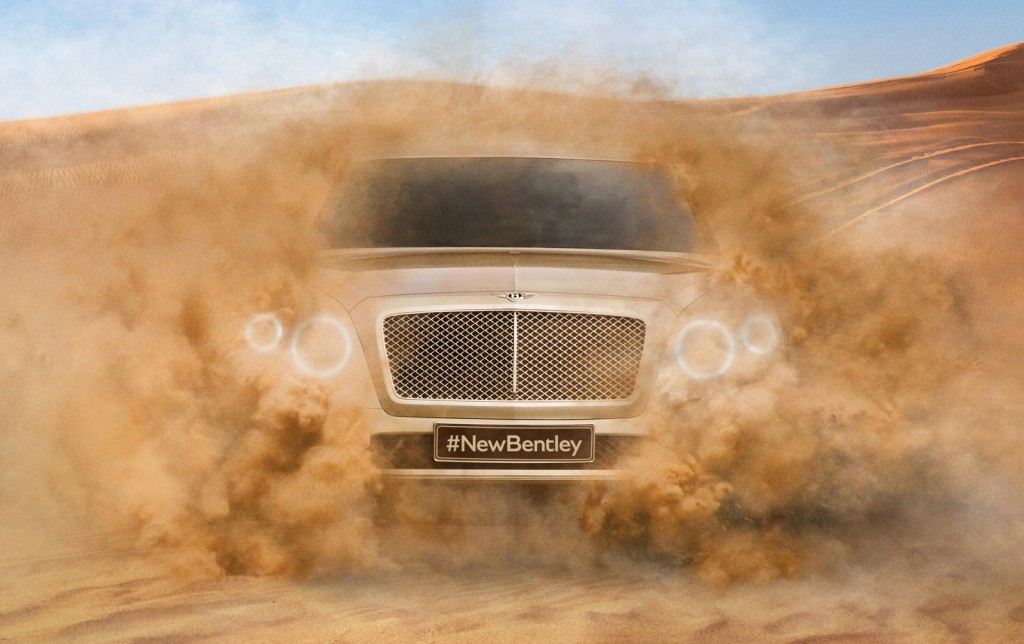 Bentley has teased a rather dusty first look of its all-new SUV that will be launched in 2016. The luxury brand will be introducing a first of its kind luxury SUV that will be a typical Bentley with the characteristics of an SUV. The new model has not been christened as yet, but we do know that it will be a major departure from the EXP 9F concept SUV (images below) showcased in 2012 and could carry the name 'Falcon'.
The teaser image shows a major design revision compared to the EXP 9F concept. The rather controversial concept was under a lot of criticism for its design and the designers at Bentley have gone back to the drawing board to make some major design revisions. The front fascia visible in the teaser image showcases the dual-pod headlight design instead of the single units seen on the concept. The new grille is bolder and prominent with the smaller grilles at the side removed for a rather clean appearance. The front fascia definitely is in-sync with the current Mulsanne and Continental GT models.
Bentley says that the front, side, rear and roof have been changed on the SUV. All in all, a completely new car has been created that will meet the expectations of the customers much better than the 2012 concept would. The new 4×4 will create a completely new segment in the luxury SUV market. Currently, the Range Rover Long Wheelbase Edition Autobiograpphy is the closest you can get to a luxury SUV.
Powering the all-new SUV will be a 4.0-litre twin-turbocharged V8 engine for the base variants, while a 6.0-litre twin-turbocharged W12 will power the top end variants. A plug-in hybrid version is also slated to be a part of the lineup by 2017. The SUV is most likely to share its underpinnings with the next generation Audi Q7, Porsche Cayenne and the upcoming Lamborghini SUV. Bentley plans to sell over 3000 units of its SUV annually, which will also make it the company's most popular model till date.
Bentley also confirmed that the Crewe based company will be the sole producer of W12 engines for the Volkswagen Group, supplying units to other Audi and Volkswagen models. The company has completed the successful summer testing of the 4×4 SUV, which will now go through the winter test program. Bentley is most likely to price the luxury SUV around the $2,00,000 mark, a little over the Rolls Royce Ghost EWB. The SUV when launched in India will easily fetch a base price of Rs. 3.5 crore. Competition will be in the form of Maserati's upcoming SUV, while Rolls-Royce are also contemplating to enter the SUV segment. Bentley though wants to set a benchmark in the the segment with the new SUV.