Bun Burner Rider Vinu SV Interviewed
Vinu SV needs no introduction and this is not the first time we have written about him. He successfully covered the Bun Burner Challenge, covering 2500 kms in less than 36 hours, becoming the first from South India to do so. He left his well paying job at Deloitte to pursue biking as a career. We interview him to find out what drives him towards biking.
Tell us about yourself. Who you are? What you do?
My name is Vinu S V and I am 26. Known in the biking circle as MadMax and I am trying to make a living out of riding a Motorcycle.
When and how did your love for bikes or both start?
I started riding only because of my late brother, Dhruv. He taught me how to ride, took me to the highway for the first time, taught all the tricks in the book. He was very fast, in fact very very fast, yet safe. One of the best I have seen around. RIP my bro.
Which bike do you currently own?
Yamaha YZF-R15
When did you buy your bike?
About 20 months back
What made you buy this particular bike?
I always believed in performance biking that I could afford. Before switching to Yamaha R15, I already owned two HH Karizma's and at the time R15 seemed like the obvious choice. More over, I love corners and R15 is nothing but a corner craver :)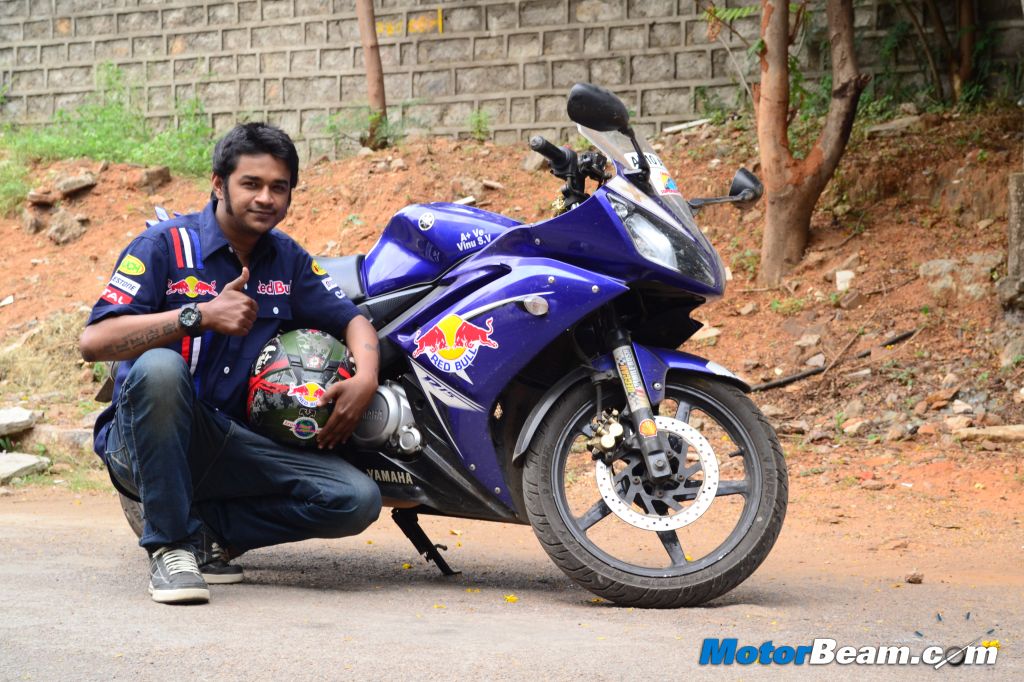 How many kms have you done? How many do you do everyday?
I have done close to 36,000 kms on the odometer so far.
What do you love the most about your bike?
Difficult to explain one particular aspect but as many would agree, the handling part of R15 stands out. It injects so much confidence in to the rider.
What you don't like about your bike?
Can not think of anything.
Will you trade your bike for any other vehicle? If yes, which one?
I have my sights set on bigger and better things and I believe I have explored everything this 150 cc mill had to offer. If I have to upgrade then it will surely be a 250 cc.
What is the longest you rode your bike and where?
Longest I have ridden in a day is around 1900 kms during my Bun Burner Record ride (2537 kms in 34 hours and 24 minutes)
What is the fastest speed you have achieved on your bike?
149 kmph on speedo but I am sure that's a speedo error :)
What mileage does your vehicle give you?
Currently within city I am getting about 27 – 29 kmpl and on highways it gets upto 31 – 33 kmpl.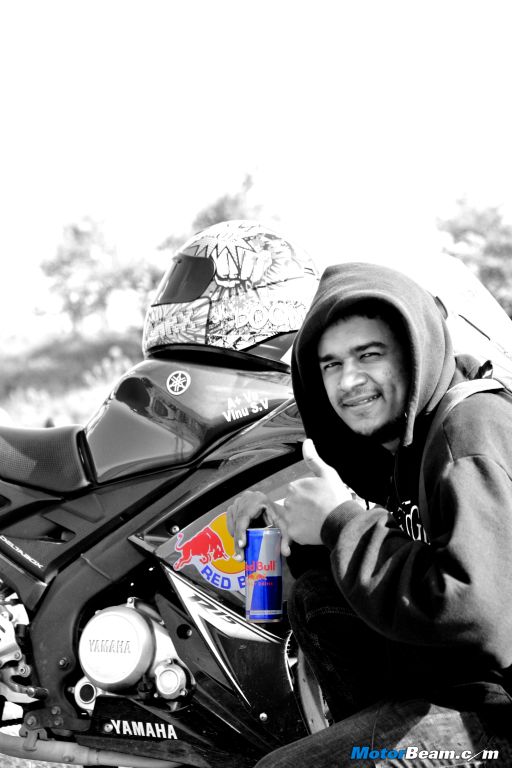 What is the nastiest thing you have done in your vehicle?
How do you define nasty ?? My current bike has been toyed in the city, hit the highways, been on the race track, put up with loads of stunting, been to the ghats, been part of two mammoth endurance record rides. Pretty much everything that's there to offer :)
What modifications have you done to your vehicle and what do you plan to do in the future?
I believe in keeping the bike stock mainly due to the reliability factor.
Why is your bike so special to you?
It's an extension of who I am and its my only tool to realize and make my dreams turn into reality. Of course its damn special :)
Which is your dream bike?
Yamaha R6. Love the high revving nature.
Which bike sold in India is your current favourite?
Yamaha FZ1 is one bike that I would have grabbed straight away if I had the money but to be more realistic I say Kawasaki Ninja 250
Any advice for Motorbeam readers?
Never stop learning, no matter how good you are. We are at the tip of the Ice Berg and keep your motivations simple and always ride safe with protective gears :)