Buy A Yamaha R3 & Get A Chance To Ride With Jorge Lorenzo At BIC
Yamaha will be selecting 30 lucky R3 owners that will get a chance to ride alongside MotoGP rider Jorge Lorenzo at the Buddh International Circuit.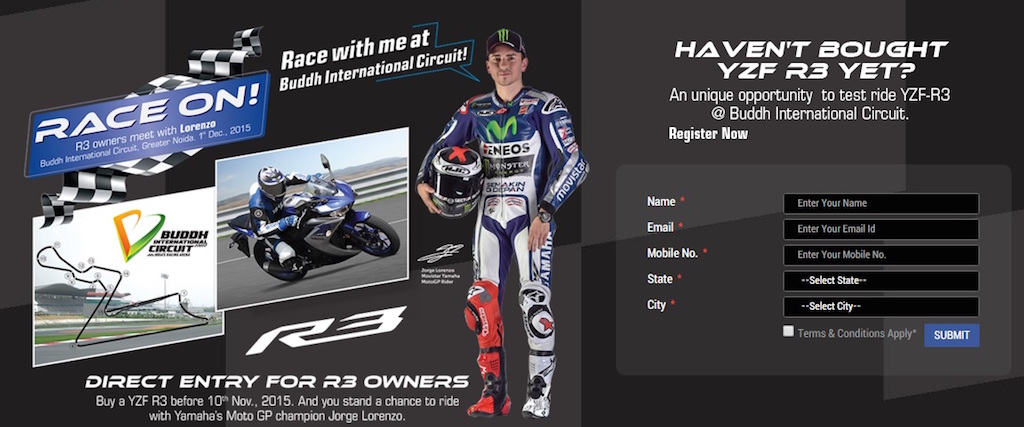 Yamaha's MotoGP pit was in the news for a host of reasons recently, especially for the events that happened during the Sepang, Malaysia race. While fans globally may have had enough of excitement for the month, Indian fans can rejoice a bit more. Having launched the R3 recently in the country, the automaker is giving lucky customers a unique opportunity to ride alongside Yamaha's factory team rider Jorge Lorenzo at the Buddh International Circuit (BIC).
Certainly the chance of a lifetime for most, 30 Yamaha R3 customers will be selected by a lucky draw system and will be getting the opportunity to ride on the F1 circuit. In order to be eligible for the lucky draw, all you need to do is purchase the R3 before 10th November 2015. The contest includes all R3 customers that purchased the bike since its launch in August this year.
Yamaha will be arranging for the boarding and lodging of the winners for a day, but the logistics need to be borne by the participants. Find it as an interesting proposition? You need to log on Yamaha India's website HERE and can register yourself for the event. The automaker will contact you and further inform you on details about the same.
The newest rival in the twin-cylinder quarter-litre space, the Yamaha R3 is certainly one of the strong performers out there and uses a 321cc motor to churn out 42 PS and 29.6 Nm of torque, paired to a 6-speed gearbox. The R3 has made a phenomenal start on the sales front and managed to retail 140 units in August and 256 units in September. With the right dose of style and performance, the R3 makes for a compelling package that is good for the road and track.