Chevrolet Corvette Stingray Showcased At 2016 Auto Expo [Live]
The Chevrolet Corvette Stingray is back at the 2016 Auto Expo after being showcased for the first time in India at the 2014 Auto Expo.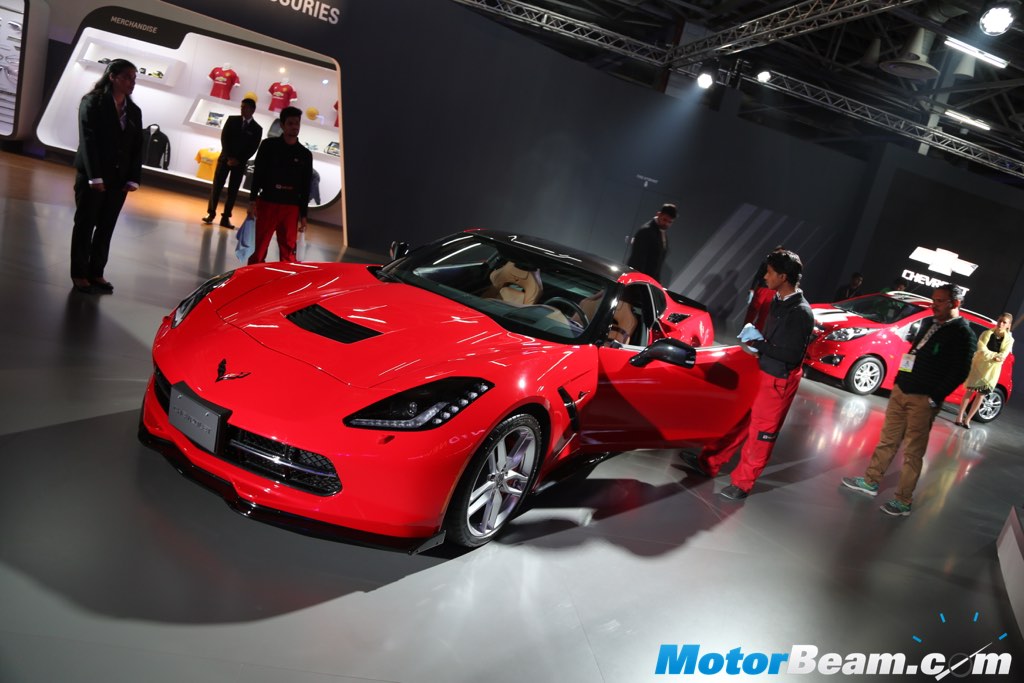 General Motors India has some exciting and much extensive lineup on display at the 2016 Auto Expo and one of them is the showstopper Chevy Corvette Stingray C7. The red hot supercar is in its seventh generation and has improved leaps and bounds in terms of styling over the years. The Stingray looks complete and more upmarket with its racy styling cues including the quad exhaust at the rear. The gloss black roof contrasts with candy red body shade which looks very appealing.
The well appointed interiors of the Chevrolet Corvette Stingray are a mix of sporty yet premium layout. There is an array of trim options to customise and the dashboard is very driver centric. There are some typical Chevrolet design cues that we also see on their mass market cars. It offers an 8-inch screen, steering mounted controls, leather seats and more. There is a five position Drive Mode Selector for the driver to select their driving style according to the conditions.
Powering the beast of a car is a 6.2-litre LT1 naturally aspirated V8 engine that churns out a maximum power output of 450 HP with a peak torque of 610 Nm, mated to a 7-speed Tremec manual or 6-speed automatic transmission. It takes just 4 seconds for the O-100 km/hr sprint. It has a front engine, rear-wheel drive layout coming with a Z51 performance package for track performance. The American automaker is not considering to launch the Corvette in India but the sports car is attracting quite a lot of attention at the GM stall.
Chevrolet Corvette Stingray
– The Corvette Stingray screams of sportiness all around
– Comes with a five position Drive Mode Selector
– Powered by a 6.2-litre LT1 V8 engine