Custom BMW G310R Displayed, Stripped Down Model Of G310R
Custom BMW G310R was recently revealed at the BMW Motorrad Days Japan and is a completely stripped down avatar of the original. The custom version doesn't have any performance upgrades though.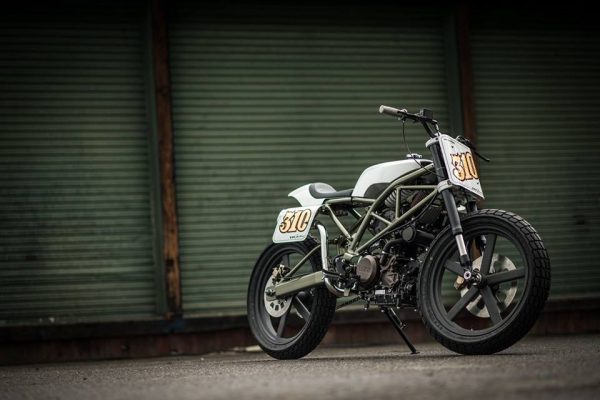 The BMW G310R is one of the most anticipated performance bikes for the Indian market, which was all set to be launched this festive season but might get delayed for a few months. As for the promotional side of the bike's launch, BMW Motorrad recently showcased a custom modified G310R.
It was revealed at the BMW Motorrad Days Japan 2016, but it is not up for production though. The G310R was first showcased as a stunt bike concept and then later introduced as a comic series which highlighted much of its features. BMW is also reportedly readying a G310 GS, which is an adventure tourer based on the G310R and is India bound.
The custom modified version features special Maxxis tyres, reworked body panels, new alloy wheels and a new swingarm. Staying true to the flat tracker name, the speedometer and headlamps go missing from the actual version and there is very minimal bodywork on the custom made model of the Beemer.
On the performance front, the bike will use the same 313cc engine as seen on the G310R along with a 6-speed gearbox. While the launch time of the G310R is uncertain for the Indian market, BMW hasn't stopped short on experimentation and perhaps this would be the final trailer before the actual picture releases.
Custom BMW G310R Displayed, Stripped Down Model Of G310R
– A custom modified G310R was recently launched at the BMW Motorrad Days Japan
– It is a completely stripped down revision of the soon-to-be launched G310R
– It features special Maxxis tyres, reworked body panels, new swingarm etc.
– The custom model still uses the same engine as expected on the G310R