DSK Hyosung Launch GV650P & 2013 GT650R [Live]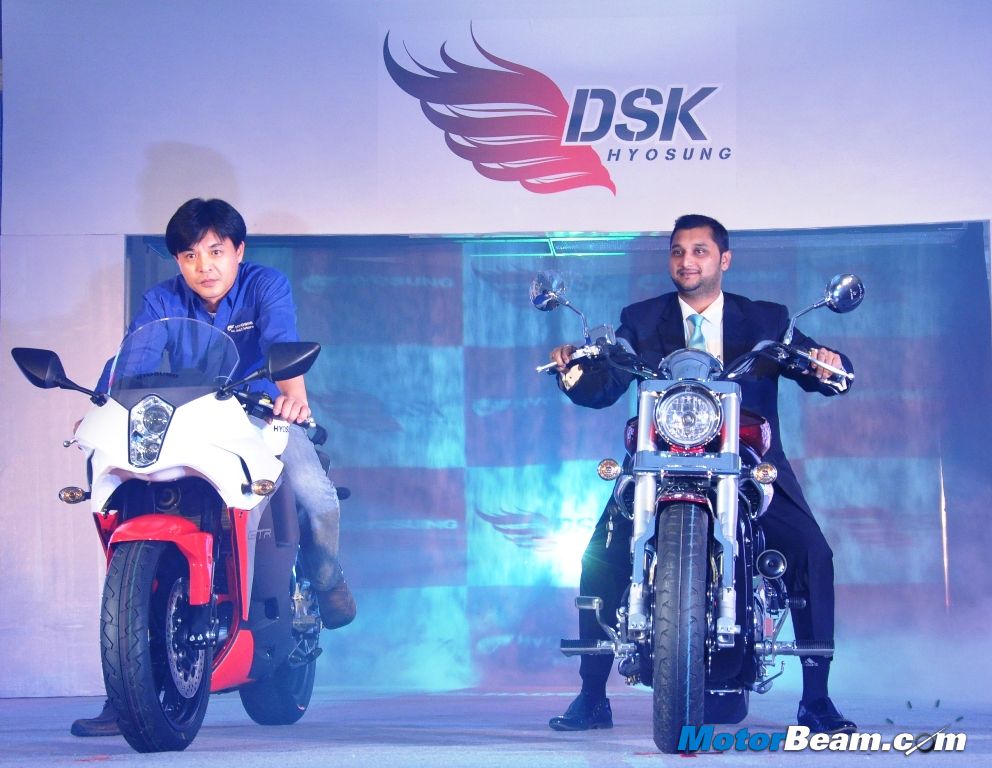 DSK Motowheels and Hyosung have launched two new motorcycles in the Indian market today, the GV650 Aquila Pro and the 2013 GT650R. While one is a new cruiser, the other is a minor refreshment to an existing model. The GT650R retains the mechanicals of the old bike but gets minor upgrades in the form of a slightly edgier front with new headlight, new body graphics, revised instrument cluster, suspension and engine tweaks. Rest of the GT650R remains the same as last year's model, with power coming from the same 650cc, V-Twin engine.
The Hyosung GV650 Aquila Pro is a new cruiser motorcycle, which becomes the flagship Hyosung motorcycle in India. This cruiser sits above the ST7 and features a more powerful engine. The Aquila Pro shares its 650cc engine with the GT650R, producing 74 BHP of power at 9000 RPM and 62.1 Nm of torque at 7500 RPM. This engine is mated to a 5-speed manual gearbox. Not only is the GV650P more powerful than the ST7, its lighter too, weighing 4 kgs less, aiding in better performance.
DSK Motowheels has priced the 2013 Hyosung GT650R at Rs. 4.79 lakhs, while the Aquila Pro 650 has been priced at Rs. 4.99 lakhs (all prices ex-showroom, Delhi). The pricing is stable and not introductory and DSK feels these premium products are being offered at affordable prices. The company has 21 outlets and 80 workshops across the country and these motorcycles will be available immediately. DSK Motowheels is expecting to sell 300 units of the Aquila Pro this year, which is available in red, silver and black colors, while the GT650R is available in titanium red, titanium black and titanium white colors.
DSK Motowheels plans to launch a single-cylinder 250cc bike next year and plans to concentrate on the 250, 600 and 700cc segments. The company has no plans to enter the litre-class segment. The company has an R&D centre with 50 engineers and plans to expand its base in the future.
[flickr size="center" float="medium"]http://www.flickr.com/photos/motorbeam/8386161110/[/flickr]
[flickr size="center" float="medium"]http://www.flickr.com/photos/motorbeam/8386150600/[/flickr]