Hyosung Bikes Launched In India – Live From Launch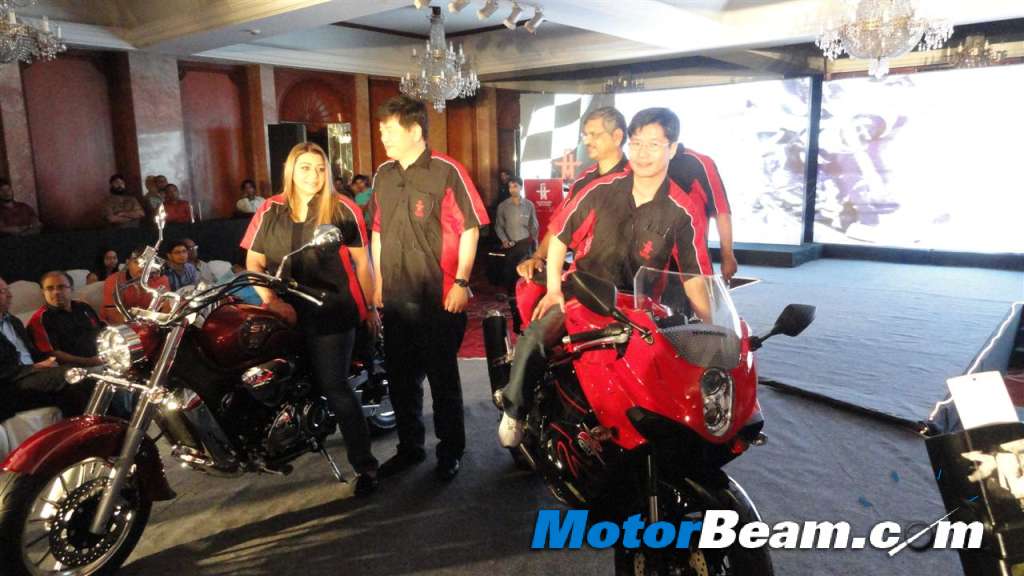 Garware Motors has just now launched the Hyosung GT650R and the ST7 in Delhi. The GT650R is priced at Rs. 4.74 lakhs for single tone colours, Rs. 4.90 lakhs for dual tone colour and whereas the ST7 is priced at Rs. 5.64 lakhs (all prices ex-showroom, Delhi). The company says the bikes have no competition and they have carved out a niche in the market. Showrooms coming up first in Gurgaon and then Pune (will be inaugurated tomorrow) and Mumbai. Garware Motors has already received 1000 bookings for the Hyosung bikes. Bookings can be made for Rs. 50,000/- in five cities – Pune, Mumbai, NCR, Bangalore and Goa . More pictures to follow soon.
[singlepic id=5391 w=500 h=375 float=center]
Garware Motors will gift a special welcome kit comprising of performance t-shirt, cap, helmet, glares, and leather key chain to the first 500 customers. The company is also planing to launch the GT250 and street version of the GT650 in the country. By the end of first year, the company will have 15 dealers (5 more dealerships in Hyderabad, Cochin, Chennai, Ahmedabad and Chandigarh within the next 2 months) and would have produced 2000 units. Garware Motors has tied up with HDFC bank for financing the bikes for its customers. A riding club has been performed for owners of Hyosung bikes, it is called as Hyflyers. Spares will be easily available for both the bikes and mobile service vans will do service at the doorstep of the bike owner.
[ id=127]
[youtube:http://www.youtube.com/watch?v=9BK0iihzhoI 540 375]
[youtube:http://www.youtube.com/watch?v=7sxJtG8CQro 540 375]