Exploring Maharashtra On The Fantastic Kawasaki Ninja 300
The Kawasaki Ninja 300 will do whatever you ask it to do, with utmost ease, it's that good.
India as a nation is growing. Growing implies that everything around you is getting better. Your neighbour just got a better car than before because of the internet. The roads around you got better. The manufacturers in India started making good automobiles. Automobiles got better in every aspect. Manufacturers started getting good vehicles in the country. People started buying it and went exploring on better roads that our country has now made. All this connected together and this idea turned into a hobby, which we call in India "Touring". Touring or tourism in the late 1970's was implied to a foreigner who came to India to see what we had. Certainly India was the most talked about country after its independence and the rulers of the past said bad as well as good things when they went back home. However, in the early 80's, we ourselves started realising that we have not seen our own country and people are coming to our land to see and explore. There must be something special about it. After all, we only knew what was written in our school textbooks.
Our parents started taking us out for a vacation once a year to the nearest hills and prayed all the way, back and forth for the safety of the journey. Reasons? Bad roads, bad vehicles and most of all drivers who had no sense of the road and how to cope up with difficulties and situations. These things were conveyed back to the people in cities and villages, being converted into "horror" stories by adding a lot pepper and making a mountain out of mustard seed. All of this disturbed me because I used to think that the world and its people could not be that lacking in common sense.
Today, every weekend, on an average, a couple or a group of friends go out on a 300 km trip (one side) and come back in absolute peace. Hundreds of bikers fill the roads with their colourful motorcycles and loud exhausts every Sunday. Why? Because they are not afraid of using a motorcycle which has disc brakes at the front, and they know if they do get into a mishap, they will be safe because of the protective gear they wear. None of this, 40 years ago, was heard off in our country. Meanwhile some of this was beginning to take shape in other parts of the world.
All of this has been possible primarily because of the digital influence, internet reach and connections made through wires, railways, air transport and of course roads. I love travelling through roads ever since I stepped out in a vehicle to go somewhere. May be that is why I am here, writing this. The bonding of man and machine is impossible without roads. We as journalists go pick the longest route most of the time to shoot a motorcycle or a car and sometimes we fall in love with the place and repeat those destinations when we head out for a ride. Usually we have a long term bike, which we want to understand, so we pick it up and go the distance. This time we wanted to show you how we do it and we decided to do it in a special manner, with a special machine.
A rider who loves long distances and does long distance home to office and vice versa, needs a bike which does it all. Therefore, in the conquest to show our readers, we picked up a special bike called the Kawasaki Ninja 300. We have praised the bike immensely. Repeatedly we have said this is the ultimate quarter-litre (slightly higher) motorcycle for most people out there. If you can buy it with that hefty price tag, ignore everything and get it. Therefore, in the midst to do this very quickly, we opted for this fast and efficient machine. What did we do?
Well, we went in all directions from Mumbai to show you how Maharashtra is one of the most beautiful states in the country and what it holds in terms of beauty when the road finally ends. We had luck with us all the time, every time and anywhere we went. Why you may ask? Just before the elections, all the roads are mended and where ever we went, even the slightest imperfect road we knew was laid with freshly done tarmac, having glowing white markers on it. Since it's springtime, we got flowers and leaves on both sides of narrow dual carriage roads, adding to complete the blissful riding experience. Anyways, our ride was turning to be awesome in the first place with the well rounded Ninja 300. Bad or good roads do not affect the Ninja's composure or breaks the rider's back. Be slow on the bumps and the ride quality feels even more supple. The road to every destination was very well done and even though there were minor ups and downs, the bike doesn't transfer it to the rider in a harsh way.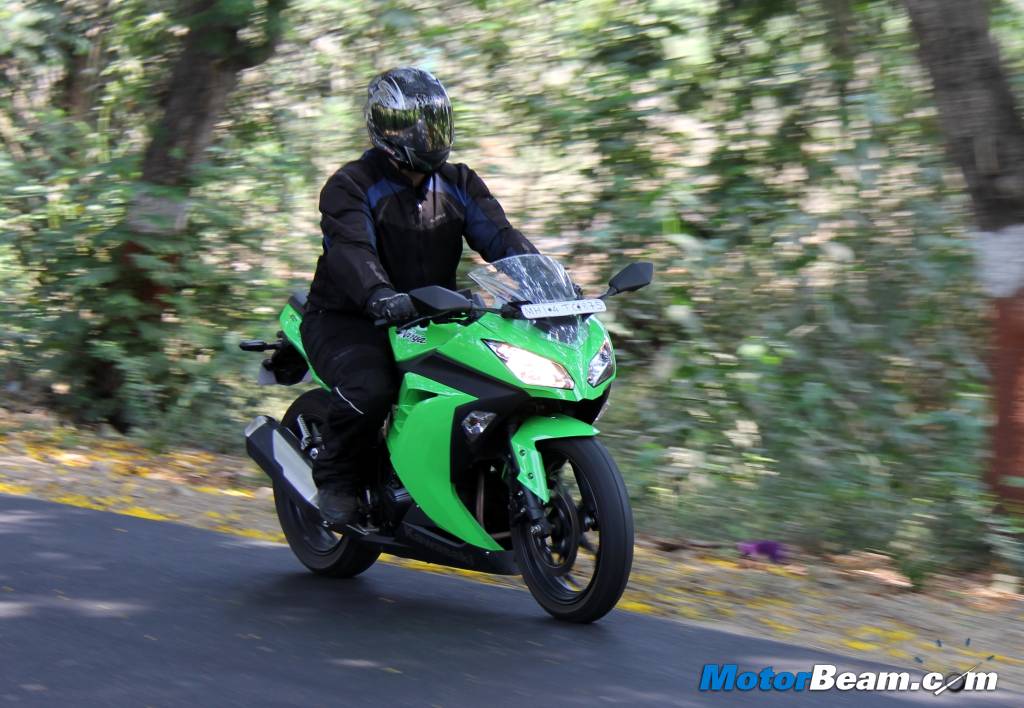 No matter where we went, the Ninja 300 catches the eye of every single person on the road. Right from the way to Gujarat via Daman, which has a sensational wide and spotless road to the Malshej ghats before Ahmednagar, everybody knows what the Ninja is. After all the commotion and questions we answered, we have concluded that this is the kind of brand image that every manufacturer will be eager to have. When it comes to destinations like Aamby valley in Lonvala and Lavasa near Pune, it's hard for people to keep up with the Ninja 300 because of the way it changes directions and holds onto the road with its "fool-proof" chassis, it's brilliant. A mad redline limit of 13,000 RPM makes it an absolute bliss to ride. Let us not forget the jet-fighter soundtrack it erupts, which is pure nirvana. The Ninja 300 is such a hoot to ride that we did all the four destinations in just one single week. All of this partly because we wanted to see the fantastic green colour gleaming in harmony with the light of the dawn.
The experiences with the Kawasaki Ninja 300 could have been more but we had to stop. Every ride can be memorable with the Ninja on your side. The Kwacker does it all and does it all with so much style and panache that it begs to be ridden every seven days of the week, everyday of its ownership. It is comfortable when you need it to be, it can flaunt when you want it, it can thrill and entertain you with its performance when you ask for it. Do not be fooled by its qualities because it also has practicality for the Indian road and Indian consumer. Everywhere we went, we kept a steady 120 km/hr on the highways, while going back we cracked open the throttle. While going to our destination, it impressed us with a jaw-dropping mileage figure of 30.5 km/l and while coming back (with an aggressive right wrist), it managed 22.6 km/l. These numbers are insanely impressive for this machine. The efficiency is testament of the refinement and quality Kawasaki offers with every product.
We as enthusiasts can enjoy every motorcycle handed over to us. However, times come when you get a machine which is so good that it blindfolds you when it comes to being loyal to it and the praises never stop. You can't stop yourself for remembering it forever. The Kawasaki Ninja 300 is one such machine. With a healthy record of accomplishment created by its predecessor, the Ninja 300 remains the ultimate bike that you will ever need to quench your thirst in our country at least.
Further Reading –
Kawasaki Ninja 300 Review
Kawasaki Ninja 300 Video Review
Kawasaki Ninja 300 vs KTM Duke 390