Ferrari 599XX – Track Focused 700HP Ferrari
The Ferrari 599XX is an extreme track-focused version of the two-seater Ferrari 599 GTB Fiorano. The FXX replacement, is exclusively built for track and thus Ferrari had no restriction either by homologation limitations or regulatory restrictions during the 599XX's development. Ferrari's engineers have carried out extensive work on the engine's combustion chambers and inlet and exhaust tracts. These modifications, combined with the fact that internal attrition has been reduced and the maximum revs have been boosted to 9,000 rpm, helped achieve the target power output of 700 hp at 9,000 rpm.
The Ferrari 599XX is characterised by an innovative electronic concept called the "High Performance Dynamic Concept" which has been designed to get the maximum performance from the car by managing the combination of the car's mechanical limits with the potential of its electronic controls. The mechanical and electronic systems work together to get the maximum performance from the car under extreme high performance driving, for consistent lap times. The sporty handling has been improved thanks to the adoption of second generation SCM suspension system. Track usage is also made easier thanks to the new "virtual car engineer", a screen in the car that provides a real-time indication of the vehicle's efficiency.
The Ferrari 599XX's aerodynamics were honed in numerous wind tunnel test sessions with the result that the car now boasts 280 kg of downforce at 200 km/h (630 kg at 300 km/h). The front underside of the body is completely faired-in and the vents that channel hot air from the engine bay have been moved to the bonnet.
Ferrari's engineers have also used F1-derived "doughnuts" which partly cover the brake discs and wheel rim. These have the dual function of improving both aerodynamics and brake cooling.
In terms of the bodywork, composites and carbon-fibre have been widely used and the engineers drew on their experience in working with aluminium to reach the weight target. The development of increasingly high-performance materials has also benefited the carbon-ceramic material braking system. The brake pads are now made from carbon-fibre which means that the calipers are smaller whilst guaranteeing the same efficiency. The new racing carbon ceramic braking system also delivers shorter braking distances and is generally more efficient due to the weight saving.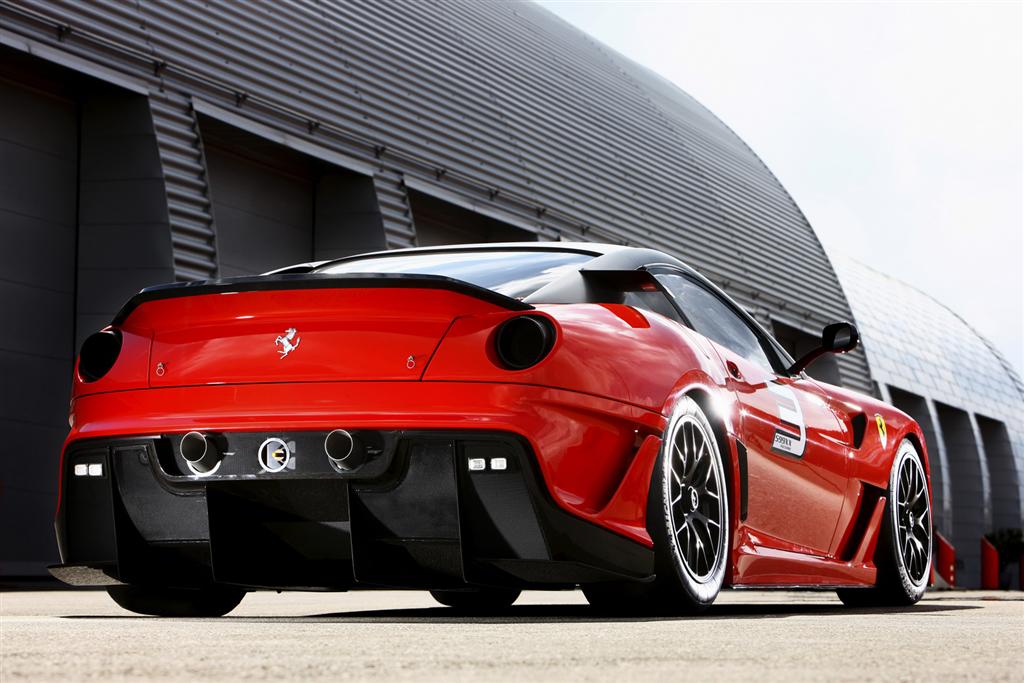 The Ferrari 599XX comes with slick tyres (29/67 R19 Front and 31/71 R19 Rear) specifically developed to maximise stability in cornering and increase lateral acceleration. They are fitted to 19 x 11J wheel rims at the front and 19 x 12J at the rear.