Fiat Sharing History Of Abarth With Indian Customers
With the launch of Abarth brand nearing in India, Fiat is trying to acquaint the customers with a bit of history of the Abarth brand.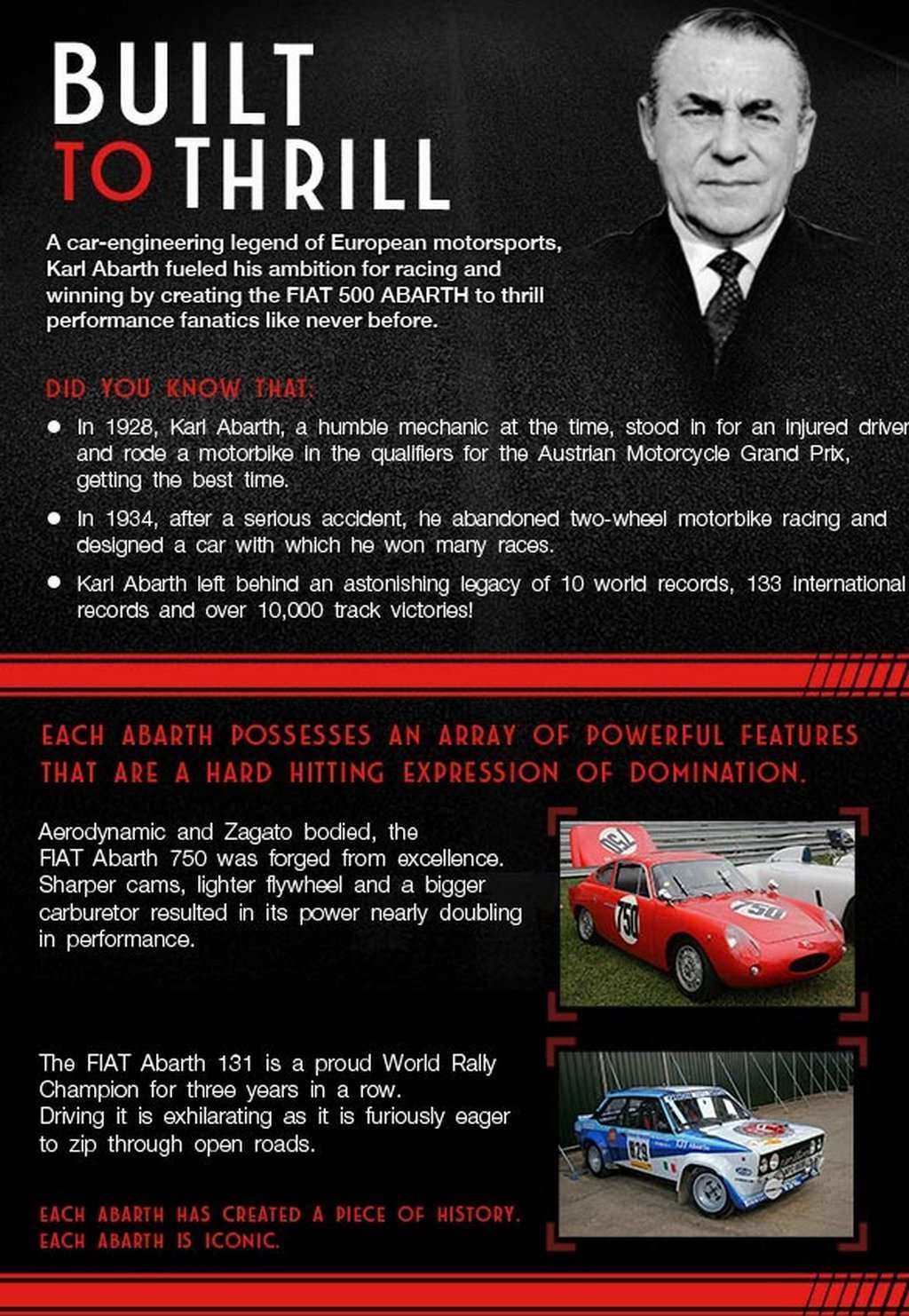 Enthusiasts have been waiting for the launch of the Abarth brand in India since a long time now and the wait will come to an end soon. With Fiat launching the Abarth 595 next month, driving enthusiasts will have a new choice for a fun car. In order to educate the customers what the Abarth brand is all about and the history of it, Fiat has started sending an image stating a few facts from the past via e-mail to those who requested for the brochure of the Abarth 595. The basic motto behind the performance brand has been building cars that thrill performance lovers.
The man behind the brand, Karl Abarth raced bikes before he began car designing. After a bike accident in 1934, he took to car designing and raced in his self-designed cars. Winning races is what every racer loves and Mr. Karl won a lot of races. A brand driven by such a man is expected to churn out some great driving machines and this is exactly what Abarth has been doing ever since. Be it the Fiat Abarth 750 or the Fiat Abarth 131, Abarth cars have been very popular in racing events. This popularity has made them very desirable and the relatively affordable price tag makes them value for money performance cars.
Fiat emphasises on the fact that each Abarth has created history till date and that each of them is an icon in its own right. We totally agree with this fact considering how the brand has turned some of the most normal Fiat cars into supercar challenging cars which is indeed impressive. The compactness of most models in the lineup shows the dedication to build lightweight cars with not-so-huge engines to make the most of the power-to-weight ratio. In India, three Abarth cars are likely to be launched this year which includes the Abarth 595, Abarth Punto Evo and Abarth Avventura. While the first two would feature many Abarth elements, the latter will most likely feature only a more powerful engine.