Ford EcoSport Arrives In Mumbai Dealership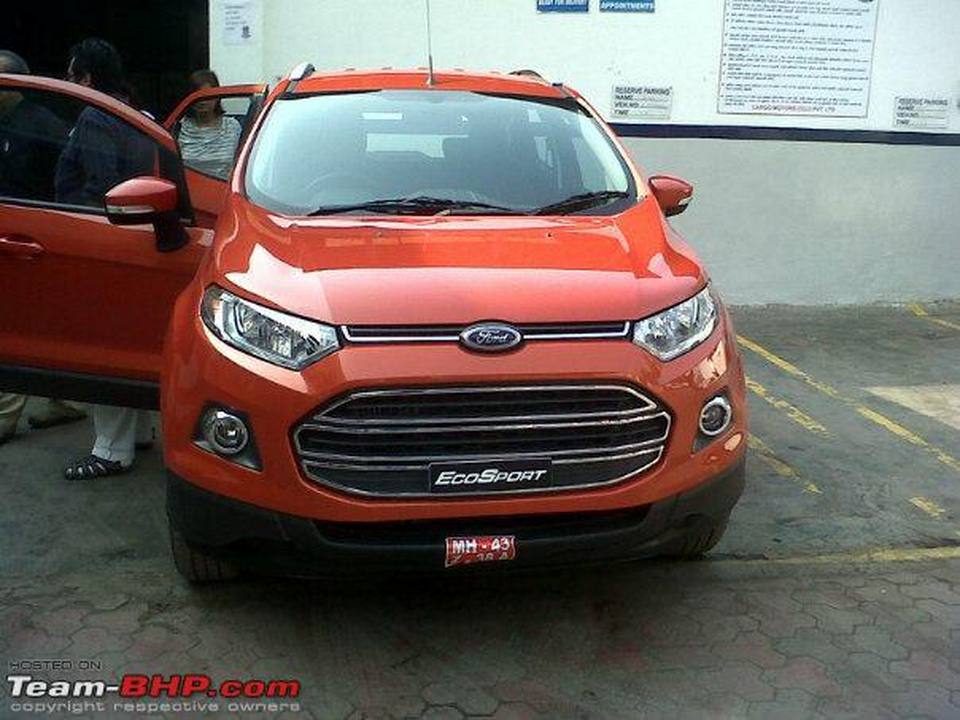 A Ford dealership in Mumbai has received an EcoSport but it is not a display vehicle. The EcoSport received is for the Mumbai launch and the vehicle which was earlier spotted in Delhi was at the dealer for the Delhi launch. The company has dispatched the vehicle to two dealers only, and the dealers suggest the launch will take place in the first week of March. However deliveries will only commence in April and Ford is awaiting the Union Budget to be announced. It is expected that the EcoSport will be priced from Rs. 7.5 lakh to Rs. 11 lakh which will make it an extremely desirable product.
The vehicle spotted at the Mumbai dealership is the top spec Titanium variant in Orange colour but the engine variant is unknown. The car looks very good and is pretty compact in its proportions as expected. However it is bulkier than the Renault Duster. The front is very aggressive with dollops of chrome. This car will definitely grab a lot of attention of many potential customers. Ford is certainly going to undercut the Renault Duster, at least by Rs. 1 lakh, as the EcoSport is a sub 4-metre vehicle and shares most of its parts with the Fiesta.
We spoke to the dealership where the EcoSport has arrived and the sales rep told us clearly that the interiors and features are identical to the new Fiesta. The booking amount is Rs. 25,000/- and dealers are now taking bookings, albeit unofficially. However if post launch you decide to cancel the booking, the dealer will return back 100% amount without any deductions. The diesel version will not be offered with an automatic gearbox.
The Ford EcoSport has been one of the most awaited car launch in a very long time. Compact SUVs are becoming the latest hot pick of Indians and many manufacturers have launched very capable products. Many uncamouflaged EcoSports too have been spotted which may be deliberately done by Ford to get some public attention.
Pictures Source – Team-BHP