Hero Shows Why It's The Boss; Honda, Bajaj Beware
When Hero and Honda parted ways, everyone thought India's largest 2-wheeler manufacturer is going to lose market share and eventually evaporate in the horizon. After all, Hero was too reliant on Honda with no technical know-how whatsoever. We at MotorBeam did not think so, we thought Hero would bounce back stronger and they have. What gave us confidence in Hero? When Bajaj stopped taking Kawasaki's help, Bajaj flourished, when Suzuki broke up with TVS, the Apache maker flourished, so with Hero, we thought the same would happen. After all no joint venture means a free hand to do what you like which drives innovation.
Hero MotoCorp's new 250cc bike is sure to get lined up (in the above picture) once we get our hands on it and put it head to head in a drag race. The better part of last decade was spent by motorcycle enthusiasts arguing between which one is better – the Hero Honda Karizma or Bajaj Pulsar and it seems the good times are going to be back soon. Hero has really shocked us all, after updating the Karizma twins a few months back, nobody saw the HX250R coming. This means Hero isn't betting on one, two but three performance bikes to please enthusiasts.
A 250cc bike from Hero with EBR help was expected but what was even a bigger shock was the RNT. The company also showcased the Leap hybrid, Dash 110cc scooter and Xtreme Sports. Now these three offerings aren't a world apart because we have already seen the Leap a couple of years back while the Dash is another 110cc scooter although it looks very promising. The Xtreme Sports has got mixed reactions but has quite a lot of pep on offer which should make it decently quick in its segment. What interests us the most is of course the HX250R and RNT, so with a pair of magnifying glasses, we set about analysing these machines.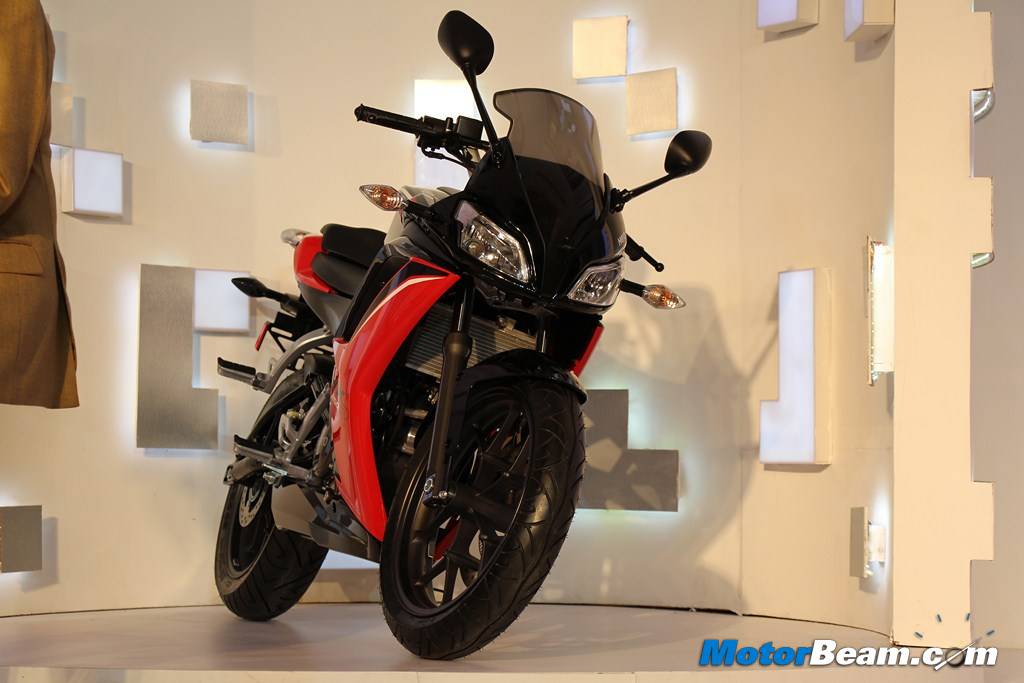 Hero HX250R – At first glance, the Hero HX250R looks simply wow. Even the specifications make your mouth water. 31 BHP and 26 Nm from a 250cc bike is absolutely stunning, easily out gunning the others in this segment (Honda CBR250R produces 26 BHP/22 Nm while the Pulsar 200 NS produces around 23.17 BHP/18.3 Nm, the Duke 200 produces 25 BHP/19.2 Nm). But what's even more intriguing is the fact that the HX250R weighs just 139 kgs. Now that will give it outstanding power to weight ratio, even naked bikes don't weigh so less so surely Hero has something up its sleeves. An underseat exhaust is going to be a segment first feature and the coolness factor will be very high indeed.
Now for some not so good points. While the bike is an excellent effort, we are scratching our heads on how Hero has managed such a low weight. A Trellis frame is the holy grail of motorcycle frames (the best is of course monocoque which few bikes use like the Kawasaki Ninja ZX-14R) and is used by the KTM Dukes and Ducati Monsters of the world. What the Trellis frame gives the bike is super lightness, I know I ride a KTM Duke 390 and removing it from the parking lot is like a one hand operation. The next best frame is the perimeter frame which wowed Indians when it first featured in the Yamaha R15, they called it Deltabox. The Pulsar 200 NS also uses a perimeter frame and any one who has ridden the Pulsar 220 and Pulsar 200 NS will tell you there is a world of a difference, all thanks to the perimeter frame. Hero is using a tubular frame which is quite outdated for a bike with this much power. Still we wonder how come the bike is so freaking light. Maybe Hero is using aluminium but that will be very expensive to manufacture.
Next up is the engine. The 249cc mill is a single and uses 4-valves and liquid-cooling. Power output is stellar and once the Honda CBR300R comes, we can directly pit Hero's HX250R with it as the former also outputs similar number of horses (30.4 BHP and 27 Nm). What bothers us is the HX250R is an oversquare engine which means the overbore nature of the powerplant will result in power being produced mostly in the top end. Such an engine configuration doesn't offer good drivability. We trust EBR has managed a vibe free motor.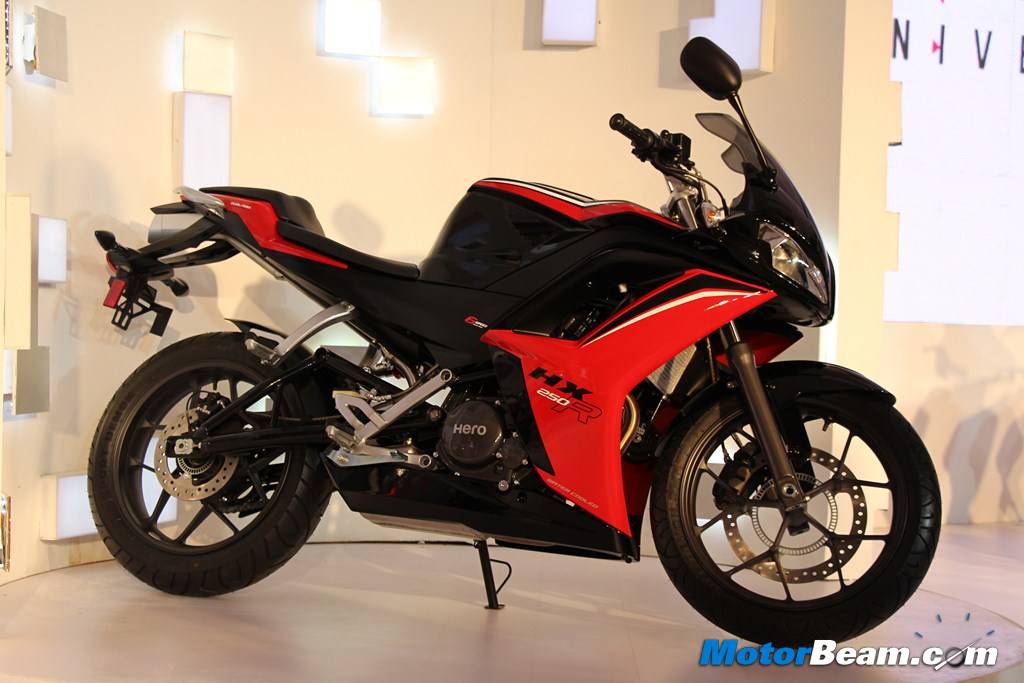 Looking closely at the bike, the first thing you notice is the HX250R looks a lot like the Kawasaki Ninja 650 but the twin headlights are very Honda CBR600RR (the HX250R uses all LEDs including the indicators). The Y-spoke alloy wheels are super cool (something similar was first seen on the Discover 125 ST). What we don't understand is the commuter bike front indicators which jut out of the body, even the Karizmas have neatly integrated units. The front forks should have been upside-down and a bit fatter. The rear view mirrors should have been of better design. The bike looks too narrow and our look at the motorcycle revealed fit and finish to be sub par but since this is a pre-production model and Hero has been good with quality, we expect that to be resolved once the HX250R is launched.
The trellis shaped swingarm is quite unique and Pirelli Sport Demon tyres (110 and 140 section at the front and rear respectively) are going to provide stellar grip. ABS and integrated braking system should be offered as standard on such a powerful bike. The display bike had ABS and steel braided lines. While the seating position might seem aggressive, the raised clip-on handlebars will ensure there is no committed riding position for this bike. The pillion won't be very comfortable though with the raised rear seat and high footpegs. Hero has gone for 17-inch wheels from the 18-inchers you see on the Karizma, a good move which will aid in better manoeuvrability.
Even with these small gremlins, the Hero HX250R is an excellent effort. It also marks many firsts for Hero MotoCorp including 6-speed gearbox, 4-valve, liquid-cooling, ABS, underseat exhaust, etc. Since this is just a prototype, we expect Hero to make the HX250R quite a bike when it goes for sale. We expect prices to start at Rs. 1.50 lakhs (ex-showroom) which is a steal considering the performance on tap. This bike does make Hero loyalists emotional and my first bike being a Karizma, I too am looking forward to this new quarter-litre bike from India's largest 2-wheeler manufacturer. Direct competition will be against the upcoming Bajaj Pulsar 200 SS and KTM RC 200. Knowing Bajaj Auto has played the horsepower game always, will the Chakan based manufacturer boost output of its machines?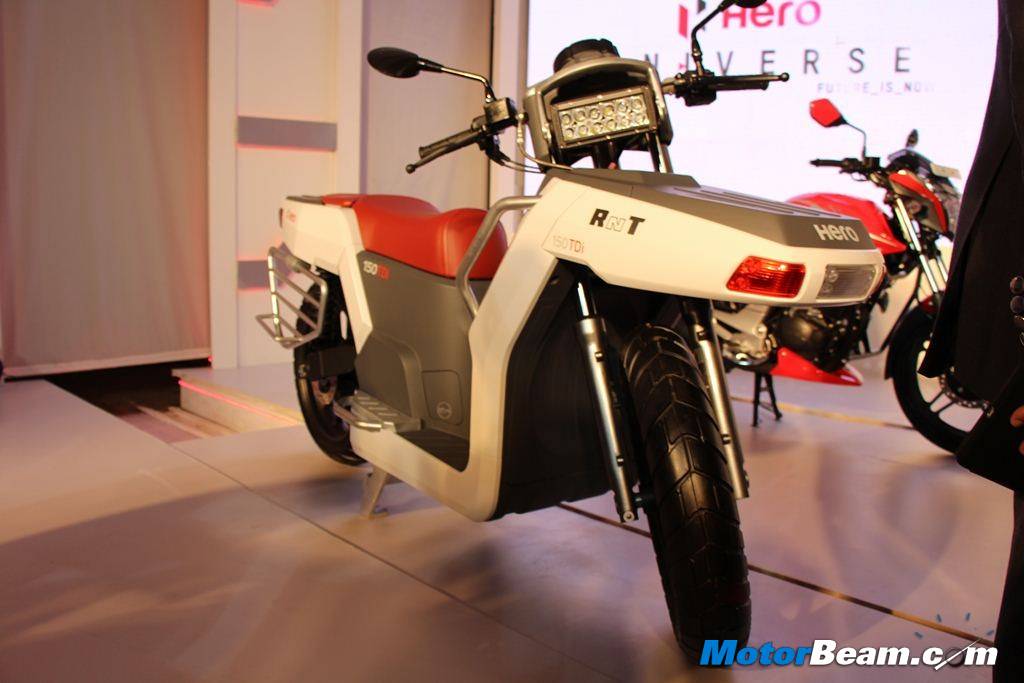 Hero RNT – A diesel engined bike, you got to be kidding, that was my first reaction. However Hero MotoCorp has shocked us with the RNT. The bike is quite quirky and it's not for you or me, it's for a purpose, to perform duties in rural areas. 2-wheel drive is useful on the farm, the luggage carrying capacity is helpful to… ummm… carry luggage! But factoring in all this technology, the RNT will cost a good Rs. 2 lakhs, a price at which cars become an option to haul goods.
Now coming to the engine, a 150cc diesel engine sounds like an invitation to vibrations. A single-cylinder petrol bike engine vibrates, a 3-cylinder diesel car engine vibrates so a 150cc single-cylinder diesel engine in a bike is sure going to vibrate quite a lot. 13.5 BHP of power is apt for a luggage carrier but 35 Nm of torque is similar to the KTM Duke 390 which produces thrice as much power. What is disappointing is the top speed, just 70 km/hr, ruling out the RNT in the urban crowd (do you need disc brake at the rear to stop from such low speeds?). The weight of the RNT is difficult to believe, 136 kgs for a bike with a diesel engine and so much luggage carrying capacity seems unreal.
The Hero RNT doesn't seem like it's going in to production anytime soon but gives a glimpse of what the company is capable off. This concept needs to be refined heavily to make it practical in today's world. Top speed of 110 km/hr is needed, after all, this isn't all electric. The main stand looks quite rugged yet not at home on this technology rich motorcycle. Besides, will Hero's dealers in tier-3 cities be able to service such a bike with all that electric technology?
2014 sure is the year of performance bikes. A slew of launches are set for this year including the Pulsar 200 SS, Pulsar 375 SS, KTM RC 200, KTM RC 390, Mahindra Mojo, Hero HX250R,, Hyosung GD250N, Kawasaki Ninja 250SL, Suzuki GSX150R, Honda CBR300R, Honda CBR500R, Honda CBR650F, etc. Next year we will see the launch of TVS-BMW's performance bikes, KTM Duke 690, Triumph Daytona 250, Triumph Street Single, Yamaha R25, etc. Just imagine the options galore for bikers, the good times are sure to roll.