Hesketh 24 Is One Of A Kind Motorcycle Built For 24 Riders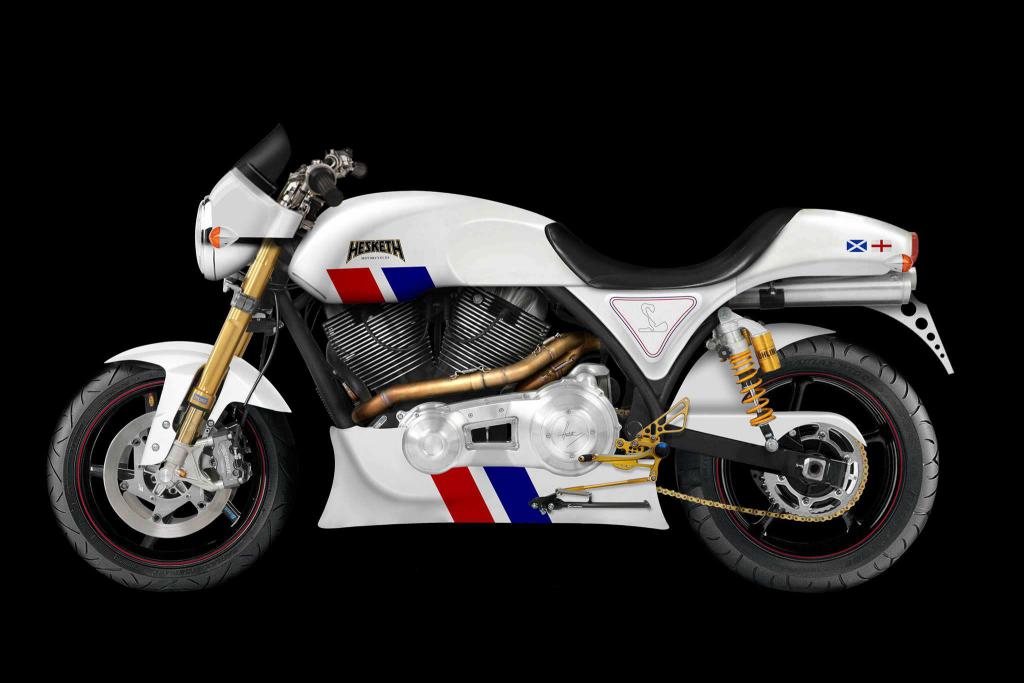 Hesketh Racing was a Formula One constructor from the United Kingdom, which competed from 1973 to 1978. Hesketh also has Hesketh Motorcycles, a company made in the 1980 which is a British motorcycle manufacturer initially based in Daventry and Easton Neston. They have released a limited edition Hesketh 24, a motorcycle which marks the beginning of a bright new chapter in the company's history. As the first all new Hesketh model to be produced in some thirty years, the company is taking inspiration from the Hesketh 308 F1 car that James Hunt drove to victory in the 1975 Dutch Grand Prix.
Named after the number on James Hunt's 1975 F1 car, this new model will be a limited edition with only 24 units to be built and sold internationally. Developed and designed by Paul Sleeman, who is the owner and chief engineer of Hesketh Motorcycles itself. The 24 uses only top quality components and has been built with extensive attention to detail. The concept behind the Hesketh 24 was to produce a modern interpretation of what a Hesketh should be in in today's market. Retro styling coupled with modern technology is always a superlative idea.
The Hesketh 24 has the right balance of style, modern components and is devoid of the hard bits from the original bike. For example, the technical expertise and reliability that it carries with it makes sure less goes wrong while enjoying the retro motorcycle. The engine powering this substantial looking motorcycle is a huge air-cooled 1950cc V-Twin S&S X-wedge motor, offering oodles of torque and with a proven powertrain. The rumbling V-Twin was chosen for its excellent reputation and reliability from the British manufacturer Morgan, which makes three-wheelers.
To tune the engine, Hesketh chose British tuners Harris Performance Engines, which we have also put their magic in the Royal Enfield Continental GT. The company has ample experience in pushrod engines and drag racing to produce a tune for this mill which will suit the Hesketh 24. Hesketh will be offering all customers at least three different power options on their bespoke models to choose from. This is where Harris performance comes in for different engine tuning for various levels of preferred power which the company means to offer to the customer.
The Hesketh 24 has a sculpted bodywork which is done in the colours of James Hunt's Hesketh F1 car. The graphics were designed and produced by a man called Tommy Hill. High quality materials from famous brands like Öhlins, Beringer and Baker were made. Hesketh wants to make sure they are offering unbeatable exclusivity to the customer in this hardcore custom motorcycle category. For example, the seat is made from the finest Italian Nappa leather which is fully waterproof and super-soft.
Each of the limited edition Hesketh 24 models will feature an 18 carat gold plaque on top of the tank with the unique number of that particular model. Along with the knowledge that each bike has been hand-built by Hesketh technicians at their Surrey headquarters. Something which we have seen in Mercedes on how they do things with their AMG engines. Hesketh offers comprehensive two-year warranty as standard. We think this purposeful cafe racer looks drop dead gorgeous!