Track T800-CDI Is A Diesel Engined Bike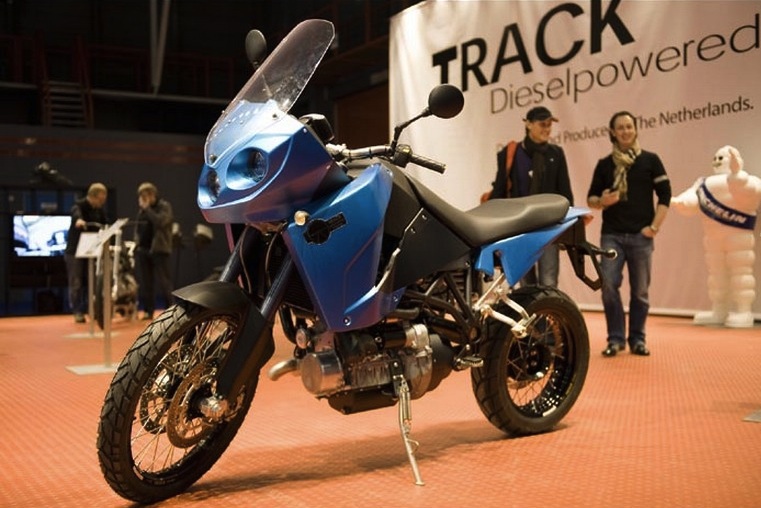 In times of rising petrol costs, diesel seems to be the near fuel of future. Cars buyers definitely have the alternative of purchasing a diesel model in place of a petrol one judging his usage and maintenance costs. But sadly, the bike enthusiasts have to feel the pinch without any option. But now there is a diesel bike on the block, and it looks stunning! Developed by a company called, Track, these diesel bikes pack in a lot of punch.
The T800-CDI 2E Black edition developed by Track is an All Terrain/ Adventure motorcycle launched this year itself. The company has however, not disclosed any prices of the motorcycle on their official website. The prices will only be shared with the potential customers on a demand basis. The Track T800-CDI is powered by a 3 cylinder, inline, 800cc engine that produces 50 BHP of power at 4200 RPM and a torque of 100 NM at 1800 RPM. This power is transferred to the wheels via a centrifugal clutch and then a Continuously Variable Transmission. The frame is made of Chromium Molybdenum tube and gets a Track Cardan Shaft drive to send power to the rear wheels.
The bike measures 2450mm in length, 900 mm in width and has a saddle height of 830mm. Kerb weight of the bike stands at 225kg and can hit a top speed of 155 km/h. Fuel economy as stated by the company is Currently around 1 liter to 21 km in the desert and up to 1: 30 on-road. At the front the bike gets dual 310mm discs while at the rear it gets a single 268mm diameter disc.