Honda CBR250R & Civic Si Get Linkin Park Editions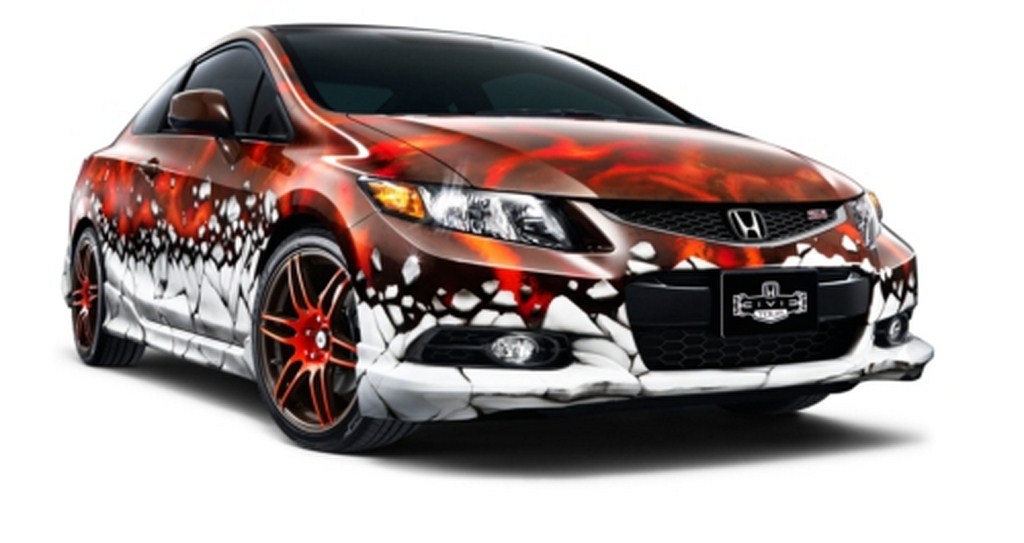 The Honda Civic Tour is an annual concert tour, sponsored by Honda USA which began in 2001. The headlining band or bands customize a Honda product every year. This 11th Annual Honda Tour was the shortest concert tour, only going up to 17 dates in total, co-handled by the American alternative rock bands Linkin Park and Incubus. They were joined by MuteMath, a supporting act for the tour. The tour started from Bristow, Virginia on August 10th, 2012 and ended in Chula Vista, California on September 10th, 2012.
"Linkin Park's signature style is all over this motorcycle. The pros at Santini Paint & Body showed off their mad airbrushing skills and made this bike look like nothing else anyone's ever seen on the road," Honda said.
As a tradition with all previous Honda Civic Tours, Linkin Park was chosen to design a Honda Civic Si and a CBR250R motorcycle. The band chose to base the cars artwork off their new album, Living Things. Their website has come up with two sweepstakes, one is to win a customized Honda Civic, and the other is to win a customized brand new Linkin Park edition Honda CBR250R, a prize worth almost $11,000. There are no mechanical changes to these vehicles.
Inspired by the cover of Linkin Park's new album, 'Living Things', Airbrush masters Santini Paint & Body depicted the idea of shedding skin and revealing the innate glow inside. The Civic Si also features the Honda Factory Performance aero body kit, 18″ Konig Deception wheels and Toyo Proxes 4 Plus tires. Honda CBR250R has had a custom paint and accent touches. Do you think such a color on the Indian CBR250R would attract buyers?