Honda City e:HEV Unveiled, Bookings Commence
Honda claims the City eHEV has a fuel efficiency figure of 26.5 km/l
Honda has unveiled the much-awaited City eHEV in India and has opened bookings for the same today. Deliveries of the mass-market hybrid car are set to start by early May.
The City eHEV has a 1.5-litre, DOHC, iVTEC engine that runs on Atkinson cycle with a thermal efficiency of 40.5 percent. It is mated to a power generator whose only purpose is to charge the Lithium-ion battery pack (located in the back) whenever the engine runs.
Secondly, the engine is also mated to the wheels via a clutch which engages only when required. Thirdly, there's a 109 PS electric motor which powers the car for the most part. It has an instant peak torque of 253 Nm.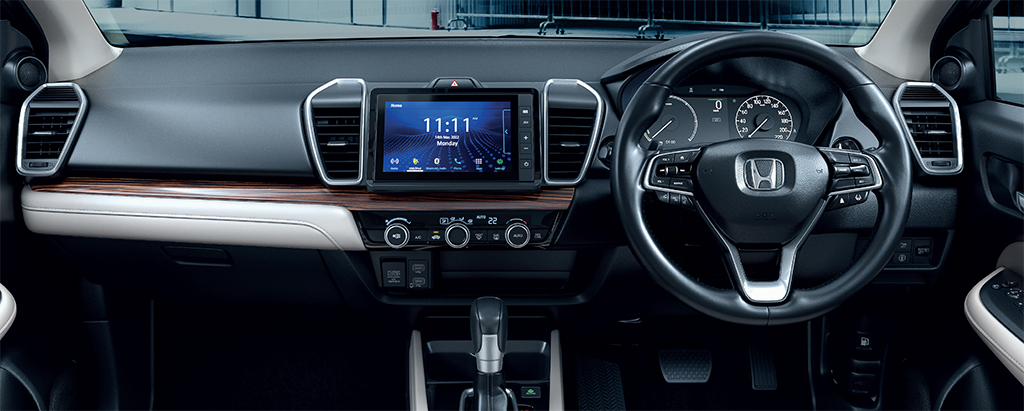 Coming to the working methodology of the system, there are 4 modes selected automatically by the car based on speed. When the speed is under 40 km/hr, the car runs on battery power 80 percent of the time.
But as the speeds increase, the clutch automatically engages, leading to the engine also powering the front wheels. The good part is that the engine has the capability to charge the battery even when it's powering the wheels at high speeds.
A new electric servo brake system with disk brakes on all 4 wheels enables brake energy regeneration for charging the batteries. When the motor and engine power the wheels together, the peak output goes up to 126 PS.
And, the car can crack a top speed of 176 km/hr, while the claimed fuel efficiency figure of the hybrid C-segment sedan is 26.5 km/l, with CO2 emissions limited to 89.5 gm/km.
The City e:HEV also comes with Honda Sensing and Honda Connect. The Honda Sensing system makes use of multiple cameras to perform 5 different functions – Collision Mitigation Braking, Road Departure Mitigation, Lane Keep Assist, Adaptive Cruise Control, and Auto High Beam.
Additionally, it also offers Vehicle Stability Assist, Agile Handling Assist, Emergency Stop at Signals, Hill Start Assist, and Tyre Deflation Warning. All these systems are not just mere warnings but they, claims Honda, take up the job from the driver when the need arises.
Coming to Honda Connect, the City has a 7-inch full HD TFT display for the driver and an 8-inch touchscreen display at the center offering Android Auto, Apple CarPlay and Auto Weblink Connectivity.
The auto system is powered by 8 speakers. There's also an electric parking brake, while the key has additional function of starting the car and powering on the AC from outside. There's also a sunroof on offer.
Also, hybrid car, which is available in 1 fully loaded variant (ZX), has 6 airbags as standard. While the Honda City eHEV bookings have commenced today, customer deliveries will start next month.