Honda McLaren MP4-30 Showcased At 2016 Auto Expo [Live]
Honda has satisfied Formula One fans by displaying the McLaren MP4-30 race car which looks dashing and is a pure attention grabber here.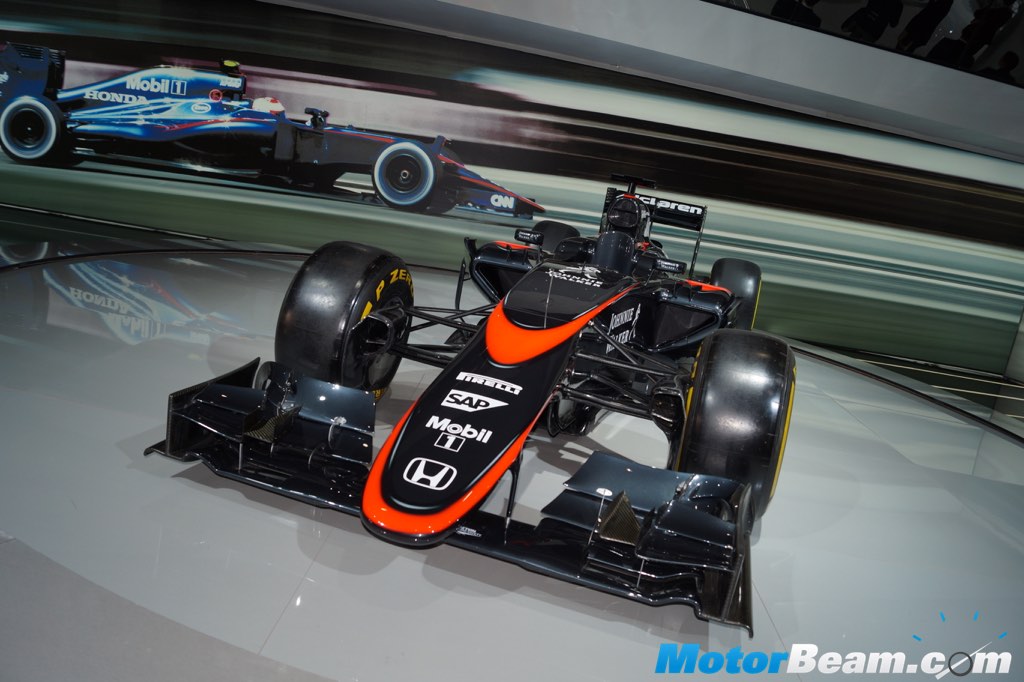 Formula One fans can rejoice. Honda has showcased the epic McLaren MP4-30 race car here at the 2016 Auto Expo. The car was designed by Tim Goss and Neil Oatley to take part in the 2015 season of Formula One. The car had been driven by Fernando Alonso who was a world champion in 2005-06 and Jenson Button who was the champion in 2009. McLaren ended their partnership with Mercedes in 2014 and then this came out. The rear end of the car is very sharply tapered and hence the team called it the Size Zero Formula 1 car.
The car has a carbon fibre monocoque chassis and the body work is also made up of composite carbon fibre. The front and rear suspension units also have carbon fibre wishbones and a pushrod suspension system. The vehicle weighs 702 kgs. The car comes with Pirelli P-Zero tyres on Enkei wheels and gets the McLaren Applied Technologies Dashboard.
The Honda RA615H power unit has these major components – internal combustion engine, motor generator unit (Kinetic), motor generator unit (Heat), energy store, turbocharger and control electronics. The internal combustion engine is a 1.6-litre 6-cylinder unit. The engine is mated to an 8-speed longitudally mounted transmission and the composite main case is made up of carbon fibre.
Honda McLaren MP4-30
– Was driven by Fernando Alonso and Jenson Button
– The vehicle weighs 702 kgs
– Comes with the Honda RA615H power unit