Honda Project 2&4 Concept Showcased At Tokyo Motor Show
The Project 2&4 concept is an amalgamation of Honda's car and motorcycle division and is powered by a 1.0-litre V4 motor borrowed from the automaker's MotoGP winning superbike.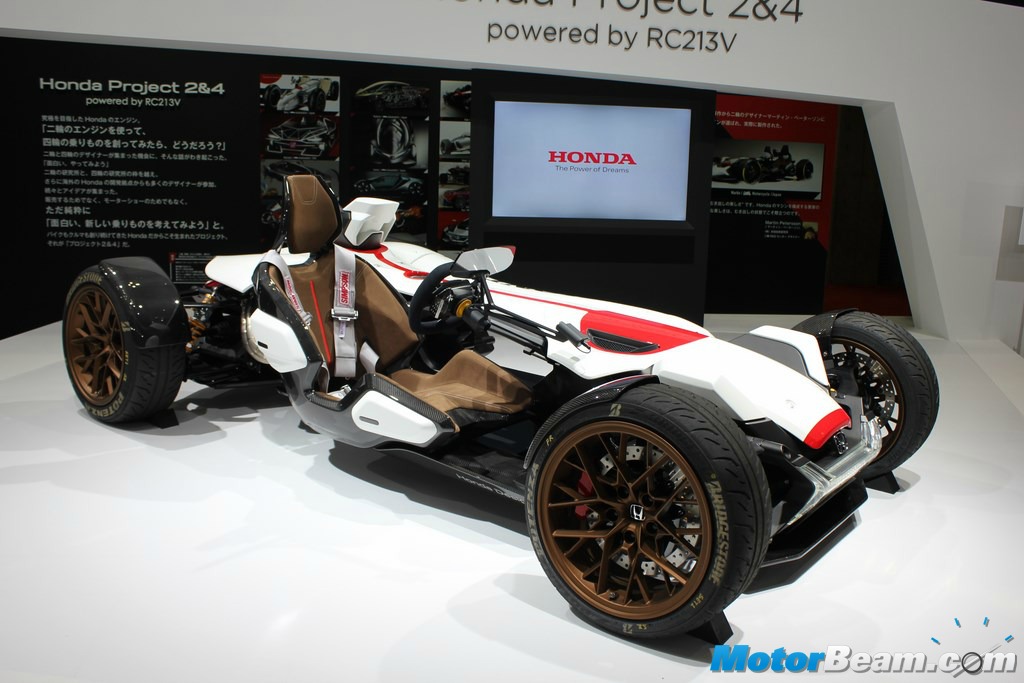 Honda makes cars, two-wheelers, jet skis, ATVs, side by sides, aircrafts and pretty much has personified its motto 'Power of Dreams'. Keeping the ethos intact, the Japanese auto giant took a bold step when it first unveiled the Project 2&4 Concept at the Frankfurt Motor Show earlier this year and has showcased the same at the ongoing Tokyo Motor Show in an RHD guise. As enticing as it looks, the Project 2&4 concept is a result of a global in-house design competition and has been created by the automaker's motorcycle studio in Asaka with the help of the automotive studio in Wako.
Essentially, a half car and half bike, the Honda Project 2&4 Concept was designed inside out like a motorcycle while the design is inspired from the Japanese manufacturer's 1965 Formula One car that won the Grand Prix of Mexico. With a sense of rawness in its looks, the concept looks every bit outlandish with the exposed seat and we bet it will be equally outrageous with the mammoth of an engine lurking underneath the bodywork.
Power on the Honda Project 2&4 Concept comes from a 1.0-litre V4 engine that has been developed by the automaker for MotoGP and is more famously known to power the RC213V superbike. Tuned to be more compatible for street use, the motor produces 212 HP of power on Project 2&4 redlining at 14,000 RPM and 118 Nm of torque, paired to a 6-speed dual clutch transmission. Weighing just 408 kgs, the concept makes for an overwhelming power-to-weight ratio, which means you have blindingly fast air kicking in your face as you drive this beast preferably on a race track.
Still a concept, Honda has not yet given a green signal to Project 2&4 but more recently also stated that it was too positive to be kept locked in a basement or on the floor of a museum, the usual fate of radical concepts. Hence, one can keep hopes high that Honda will venture into a new segment with Project 2&4 that will lock its horns with the likes of the Ariel Atom, BAC Mono and Caterham 7.