Hyundai i20 Gets AV Satellite Navigation System
Hyundai has equipped the Asta variant of the i20 with a GPS-based Audio Visual Navigation (AVN System). The new AVN system comes as an option with the Asta version with a 2 DIN system sporting a 5 inch LCD display and a touch screen interface with satellite based voice guided navigation to enable one to easily chart travel routes within and across multiple cities. The i20 Asta petrol with the AVN system would have the starting price of Rs. 6,30,439 (ex-showroom, New Delhi), which comes at a premium of Rs. 55,000/-. The AVN system also doubles up as a video player which supports video playback from the iPod/USB drive. Audio controls are provided on the steering wheel while a remote is provided for the convenience of the rear seat user. The in-built Bluetooth with an audio streaming function enables one to handle calls while driving besides playing music through the phone.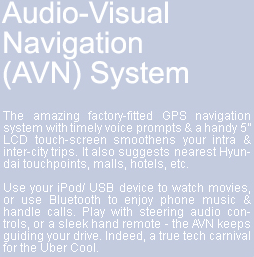 It contains details about locations, route options, the nearest Hyundai touch points and numerous other points of interest like restaurants, hotels, hospitals and malls. The SD memory card with pre-loaded navigation software enables users to save favourite routes and also guide different users driving to the same destination through the use of voice prompts which are available in more than a dozen languages including 8 Indian regional languages. Users can also select different route settings like shortest route, fastest route or the optimal route. Desired destinations can be set by entering the location names and exploring the map on touch screen, the system also allows users to record travel-related data for every journey.