Hyundai Speeds Up Expo With i20 WRC Display [Live]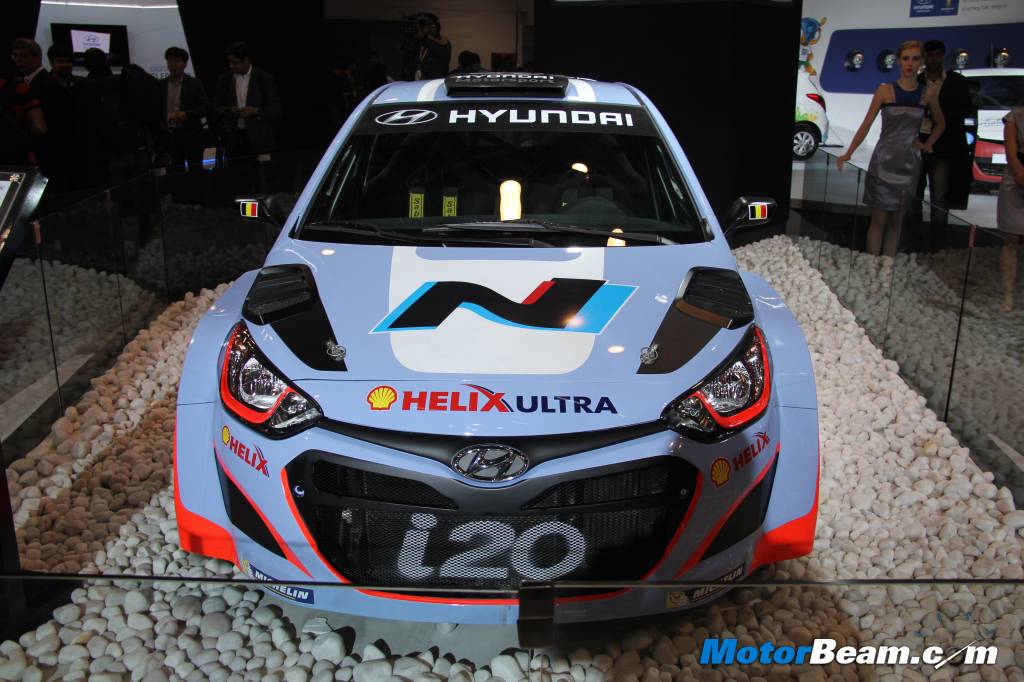 Hyundai has brought the i20 WRC (World Rally Championship) car for display at the 2014 Auto Expo. As a part of a brand building exercise, Hyundai wants to showcase its rally pedigree that will soon be visible in the road going cars. Other than the i20 WRC car, Hyundai has unveiled the Grand i10 sedan and launched the Santa Fe facelift at the 2014 Auto Expo. The Korean cars are engaging everyone's attention.
The i20 WRC car was first showcased at the 2012 Paris Motor Show and was Hyundai's re-entry into rallying after almost a decade. Taking the sport seriously, Hyundai has been building this car at the R &D centre in Nurburgring Circuit, Germany.
As the name suggests, the i20 WRC is based on the i20 hatchback. However apart from the front headlights and the grille, everything on the car has been upgraded to meet rally standards. The 3-door WRC car boasts of a 1.6-litre 4-cylinder engine making close 300 PS mated to a fully-sequential gearbox sending power to all four wheels via all-wheel drive.
The i20 WRC truly looks aggressive with rally decals throughout its body. Hyundai has given the WRC car aerodynamic upgrades to make sure it has reduced wind resistance for added performance. A rear spoiler has also been mounted to provide adequate down-force to the rear wheels at high speeds. The rally spec i20 WRC will be competing against the Volkswagen Polo, Mini Countryman, Citroen C3 and its biggest threat, the Ford Fiesta RS WRC. Hyundai will be concentrating on completing the race this year and not focussing on the championship title.
The Hyundai i20 WRC car will also be the basis for transferring technology from the sport to its road going cars. Hyundai plans to use the feedback to improve handling and performance of its vehicles. Taking cues from the WRC car, a more powerful i20 called the i20 GT is also said to be on its way. We expect the i20 GT to hit Indian shores next year.