Infiniti M Sedan Test Drive Review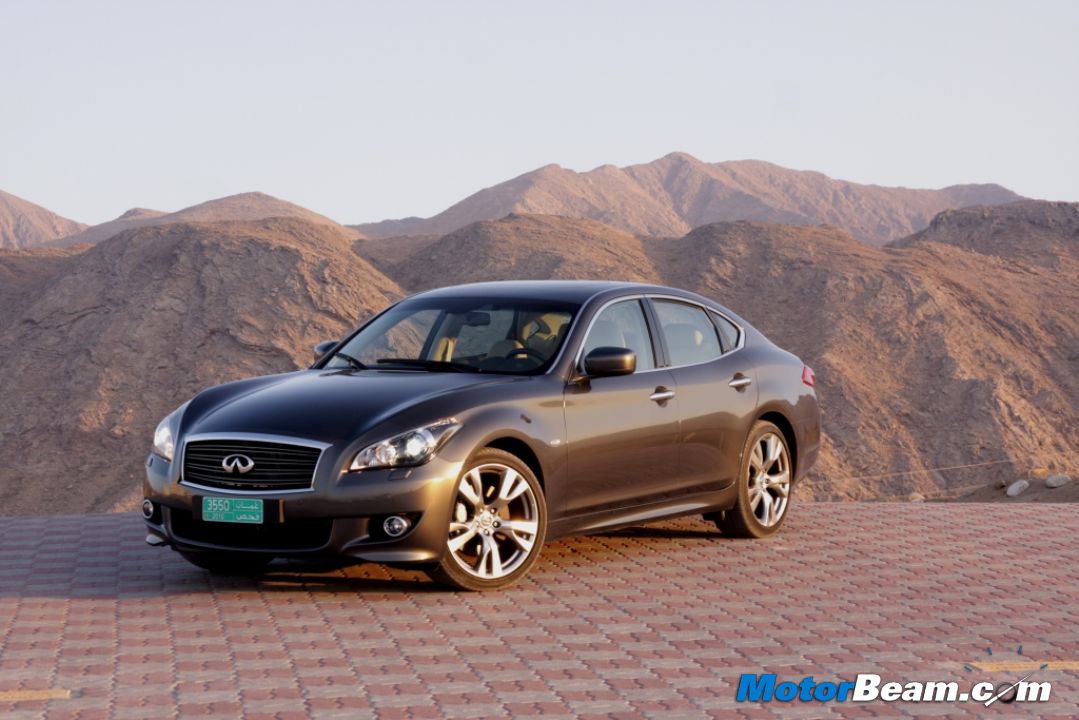 Infiniti M Sedan Review
Nissan created its luxury division, Infiniti, to rival Toyota's luxury division, Lexus besides taking on the German trio of Audi, BMW and Mercedes-Benz. Interestingly, both Japanese premium brands were launched in the US in 1989. While Lexus was pretty consistent in its approach, Infiniti faltered on the way and naturally was left behind. But in the past decade, Infiniti has staged a remarkable comeback worth noting with an array of technology and performance led product line. With Lexus all set to enter India and Infiniti contemplating an entry, we drive the M Sedan to find out how good it is.
Outright commercial success has eluded Infiniti as it faced bitter experience with the innovatively styled and brilliantly engineered third generation Q45 which was introduced in 2002 and produced until the 2006. This car was equipped with a 340hp, 4.5-litre V8 engine and had an advanced five-speed automatic transmission. It also offered many firsts in the luxury sedan market, but the Infiniti M Sedan was never able to compete with the sales numbers of other Asian automobile manufacturers. Infiniti brand recognition and sales were kick-started in 2003 with the introduction of the entry-level G35 model, and the Q45 was discontinued in 2006.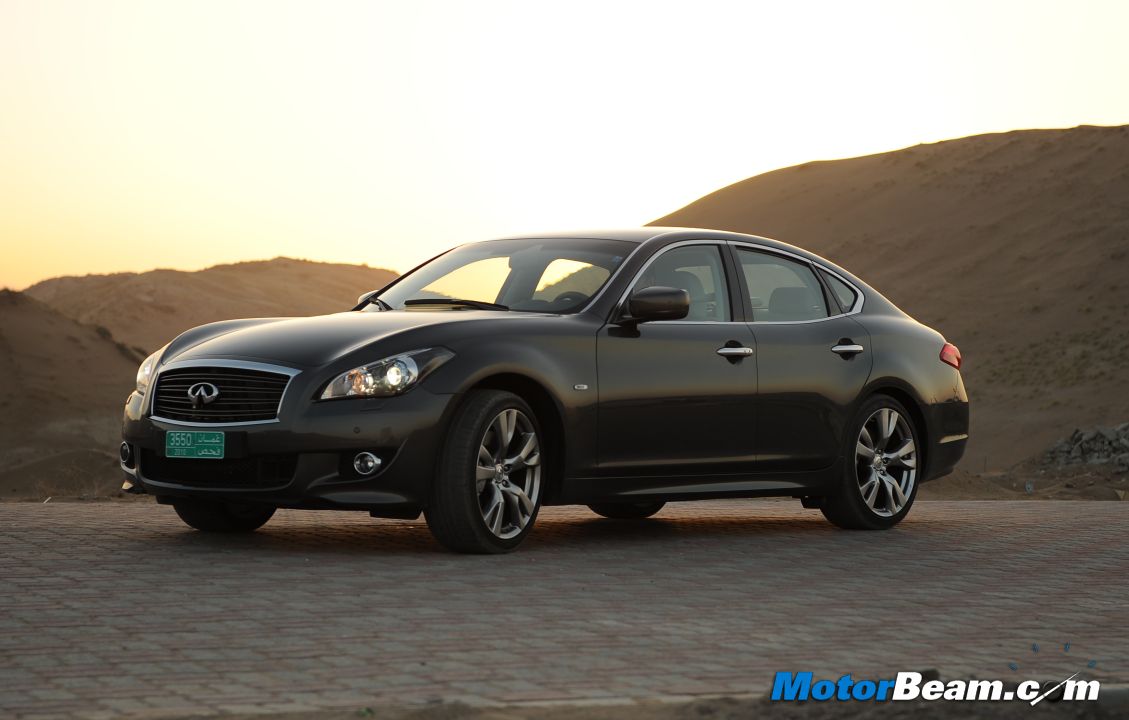 Learning from its previous experience. Infiniti has decided to re-invent itself and had to decide whether to continue or drop the 'Q' badging. As part of the new product drive, it dropped the 'Q' and instead invigorated the 'M' extensively. Now, the company will offer 'M' in two all-new flavours — M37 and M56. The portfolio has further been split into two distinct categories in one package where customers can opt for either a luxury or a performance package. As always, the performance variant gets an extra 'S' in its badging which is more than just a visual differentiation between the siblings.
Styling – Infiniti says that the design of the new M is inspired by 'organic elements' as it also debuts a new design language. We think it's fresh to some extent and it also combines some of the existing design cues which made the Infiniti G models quite a success. The new styling has a pronounced "flowing side styling" which was first seen on the Essence concept car. The key difference between the 'G' and 'M' sedan is that the 'M' is dimensionally larger — it's more than 1.5in wider, both tracks are also wider and its length has grown by over half an inch. The suspension is about a quarter-inch lower, which explains it squat stance. The car's 114.2in wheelbase is unchanged and the M has shed some weight [around three kilos during its redesign]. Overall, the car has a nice stance and with right proportions, although it wouldn't be described as an outright style statement.
Interiors – The interior of the car is definitely a busy and nice place to spend a lot of time. The luxury M is more tailored to pamper occupants and it includes reclining seats at the rear. Fitted with every-which way-adjustable sports seats, the car's 'I-mean-business' driving position earns full marks, as does the good looking steering wheel that does so much to enhance that feeling of well-being. Meanwhile, the 'S' is tailored to perform and hence shuns some of the extra luxury components. Common features include well crafted ambience with lots of smooth leather, piano finish wood and some brushed metallic accents. The central console of this car is exceptionally busy and probably has more functional switches than any modern car. Admittedly, new cars are a bundle of complex systems, however, there's an element of convenience built in for drivers who are overwhelmed with complex operations – be it mobile phones or in-car navigation settings. There is a centralized single control knob to manipulate several on-screen functions and one can bypass this complexity and operate common climate and entertainment functions using more traditional and intuitive dash-mounted buttons. There is nothing at all intimidating sitting inside this car.
Interestingly, Infiniti used the new M as a launch pad for several new safety and lifestyle technologies. There's an active Blind Spot Intervention warning system which in addition to alerting a driver to a vehicle in its blind-spot range will also selectively activate brake intervention to help safely direct the M back into its lane of travel at slower speeds. Other available safety features include Intelligent Brake Assist (IBA) with Forward Collision Warning (FCW), Front Pre-Crash Seat Belts and Active Tracing Control, which adjusts engine torque and the control of braking at each of the four wheels helps enhance cornering performance.
And then there's this "Forest Air" system which supposedly reduces unpleasant odours entering the cabin and provides a breeze-like airflow. It uses an array of strategically placed sensors which automatically open and close air intake ports to reduce the intrusion of dust, other vehicle exhaust or unpleasant odours into the cabin. It uses filters and an air purifier to help remove allergens, mould and viruses in the air and it includes humidity control feature.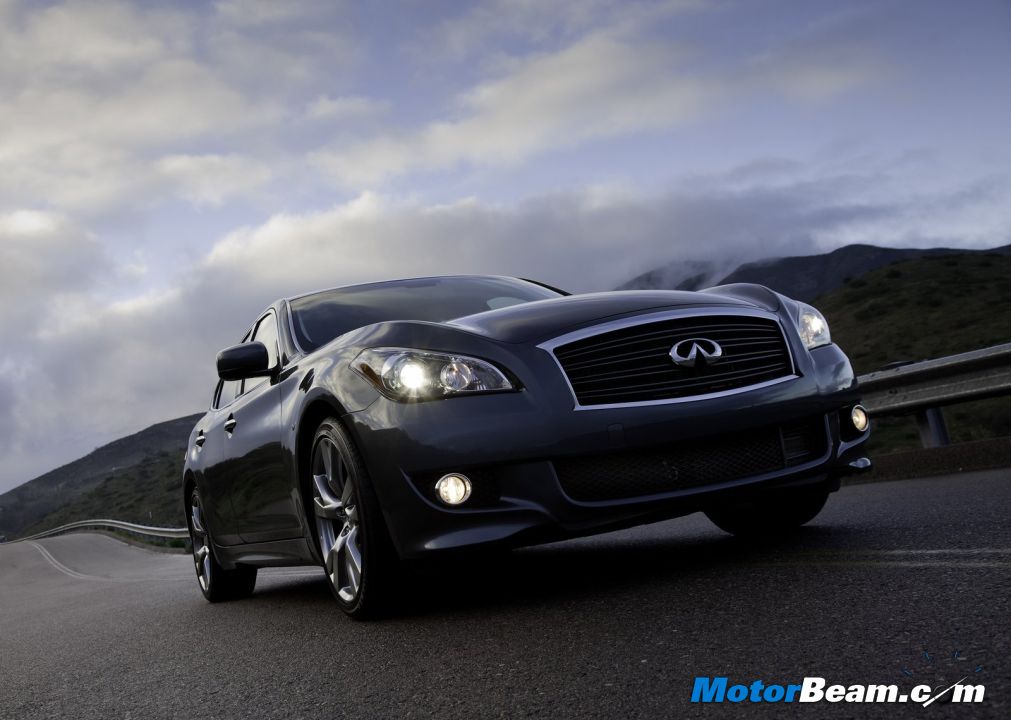 However, the real character of the car is under the chiseled bonnet where sits Nissan's ubiquitous normally-aspirated VQ37 Series 3.7-litre V6. It's also the same free-revving powerplant that's been used in the G37 and 370Z and for M duties it has been tweaked to offer 330hp at 7,000rpm and 270lb-ft of torque at 5,200rpm, an improvement of 27hp and 8 ft-lb over the 3.5-litre V6 used in the M35. The increased power and torque comes from the use of continuously variable valve timing technology on both the intake and the exhaust valve systems. New variable valve event and lift (VVEL) technology has also been applied to the intake valves on the V6. In contrast to the Q45, there are two extra cogs in the advanced automatic transmission that features rev-matched downshifts. The test car was a loaded edition, also known Sport Package that offers many extras such as GT-R inspired column-mounted, leather-bound aluminium shift paddles, bigger brakes and calipers front and rear, 4-Wheel Active Steering, upgraded springs and shocks, more highly bolstered seats and 245/40 tyres on 20in alloys.
Driving impressions – Besides a cushy seating and command seating position, one quickly settles into the car and begins to enjoy the cacophony of this throaty free-revving engine. Although, exhaust sound levels are more dictated by legislation these days, one doesn't miss it with windows down. Although, the new car is marginally lighter than the outgoing M35, it is still quite a solid chunk of a car. That said, the extra horses available are put to good use to help motivate the big sedan quickly and satisfyingly fast. It's a driver's car that virtually invites a driver to get on the pedal to get access to the power. Considering that most vehicles in the Nissan-Renault-Infiniti portfolio are switching to CVT, the performance of the seven-speed shifter in the car is quite satisfactory. Actually, a car like this deserves a dual-clutch system, but the swift paddle shifters are able to keep your mind off any such visualization. Much of the credit has to go to the M's seven-speed automatic transmission, which really is able to extract the most from the V6. Although, its full-throttle upshifts could be a bit smoother, but they come right on at 7,500rpm redline, just as they should and it also matches revs on the downshifts like the best dual-clutch transmissions in the business. Pounding on the M's paddle shifters is good fun, but we would advise against using them if fuel mileage is a major consideration.
While the powertrain performance will appeal enthusiastic drivers, the biggest improvement in handling and probably the biggest USP is the 4-Wheel Active Steering, or 4WAS. Although, the concept of four wheel active steering isn't entirely new and has been used by Honda and Mazda in late '80s with mixed results. Infiniti's 4WAS only moves the rear wheels in phase with the front wheels by a maximum of one degree. Admittedly, that doesn't sound like much and at low speeds it difficult to assert its activity. But when the car begins to move fast then is the time to be impressed as 4WAS helps eliminate both under- and oversteer. For us, this means the car feels planted, especially in a situation when you dive in fast corners or make quick exits. The car's handling supplemented by its fast paced acceleration becomes nimble, athletic and confident. However, we felt the system can perform a bit better with some further weight reduction as at times, one can occasionally feel the weight of the car on the steering.
During the period we had the car we could detect an element of split personality in the car, evident depending on where and how the car is driven. The steering goes from asleep to alert, for fluent, pinpoint accuracy and a planted-to-the-road feel and when pushing the car on smooth or twisting mountain roads, there's just the right amount of steering feedback with quick response and the levels of performance expected. However, the car doesn't seem as happy in the city, especially where there are potholes, rippled concrete and highway expansion joints. In the latter, the ride becomes harsh and although we don't blame the suspension tuning which is firm and compliant, we felt a bit od the performance of the four-wheel active-steer system was getting compromised.
However, one of the pleasant things about this car was the being able to select driving modes using the Infiniti Drive feature. It is a clever feature and the change from Normal to Sport is subtle yet effective. In the Eco mode the accelerator pedal push-back felt a little strange at first for a performance car in this region, but you can bypass it at will.
Conclusion – Infiniti has worked quite hard and added considerable refinement to its new flagship sedan range sporting M badges. By far, these sedans are easily the most comfortable and luxurious cars Infiniti has ever produced. However, when it comes to combining street credible performance with premium luxury, it's not an easy job for even the most accomplished automaker. But Infiniti has managed to bridge the gap by very careful planning. While, there's no doubt that the outgoing M was more raw and unpolished, the new M now finally feels like a luxury sedan without losing its performance punch. By far, among the best engineered car with finely tuned blend of sportiness and luxury in these new M sedans could steal quite a bit of business from Infiniti's German and domestic rivals. Interestingly, future Infiniti's will be built on Mercedes platforms and engineering according to a deal inked between both companies.