Jaguar Unveils Gorgeous Project 7 Speedster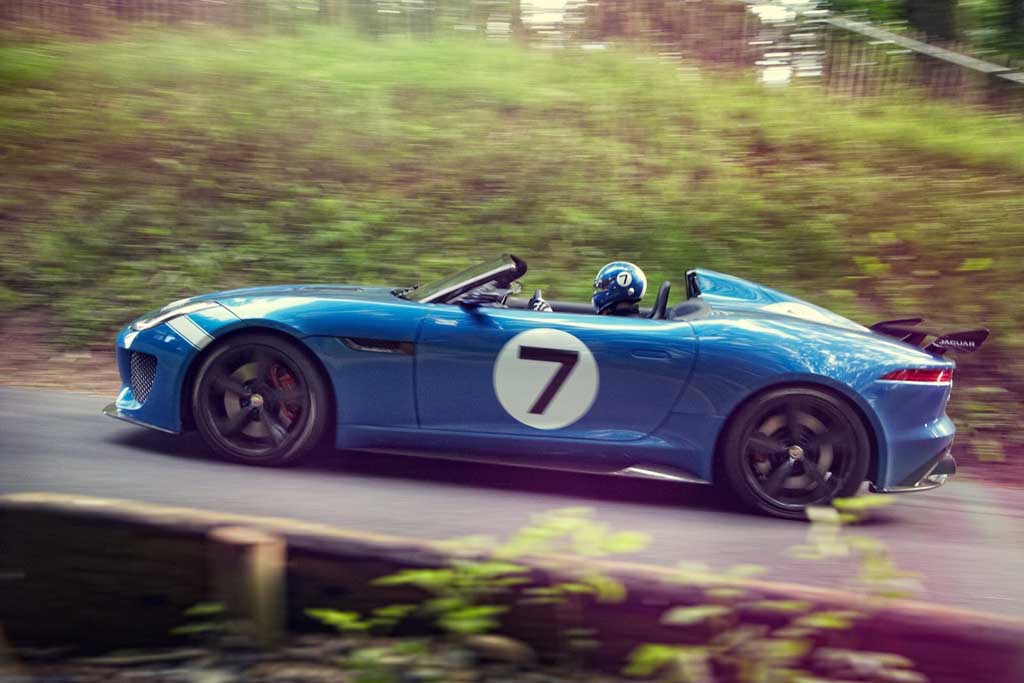 Jaguar has unveiled the F-Type speedster model named as Project 7. The project 7 is inspired from the company's classic legendary race car D-Type that won the 24-Hours of Le Mans race for three consecutive years from 1955 to 1957. Project 7 will debut at the Goodwood Festival of Speed in the UK this week where Mike Cross, Jaguar's Chief Engineer, Vehicle Integrity, will climb the Goodwood hill in the Project 7 for its first public appearance. The philosophy behind the name, Project 7, is the company has won seven 24-Hours of Le Mans seasons since 1951 till 1990.
The Jaguar Project 7 is a amazing design blend of the reminiscence of the D-Type and the extreme flow of the F-Type. Jaguar lead designers team has converted the F-Type convertible into Project 7 speedster by removing the convertible roof assembly. The company has featured low front windscreen and the integration of old race car inspired flared design at the back of driver's head. A new carbon-fiber front splitter, side skirts, large rear diffuser, upgraded exhaust, 20-inch wheels with razor-sharp carbon fibre insert alloy wheels are the major changes to the exterior.
The mechanical bits include the carbon fiber spoiler at the rear to improve the car's aerodynamic and 10 mm lowered suspension setup along with better springs and damper tuning. The Project 7's interior gets a subtle makeover from more high and plush feel quality materials. The premium quality leather trim is used in diamond shape on the seat and door panels. The race-inspired bucket seat for the driver is lowered by 30 mm and uses significant amount of carbon-fiber on the gear knob and center console. The passenger seat has been replaced with a smartly designed helmet holder.
The monstrous 5.0-litre supercharged V8 engine is employed to perform fast actions in the speedster. However, to enrich the exclusivity of Project 7, Jaguar has also tuned up the V8 power plant that generates 542 HP and 680 Nm, mated to a 8-speed auto transmission. Project 7 is capable of achieving 0 to 100 km/hr in just 4.1 seconds with a top speed of 299 km/hr. Jaguar has not revealed any further plans regarding the production of this vehicle but no doubt Project 7 speedster is a distinguished version with impressive retro appeal.